Mastering Google Analytics 4 Multidimensional Data Analysis with CData Predefined Reports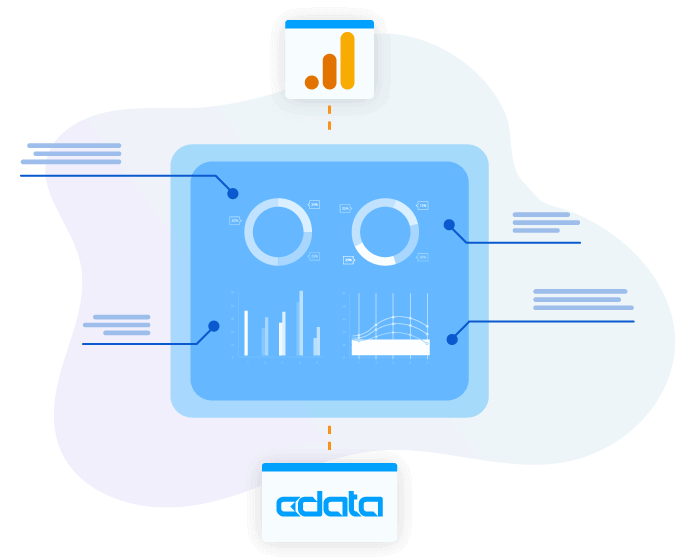 Google Analytics is the leader in web analytics with just under 90% of the market share. Now, users can do even more with all the new features and functionality in its newest release, Google Analytics 4 (GA4).
People love to use Google Analytics for the new events-based functionality, which can accurately deduplicate users and track the user journey and experience on company websites by recording all of the events visitors complete. The capability to drill down into multidimensional data is also a popular feature. Marketing professionals can easily get lost for hours trying to find the right information.
Google Analytics 4 integration
Achieving a holistic view and reporting of data often requires more than what's available in GA4. That's why so many Google Analytics users implement BI or reporting tools like Power BI, Tableau, Qlik, Looker, etc. to get the job done. After all, these are tools already being used by most organizations and therefore they already know how to use them.
But integrating data sources from across your tech stack to get holistic reporting in these tools can be painful and costly. GA4 has some integration with CRM, AdWords attribution software, and marketing automation tools, but the integration of data can also add to the complexity of reporting from GA4. Even with the prebuilt templates by GA4, native Google Analytics 4 integration is not enough.
There are different considerations to keep in mind when integrating data directly into GA4. Some integrations are easy to implement while others require engaging with consultants and system integrators to get set up and maintain. Integrating layers of additional data sources into GA4 doesn't always mean your data is "analysis ready." Either way, users still struggle to get their arms around the many facets of multidimensional data to produce meaningful and actionable reports.
CData simplifies GA4 reporting
CData Connect Cloud connects to GA4 data from your favorite BI or reporting tool, transforming the GA4 multidimensional data into a relational data view and making it easier to get the data you want from GA4 into your analytics platform with CData GA4 predefined reports.
Predefined reports narrow down the scope of multidimensional data, exposing specific dimensions and measures and aggregating those dimensions by default, making it easier to query the most meaningful data for analysis. CData has developed predefined reports for Acquisition, Engagement, eCommerce, Demographic, and more. Sign up for a free 30-day trial today, with no installation, configuration, or data warehouse needed.
Predefined reports
Let CData Connect Cloud help you master reporting from GA4 multidimensional data with the power of predefined reports!
Here is how you can learn more about GA predefined reports.
The CData difference
CData Connect Cloud is a Data Connectivity-as-a-Service tool that enables you to accelerate your analytics initiatives with flexible cloud connectivity to hundreds of data sources and now with GA4 predefined reports, making it easier for you to perform holistic reporting from your favorite BI or reporting tool.
Click here for information about what CData Connect Cloud can do for you, or if you are ready to try it for yourself, sign up for a free 30-day trial today!