Hybrid Cloud: The Model of Choice for Digital Transformation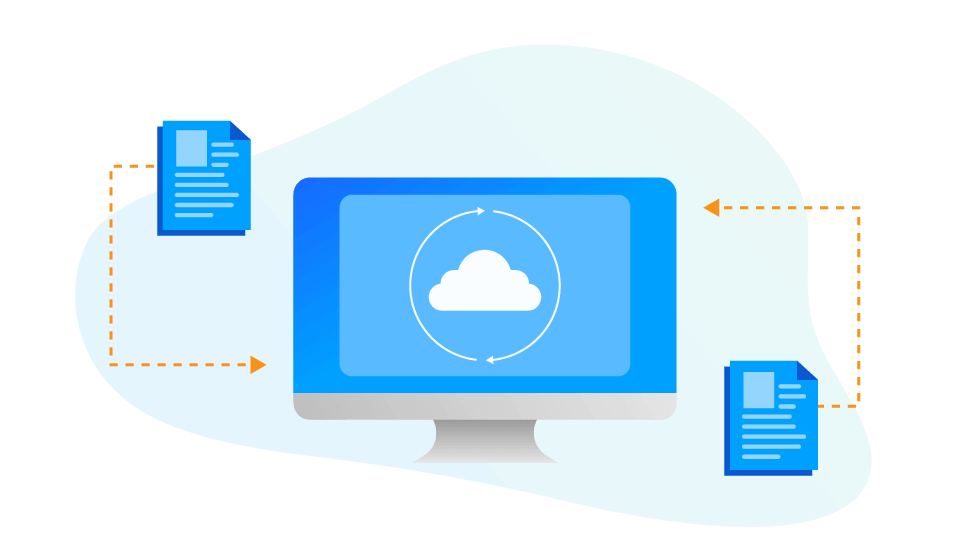 As more companies embark on their digital transformation journeys, a key business objective is to unleash data from restrictive data silos to deliver better digital customer experiences and improved data access for decision-making.
Hybrid cloud offers a ideal model to drive digital transformation in ways that allow businesses to maintain control of operational data, while encouraging modernization in the cloud. Using this paradigm, enterprises can rely on the public cloud to capture insights into consumer behavior and generate the analytics necessary to fuel the digital transformation process, and leverage on-premises applications to support major business initiatives.
Investments in digital transformation
IDC estimates that digital transformation investments will total $6.8 trillion between 2020 and 2023, and that 65% of the world's GDP was digitalized in 2022. They further stipulate that investments in digital transformation accelerated to a Compound Annual Growth Rate (CAGR) of 16.5% for 2022-2024.
The key elements driving digital transformation adoption are the rising investments in marketing outreach and the impact of changing consumer intelligence landscapes on business agility.
Enterprises are now collecting a vast amount of information about consumer interaction with digital channels, business tools, and social media, which provides them with valuable insights into buyer preferences, behaviors, and needs. But in order to gather those insights, the data must be integrated, analyzed, and incorporated into business operations and processes to fuel customer delight and loyalty.
Today's savvy buyer controls the consumer intelligence landscape
Before the digital age, marketers controlled their marketing and media mix; consumers either engaged or they didn't. Today, however, the buyer selects the media and marketing content with which they choose to engage.
Buyers today, whether they represent themselves or the companies that employ them, seek personalized and relevant content that provides product insight and value within their preferred marketing channel. What's more, the speed of digital connectivity delivers instant gratification to consumers; real-time interactions underpin most customer experiences and determine how buyers engage with and purchase from businesses. Consumers can now quickly research products and services and make informed buying decisions.
To adapt to this shift to the self-directed customer journey, businesses need to gather and understand up-to-date customer data holistically throughout the enterprise:
Marketers and customer-facing teams need to understand how buyers engage with the business and design seamless customer outreach strategies, tailored to anticipate customer wants and needs.
Sales and support teams need to streamline communications, facilitate information sharing, and enable the convenience that consumers expect.
Operations teams need to extract insight from customer purchases, predict future buyer behaviors, and tailor the interactions that best address selling opportunities.
Customer success, retention, and renewals teams need to tailor interactions and post-sale experiences that ensure customer success and secure customer loyalty.
So, you may ask, how can businesses transition to a customer-first, digital-first strategy to fuel these customer interactions? The answer is digital transformation.
Becoming a digital business requires digital transformation
Swiftly adapting to market and competitive pressures demands that businesses adopt a digital-first model. Committing to a digital transformation journey allows a company to respond to external forces with speed and agility and make faster decisions that protect brand, market position, and competitive advantage. An added incentive is that companies can reap additional benefits of lean operations which in turn frees up valuable IT expertise to focus on other complex tasks.
A main driver of digital transformation is the need to innovate. Companies can't innovate when data is fragmented across enterprise data silos, because the challenges of understanding data holistically are too great. Fragmented data prevents businesses from fully understanding the impact of the customer experiences they deliver today on the forecasted revenue and profit milestones they set for tomorrow—they're unable to assess the revenue hit on missed opportunities.
As businesses and decision-makers map out their cloud strategy, they want to accomplish more than just deliver IT services more efficiently. Their goals include improving business performance, powering innovation, delivering insights, and ensuring positive business outcomes. Moving data to the cloud and harnessing the speed of cloud analytics delivers valuable data that fuels other enterprise goals such as market expansion, customer retention, brand enhancement, and competitive advantage.
Securing value from cloud investments is a priority; designing a cloud strategy able to deliver that value is pivotal.
For every organization, digital transformation is a journey that fundamentally changes how that business operates, how it delivers value to customers and partners, and how it optimizes customer experiences. No two journeys are alike; companies need to carve out their own path by determining what organizational components the transformation touches and how those touches impact their overall business strategy. And how that digital transformation is presented to prospects and customers is grounded in the customer journey and connected brand experience that the business chooses to create.
Business models shape digital transformation strategies and vice versa
Digital transformation influences business models by revealing new or more efficient ways to create value, engage customers, and fuel revenue streams. In return, these business models dictate the technologies and workflows that the business must implement to enable the benefits of digital transformation and secure the anticipated business outcomes.
New revenue streams: By leveraging digital technologies and analytical insights, digital transformation can reveal a variety of potential revenue streams for businesses:
Data monetization: By leveraging digital transformation, businesses can collect, store, and analyze the vast volumes of data generated by online prospects and customers. This data can fuel customer insights regarding demographics, preferences, online and purchase behavior, interests, etc. Businesses can monetize this data and sell it to third-party vendors, share it with internal stakeholders to improve business operations, or create new products and services.
Subscription-based services: Digital transformation can spark new pricing and delivery models, such as subscription-based services, which provide a predictable revenue cadence and foster customer loyalty.
E-commerce: Digital transformation has provided new revenue streams from online sales not only for traditional brick and mortars that maintain their own inventories, but also for newer e-commerce models, such as drop shipping (where the seller accepts customer orders without keeping stock in inventory) or social commerce.
New products and services: Digital transformation can unveil the data-driven insights that identify new product opportunities, ignite innovation, and inform product development, including digital products such as mobile apps, digital content, and virtual events.
Optimized distribution channels: Insights derived from digital transformation can improve margins, support initiatives, and drive collaboration across distributor and partner ecosystems, impacting how organizations distribute products and services to customers. These insights can also influence the use of digital channels, such as social media, mobile apps, and product marketplaces to share information, sell products and services, and reach customers more efficiently.
Personalization and customization: Digital technologies power the personalization and customization of products and services, allowing organizations to meet individual customer needs. Retailers and service providers can apply data analytics to offer personalized recommendations to customers and prospects.
Agile operations: By leveraging technologies such as cloud computing, artificial intelligence, and automation, digital transformation helps businesses become more agile, adaptive to market changes, and responsive to changing customer needs.
Collaborative ecosystems: Digital transformation builds collaborative ecosystems that bring together customers, suppliers, partners, and other stakeholders so that teams can work together to capture opportunities for innovation and growth and leverage the strengths and expertise of internal stakeholders.
Hybrid cloud drives digital transformation
Hybrid cloud models that incorporate both on-premises infrastructure and cloud-based resources have become the enterprise norm.
A survey of hundreds of Cisco customers revealed that "the vast majority (92%) of the organizations we polled are using multiple public clouds, not only to leverage the unique strengths of those offerings, but also to improve operational agility, security, application performance, and business resiliency."
RedHat's Global Tech Outlook Report for 2022 confirmed that digital transformation leaders are more widely adopting a hybrid cloud strategy, rather than remaining solely dependent on either private or public clouds. The benefits they cited from hybrid cloud adoption included reduced technical debt on legacy applications and the ability to deliver IT services faster.
Flexera's State of the Cloud Report 2023 surveyed 750 cloud decision-makers in companies worldwide and found that 72% employed a hybrid cloud model.
In a recent blog post, we talked about how the flexible architecture inherent in hybrid cloud enables every business to design a unique configuration. Although the essential components of on-prem systems and public cloud are a part of every implementation, the specific mix of applications, systems, tools, and cloud platforms differs for every company. This organic evolution of business requirements eventually reveals a unique hybrid cloud footprint for every business.
That's why IT teams favor hybrid cloud; they can design and maintain a hybrid cloud architecture that works for their company using the combination of on-prem and cloud technologies that best align with specific needs.
The CData difference
CData Sync is a reliable, affordable, and powerful tool to power your data integration and replication needs as you move forward in your digital transformation journey. Try CData Sync today!