Microsoft Build 2023 Highlights: A Data Driven Perspective
Microsoft's annual developer conference, Microsoft Build, was held last week in Seattle. As expected, Microsoft announced several exciting announcements, ranging from Windows to Azure to the Power Platform. But for data-driven organizations especially, a few announcements really stood out.
The era of AI in the enterprise
AI seems to be everywhere now. ChatGPT, from OpenAI, raised expectations for what generative AI with Large Language Models (LLM's) can do. Over the last six months or so, it has risen in popularity as one of the most talked about technologies across every industry. In what seems like science fiction, users can ask any question and get thoughtful answers expressed in a variety of formats and styles – from poetry and songs to pictures and complex code.
Microsoft has incorporated this core GPT technology into their Copilot System. Copilots are AI-driven assistants that have been integrated into various Microsoft platforms to help users write code, improve writing prose, and even assist with using Windows. By our latest count there are at least nine Copilots now announced by Microsoft.
So what's exciting here? Microsoft is now enabling you to write your own Copilot!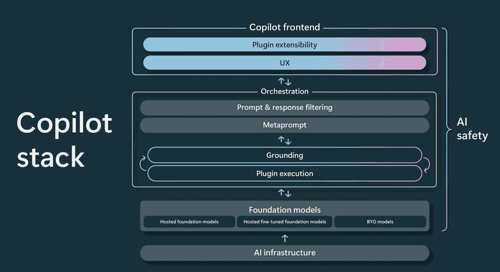 The newly announced plug-in architecture allows organizations to extend existing Copilots so that they have access to and knowledge of your organization's data. You can perform a query in Power BI or Microsoft 365 in a ChatGPT-like interface and get domain-specific answers from varying resources within your organization. In fact, Microsoft is now providing the entire Copilot stack as a platform for developers who want to embed or write their own AI assistants.
Of course, to be truly capable, these Copilots need access to relevant data in the enterprise.
A consolidated data platform for AI and analytics
Microsoft also announced their implementation of the modern data fabric paradigm at Build. It's called Microsoft Fabric. Fabric is a combination of a unified data lake repository coupled with data and analytics tools. The idea here is to have a single repository of all your data that can be referenced singularly by this suite of tools.
Now you can work on AI or data manipulation in a singular environment.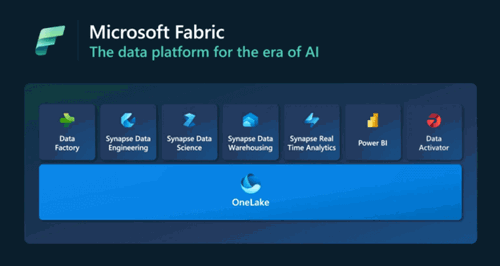 While this may feel like more of a packaging play than true functionality, there is value in having access to all the data you need. Data silos begone.
In an ideal world, however, data should be accessible by every analytics and AI toolset.
Real-time data access matters more than ever
In this new world of fabrics and generative AI, getting access to data is crucial. Organizations that want to feed a data lake or leverage generative AI need to ensure that information can be easily incorporated, regardless of the vendor or product that houses it.
At CData, we're excited by the possibilities that AI presents, and the amazing things that organizations will build with the technologies. Our product suite works seamlessly with the Microsoft Fabric components and development environments out-of-the-box, and we're looking forward to helping Microsoft customers more easily leverage these new tools to the highest potential.
If you're curious, try out our products free for 30 days and see what you can accomplish with real-time access to disparate data across your organization.
We look forward to hearing about the AI and Fabric applications you'll be building!