Workday Wednesday: Resolving Workday Integration Challenges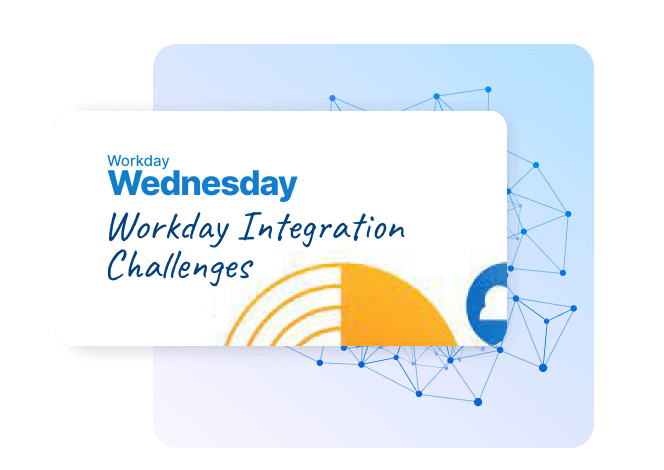 Welcome to this week's Workday Wednesday blog post! As promised in our first post in the series, let's talk about some of the challenges that organizations encounter when adopting Workday into their business processes, and how to overcome them.
Workday is one of the most popular Software-as-a-Service (SaaS) human resources and financial management tools on the market today. It solves a lot of challenges in handling, managing, and analyzing data. Workday's popularity is based on its flexibility. It's a highly customizable application with a comprehensive set of features, which can make integrating it into existing processes rather tricky. Today, we're going to talk about some common challenges when bringing Workday into your business processes and how to solve them.
The smoothest integrations come from native connections to application platforms, rather than bolting them on as an afterthought. To make Workday its most effective, it needs to be aligned properly with existing processes.
Workday analytics
Workday is a comprehensive platform with several optional tools, including Workday Prism Analytics. While this might be an attractive way to keep data within the same environment, some organizations may already have existing business intelligence (BI) and analytics processes in place. If your teams are accustomed to using Microsoft Power BI or Tableau, for example, learning a new analytics tool may slow down the process of gaining timely insights to make critical business decisions.
What's more, you might find that native Workday analytics reports alone don't fit your organization's precise reporting needs, or that the reports are difficult to share out to a larger audience.
CData Workday Drivers enable you to connect from Workday data to any of your favorite analytics tools, without having to learn how to navigate through another interface. CData offers smooth, reliable access to Workday data from Microsoft Power BI, Tableau, Looker, Google Sheets, and more. No code required; just install, connect, and go.
Workday data management and storage
Data fragmentation and data gravity are among today's major organizational challenges. Data management software needs to connect to all organizational data—wherever it is. Historically, most data was stored in relational databases and was easily managed through familiar tools and established practices. Now, data across an organization is spread across a complex configuration of SaaS tools and on-premises systems, making data management more difficult than ever. For instance, each SaaS platform sits behind a different API that is developed without much consistency or standardization, which makes accessing and managing the data an ongoing challenge.
Managing and storing data depends on solid connections between the applications systems used across the organization. CData standards-based drivers make Workday look and feel like a relational database. CData Drivers are built using SQL, so users can configure their connection once using the familiar language and repeat the process to connect their Workday data to hundreds of other tools in real-time – no custom coding against APIs, pipeline maintenance, or headaches.
Looking to replicate Workday data into a central repository for BI or operational initiatives? CData Sync lets you easily move Workday data to your existing databases, data warehouses, or data lakes so you can access and manage your data confidently.
CData connects Workday to your favorite tools
Connecting Workday to your favorite analytics tools has never been easier. CData provides a hassle-free way to connect Workday to hundreds of applications and systems to solve all your Workday integration challenges. Download a free trial of the CData Workday Drivers, or try CData Sync for free today.
Register for Workday Rising and come see us at the CData booth to discover how to connect Workday with the rest of your tech stack!
Our next blog post will walk you through a popular scenario where an organization connects their Workday data to their preferred reporting platform, AWS QuickSight, to analyze HR data alongside their Sales projections to make intelligent hiring decisions and ensure they continue to meet profitability goals. Keep visiting our blog each Wednesday to see our next blog post!