3 Takeaways from Snowflake Summit 2023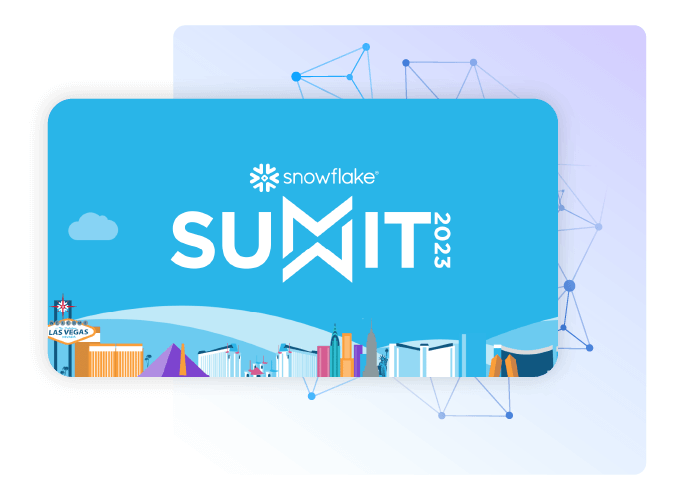 Now that I'm over a week out from Snowflake Summit and had some time to recover (four days in Las Vegas, even for work, is no joke!) I thought I'd take the opportunity to share my biggest takeaways. First off, though, I want to say thanks to Snowflake for putting together a great event and doing their best to make things easy for attendees and partners (looking at you, late morning opening for the Basecamps).
Now, onto the meat. Let me start by saying that attending as a partner meant that a lot of my time was spent meeting with current and prospective customers, so I didn't get to attend nearly the number of sessions that I wanted, but the biggest standout for me was the opening keynote Monday night with Snowflake CEO Frank Slootman and Nvidia CEO Jensen Huang. Most of my takeaways come from, or were informed by, either this presentation or my direct engagement with attendees and partners.
#1 AI will be front of mind for the foreseeable future
Snowflake and Nvidia's partnership is going to shake things up in the data analytics and developer worlds. By baking GPU-powered AI into the Snowflake experience, organizations will not only be able to perform standard AI/ML operations on top of their Snowflake data, but also be freed to use AI to build data products or data apps on top of their Snowflake data. Once organizations identify a problem that can be solved by data in the warehouse, they can employ AI to write the app to solve the problem.
Outside of the keynote, it felt like every other partner or customer I spoke to was building and/or using AI on top of Snowflake data. Using a data warehouse as your single source of truth for AI applications lets you get answers from a 360-degree view of their organization, instead of relying on a siloed slice of their organization's data.
#2 Data gravity is all too real
At CData, we talk a lot about the ongoing digital transformation and expansion. With a new CRM, ERP, accounting solution, etc. released seemingly every day, organizations are finding their data spread out more than ever. This in and of itself is not a crisis, since moving small amounts of data into a warehouse is fairly simple. BUT as organizations grow, each of their systems contains more and more information, leading to 'data gravity.'
Once data is too big to move from its native systems, organizations are forced to deal with data governance, security, and compute across multiple systems. It's in situations like this that having a "universal query engine" (thanks, Mr. Huang!) is invaluable.
It just so happens that CData Connect Cloud provides superior data virtualization for the cloud, allowing proprietary data to stay in place while simultaneously providing a single point of contact for governance, security, and querying.
#3 Organizations need both warehoused and real-time data
I had several conversations with analysts and developers who lamented their inability to work with real-time data. Everyone is happy with the historical reporting and AI/ML processes that are available thanks to warehoused data. But organizations want to be able to answer any questions of their data, from "how were sales of product x at this time last year?" to "how many leads is my organization bringing in right now?"
Real-time access to data gives you that up-to-the-minute picture of an organization, allowing businesses to be more agile in response to commercial trends. And some industries rely almost completely on real-time data. I don't want to know where the swag I ordered for the trade show was 3 hours ago – I want to know where it is right now.
Where do we go from here?
In short, I'll say four things to sum up:
Don't sleep on AI to help you do your job. Get your organization to adopt and build the AI tools that can help you ask better questions of your data, build better applications, or even write better content.
Understand the weight of data gravity. We all have so much data spread everywhere. Find the best system to make the most of your data, no matter where it is, before you get trapped in an event horizon of data obscurity.
Embrace warehousing and real-time data access. Gain insights and drive action by knowing the strengths and weaknesses of both approaches and identify strategies to effectively leverage them both.
I look forward to seeing you at Snowflake Summit 2024!
Get started on your data journey today by joining our CData Community. Check out our Snowflake integrations and sign up for a free trial of CData Sync to replicate data from 250+ sources to Snowflake or a free trial of CData Connect Cloud to start working with data virtualization for the cloud today.