CData Sync Summer 2023 Release: An Enterprise Focus Delivers Easier Setup and More Control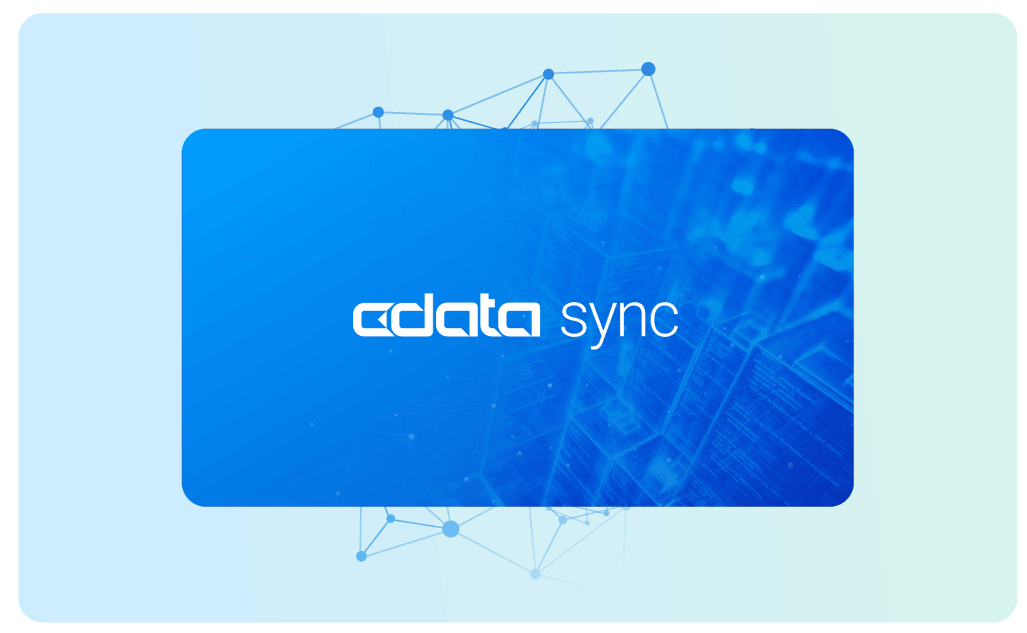 The CData Product team has launched the latest release of CData Sync, and we're excited to share all the new features and improvements with you! In this release, we focused on building out many key enterprise features that offer more granular control over implementations and speed deployment.
This blog post will take a closer look at what's new and notable.
New Role: Job Creator
Larger CData Sync installations often need to limit user access to configuration and job management capabilities. Enhanced role-based access control provides more granularity and delivers greater security by restricting user actions.
The new job creator role enables administrators to restrict permissions for creating connections.
This new role is added to our cadre of existing user group roles:
Admin has full control over the application. The first user created in Sync defaults to this role.
Standard can create, edit, and delete jobs and connections, but cannot change application-wide settings.
Job Creator can create, edit, and delete jobs and transformations, but cannot access connections or change application-wide settings.
Job Operator (read-only) can start and stop jobs, view job history, and download job logs, but cannot create new jobs, delete jobs, or change application settings.
See the chart below for a quick comparison across permissions: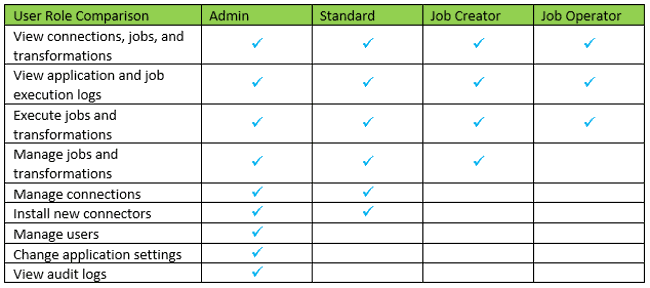 Cloning connections
In large organizations with a multitude of data sources and destinations, setting up connections can be tedious. For some data sources, such as NetSuite, it can be even more involved since NetSuite parameters are very nuanced.
This new feature allows users to easily copy source/destination connections and clone them across thousands of servers, reducing connection set-up time and decreasing user error.
Tags and filters
Users can now tag connections, jobs, and transformations with metadata to make everyday tasks easier. This feature allows users to label collections of similar items and offers advanced filtering capabilities to search for even more parameters to navigate through massive job lists more easily.
Transformation library
We're launching a new transformation library! A notable transformation delivered in this release addresses regulatory compliance requirements for personally identifiable information (PII) by enabling data masking. Data masking is a point-and-click transformation option that obscures sensitive data within a selected column in a dataset/table.
Other powerful transformation options for datasets and tables include:
Fill missing values within a selected column
Trim white spaces before and after a value within a selected column
Change case to apply upper or lower case to all text within a selected column
IBM Db2 native driver support
As part of our source catalog expansion, we've added the ability for enterprises to replicate all their data to on-premises or cloud data warehouses, including data from DB2 data sources running any DB2 protocol, such as z/OS, AS/400, and LUW. Larger organizations now have the power to fuel analytic initiatives with transactional data contained in DB2 platforms enriched with other application data with this new source.
Enhanced history mode for change data capture
Enhanced History Mode now includes metadata about the operation (insert, update, and delete) and version for every data source where CData Sync supports change data capture (CDC) and every destination that supports history mode. This capability improves clarity and creates an audit trail for data changes.
Merge in Google BigQuery
During incremental updates, prior versions of CData Sync added a new row to the destination table whenever the source data changed, creating duplicate records. Sync now allows merging and updating of existing records within BigQuery.
Kafka history mode
As records are synchronized from data sources into databases or data warehouses, any schema change can impact data replication, which puts historical data at risk of being lost.
Users of Kafka know that once an event is passed to Kafka, it cannot be updated. This new CData Sync feature allows users to track historical data in a Kafka destination whenever there is a change in the source. By expanding the use of Sync's history mode to include event date and operation information whenever a "new" event is actually an update of a prior one, users can more easily track event updates.
Business views
The digital marketing landscape is constantly evolving. We're excited to unveil our new capability that allows business users to access curated data sets to select commonly used business reports and metrics in supported data sources. These views make it easy to replicate data from Google Analytics 4, Google Ads, and Facebook Ads into the desired destination without the need for data engineering and metric mapping.
Committed to continuous improvement
CData is dedicated to improving and updating our connectivity tools for our customers. Discover the latest release of CData Sync and download a free trial.