<! -- REQUIRED PAGE WRAPPER --><! -- BEGIN [CONTENT] -->
What is the Value of Hybrid Cloud?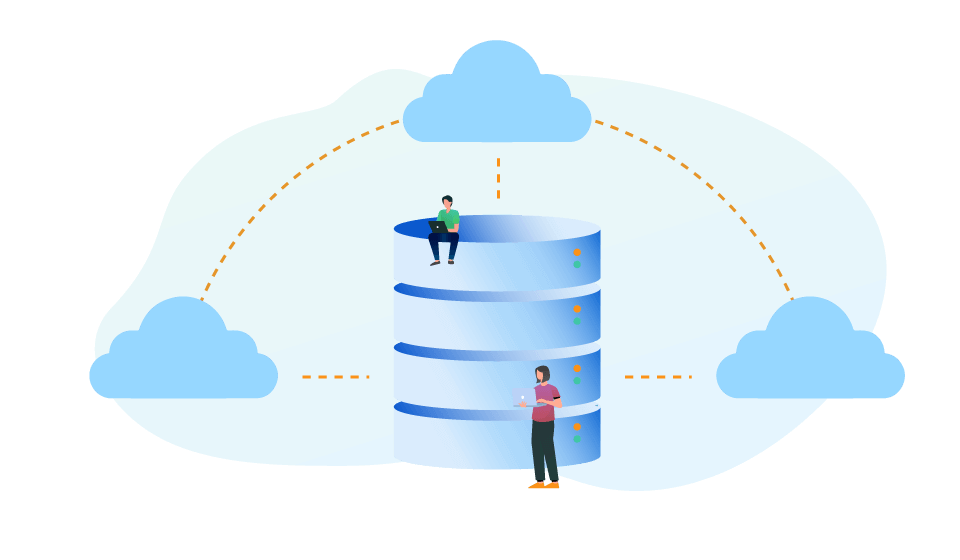 IDC forecasts that cloud spending will surpass $1.3 trillion by 2025 as businesses use cloud infrastructure and services to deliver greater efficiency, flexibility, and faster innovation. But the term "cloud" encompasses a broad range of cloud types from public to private to composites in between.
Today, the cloud architecture that has been most adopted by businesses worldwide is hybrid cloud.
What is hybrid cloud?
All the systems, services, and storage solutions that organizations leverage comprise their hybrid cloud environment. Because different companies employ a different mix of computing resources, the term "hybrid cloud" has a variety of definitions. It's not uncommon for technology vendors to present "hybrid cloud" as the marrying of a private cloud with a public cloud, with the two architectures coming together to solve all your computing needs.
The reality though, is that hybrid cloud architecture more often stems from an organic evolution of business requirements that is unique to each organization. This resulting architecture includes a mix of public and private clouds and on-premises IT infrastructure. Using a hybrid cloud, IT teams can design and maintain an architecture that works for their company using the technologies that best align with their specific needs.
Why is hybrid cloud so popular?
A key driver of the hybrid cloud is the "modern data stack," the combination of technologies and tools today's enterprises need to collect, store, transform, and analyze data. Manipulating data in the cloud presents opportunities to analyze data in ways that a legacy data stack cannot. Legacy production systems were designed to support transactional workloads; they were never designed to support today's analytical workloads.
In trying to adapt hardware-constrained, infrastructure-heavy environments to analytics processing, IT teams quickly discovered that it takes too many man-hours and resources to deliver the kind of analytics and reporting capabilities required by modern, data-driven business units. IT teams also suffered the wrath of these stakeholders when infrastructure reached the inevitable scalability caps that resulted from cost constraints, maintenance requirements, hardware limitations, and downtimes.
Because the modern data stack is a cloud-based solution, the speed of processing data exponentially increases. Analytics workloads that took hours to process on a legacy data stack now take minutes. Built-in automation capabilities within stack components further increase speed.
Modern data stacks present options for companies to design a best-fit hybrid technology ecosystem using a hand-selected mix of tools that meet their needs today while building in the scalability necessary to achieve their goals in the future. What's more, IT teams can set up their stack in less time, with fewer resources. This hybrid cloud environment enables teams to transform raw data into valuable insights using advanced analytics, machine learning, and AI. For this reason, a modern data stack is a must-have for any data-driven company that wants to get actionable data into the hands of employees at the speed of business.
Hybrid cloud data integration
When building a hybrid cloud ecosystem that works for you, it's important to start by selecting SaaS technologies whenever possible and implementing a low/no-code integration tool that connects to hundreds of data sources and targets, allowing users to quickly set up their data pipeline using just a few clicks. The objective is to establish a straightforward process to transition from development to production with no headaches.
The elements of a modern data stack typically incorporate these components:
Data pipeline: Moving data from its source into an analytics-focused environment requires a set-and-forget data pipeline. Ideally, you replicate the initial data set and then only send data updates when changes occur. You'll want a tool that supports CDC and enables both ETL and ELT to perform data transformations for data in-flight and at rest in the destination.
Data warehouse or data lake: You'll want a secure repository target that supports the data structures and formats that you intend to analyze.
Analytics tools: Data generates more business value when it's analyzed. Offering a variety of analytics options for users to perform analysis and view results on desktops and mobile devices is important.
By moving data from these production systems into an analytics-friendly cloud environment, IT teams can promote data democratization and encourage employees to access their data. Business users will then have the freedom to tailor the data they need for reporting, visualizations, modeling, and decision-making.
The CData difference
If you're looking for simple, yet powerful data pipeline technology, get started with a fully-functional free trial of CData Sync today.