Salesforce To Expand Data Cloud Connectivity with New Connectors from CData
The integration supports and extends Salesforce Data Cloud with connectivity to a broad array of SaaS, NoSQL, and Big Data sources.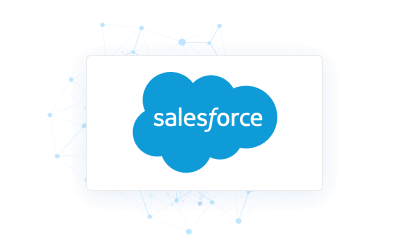 CHAPEL HILL, NC, June 13, 2023 – CData Software (www.cdata.com), a leading provider of real-time data connectivity solutions, today announced that Salesforce Data Cloud customers will have access to select connectors from CData that can be leveraged to expand the Connectors Catalog and bring more data into Data Cloud from their SaaS, database and file-based sources.
In today's market, customers expect proactive, personalized, and connected experiences across digital channels. With CData Connectors, Salesforce customers will be able to streamline access to customer data across a wide collection of data sources and touchpoints, enabling organizations to better serve their customers and gain a competitive advantage in today's market.
"CData has been a vendor for Tableau for several years and has enhanced Tableau's ability to integrate with the data sources customers care about, so integrating CData connectors with Salesforce Data Cloud just made sense," said Chandrika Shankarnarayan, VP, Product, Salesforce Data Cloud. "CData Connectors will increase our data connectivity options for customers using Data Cloud."
From the Fortune 500 and the Global 2000 to SMEs worldwide, thousands of organizations rely on CData connectivity to overcome data fragmentation and unlock value from diverse, dispersed data assets. Leading vendors across SaaS, data management, integration, analytics & BI, data science, data testing, AI & machine learning, and data governance embed CData connectivity to solve data access, data management, and data integration challenges.
"Leading vendors across almost every facet of data management embed our high-performance connectivity to solve their data access and integration challenges," said Amit Sharma, CData co-founder and CEO. "We continue to expand that connectivity, bringing our services to one of the most popular platforms for businesses worldwide to improve our customers' ability to access and action their disparate data to produce truly exceptional customer experiences."
Salesforce, Data Cloud, and others are trademarks of Salesforce, Inc.
Any unreleased services or features referenced here are not currently available and may not be delivered on time or at all. Customers should make their purchase decisions based upon features that are currently available.
About CData Software 
CData Software is the real-time data connectivity company. Our self-service data products and connectivity solutions provide universal access to live data from hundreds of popular on-premises and cloud applications. Millions of users worldwide rely on CData to enable advanced analytics, boost cloud adoption, streamline operations, and create a more connected business. Consumable by any user, accessible within any application, and built for all enterprises, CData is redefining data-driven business. Learn more at www.cdata.com, or reach a representative via email at info@cdata.com. 
Media Contacts
Media Relations
(919) 928-5214 between 9:00am and 5:30pm Eastern Time or email press@cdata.com
Reviews and Publications
Developer Relations
(919) 928-5214 between 9:00am and 5:30pm Eastern Time or email press@cdata.com