---
Manage JSON services with visual tools in DBeaver like the query browser.
The CData JDBC Driver for JSON implements JDBC standards that enable third-party tools to interoperate, from wizards in IDEs to business intelligence tools. This article shows how to connect to JSON services with wizards in DBeaver and browse data in the DBeaver GUI.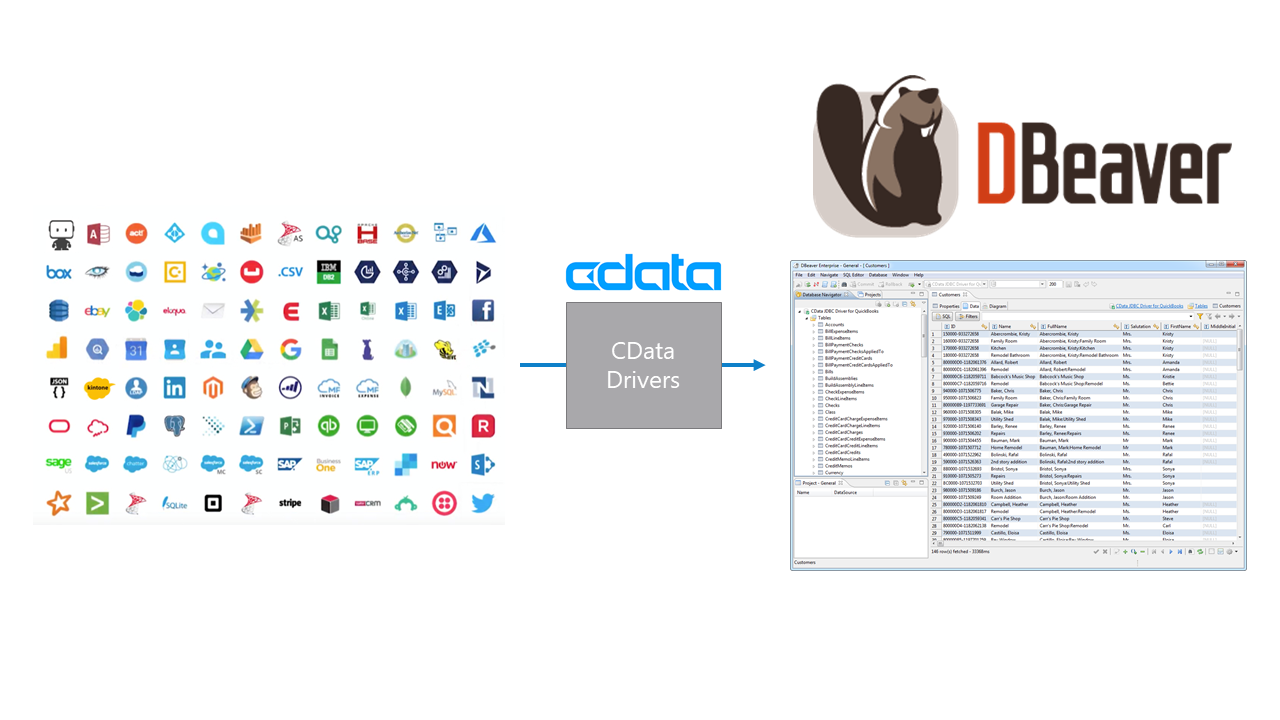 Create a JDBC Data Source for JSON Services
Follow the steps below to load the driver JAR in DBeaver.
Open the DBeaver application and, in the Databases menu, select the Driver Manager option. Click New to open the Create New Driver form.
In the Driver Name box, enter a user-friendly name for the driver.
To add the .jar, click Add File.
In the create new driver dialog that appears, select the cdata.jdbc.json.jar file, located in the lib subfolder of the installation directory.
Click the Find Class button and select the JSONDriver class from the results. This will automatically fill the Class Name field at the top of the form. The class name for the driver is cdata.jdbc.json.JSONDriver.
Add jdbc:json: in the URL Template field.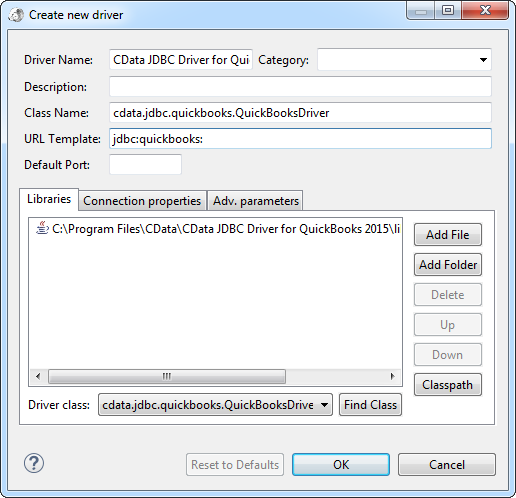 Create a Connection to JSON Services
Follow the steps below to add credentials and other required connection properties.
In the Databases menu, click New Connection.
In the Create new connection wizard that results, select the driver.
On the next page of the wizard, click the driver properties tab.

Enter values for authentication credentials and other properties required to connect to JSON.

データソースへの認証については、ヘルプドキュメントの「はじめに」を参照してください。本製品は、JSON API を双方向データベーステーブルとして、JSON ファイルを読み取り専用ビュー(ローカル ファイル、一般的なクラウドサービスに保存されているファイル、FTP サーバー)としてモデル化します。HTTP Basic、Digest、NTLM、OAuth、FTP などの主要な認証スキームがサポートされています。詳細はヘルプドキュメントの「はじめに」を参照してください。

URI を設定して認証値を入力したら、DataModel を設定してデータ表現とデータ構造をより厳密に一致させます。

DataModel プロパティは、データをどのようにテーブルに表現するかを制御するプロパティで、次の基本設定を切り替えます。

Document(デフォルト):JSON データのトップレベルのドキュメントビューをモデル化します。本製品 は、ネストされたオブジェクト配列を集約されたJSON オブジェクトとして返します。
FlattenedDocuments:ネストされた配列オブジェクトと親オブジェクトを、単一テーブルに暗黙的に結合します。
Relational:階層データから個々の関連テーブルを返します。テーブルには、親ドキュメントにリンクする主キーと外部キーが含まれています。

リレーショナル表現の設定についての詳細は、ヘルプドキュメントの「JSON データのモデリング」を参照してください。また、以下の例で使用されているサンプルデータも確認できます。データには人や所有する車、それらの車に行われたさまざまなメンテナンスサービスのエントリが含まれています。

Below is a typical connection string:

jdbc:json:URI=C:\people.json;DataModel=Relational;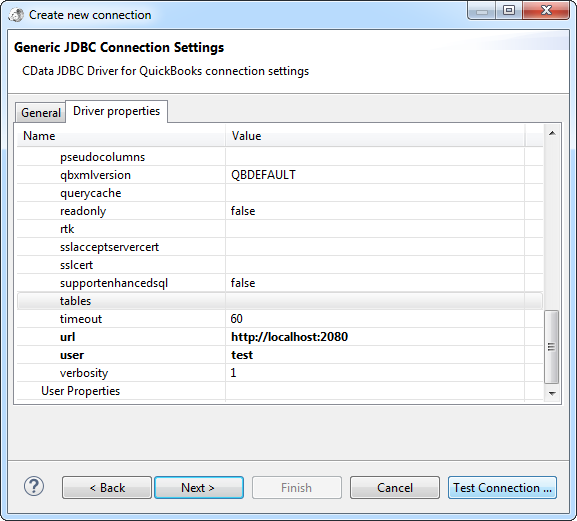 Query JSON Services
You can now query information from the tables exposed by the connection: Right-click a Table and then click Edit Table. The data is available on the Data tab.