<! -- REQUIRED PAGE WRAPPER --><! -- BEGIN [CONTENT] -->
Export Data from SQL Server to USPS through SSIS
---
Easily push SQL Server data to USPS using the CData SSIS Tasks for USPS.
SQL Server databases are commonly used to store enterprise records. It is often necessary to move this data to other locations. The CData SSIS Task for USPS allows you to easily transfer USPS data. In this article you will export data from SQL Server to USPS.
Add Source and Destination Components
To get started, add a new ADO.NET Source control and a new USPS Destination control to the data flow task.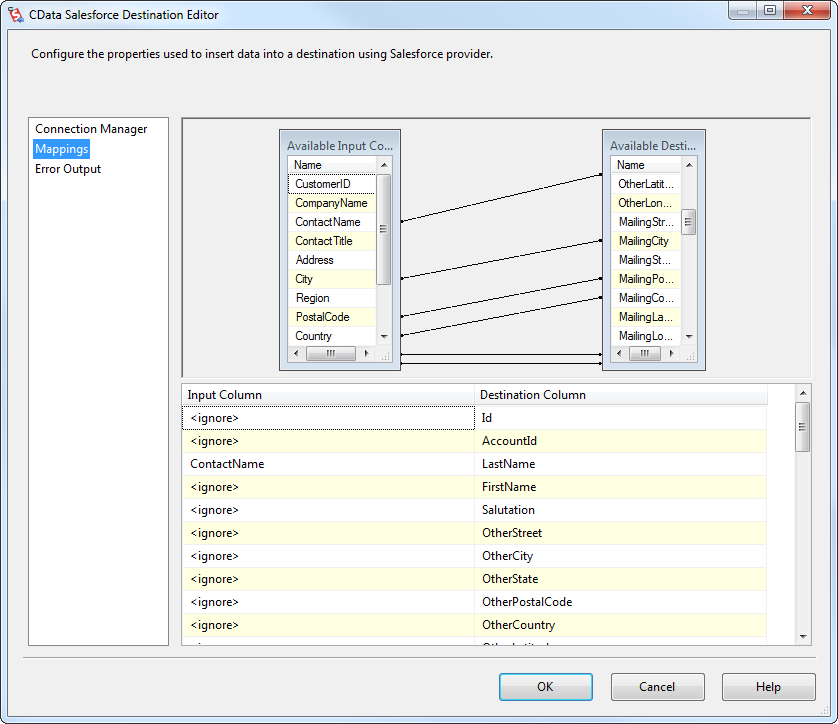 Configure the ADO.NET Source
Follow the steps below to specify properties required to connect to the SQL Server instance.
Open the ADO.NET Source and add a new connection. Enter your server and database information here.
In the Data access mode menu, select "Table or view" and select the table or view to export into USPS.
Close the ADO NET Source wizard and connect it to the destination component.
Create a New Connection Manager for USPS
Follow the steps below to set required connection properties in the Connection Manager.
Create a new connection manager: In the Connection Manager window, right-click and then click New Connection. The Add SSIS Connection Manager dialog is displayed.
Select CData USPS Connection Manager in the menu.
Configure the connection properties. A typical connection requires:

PostageProvider
RequestId
Password
AccountNumber

USPS に認証するには、次の接続プロパティを設定してください。

PostageProvider:リクエストの処理に使用するポステージプロバイダです。利用可能なオプションはENDICIA とSTAMPS です。指定されていない場合、 デフォルトはENDICIA です。
UseSandbox:ライブまたはテストリクエストを、運用サーバーに送るかサンドボックスサーバーに送るかを制御します。 true に設定した場合、Password、AccountNumber、StampsUserId プロパティは無視されます。
StampsUserId:この値はStamps サーバーに認証してログインするために使用されます。この値は Endicia には使用されず、UseSandbox がtrue の場合はオプションです。
Password:この値はEndicia とStamps サーバーへのログインに使用されます。ポステージプロバイダがEndicia の場合、この値はポステージアカウントに紐づけられたパスフレーズになります。 UseSandbox がtrue の場合にはオプションです。
AccountNumber:郵送者のアカウント番号です。UseSandbox がtrue の場合にはオプションです。
PrintLabelLocation:このプロパティは、GenerateLabels またはGenerateReturnLabels ストアドプロシージャを使用する場合には必須です。 生成されたラベルが格納されているフォルダの場所を指定してください。

キャッシュデータベース

USPS から利用可能な有用なタスクには多くのデータを要求します。データの入力を簡単にして後日思い出せるようにするには、 キャッシュデータベースを使用してリクエストを行ってください。キャッシュの使用にはキャッシュ用の接続プロパティを設定してください。

CacheLocation:デフォルトのキャッシュプロバイダーで接続が設定される、キャッシュの場所へのパスです。例えば、C:/users/username/documents/uspscache

CacheLocation の代わりに、CacheConnection とCacheProvider を設定して デフォルト以外のプロバイダーを使用してキャッシュ接続を設定することもできます。
Configure the USPS Destination
In the destination component Connection Manager, define mappings from the SQL Server source table into the USPS destination table.
Double-click the USPS destination to open the destination component editor.
In the Connection Managers tab, select the connection manager previously created.
Specify the table into which the data will be exported: On the Component Properties tab, enter the table name in the TableName property, under the Custom Properties section. In this case, you will transfer Senders records.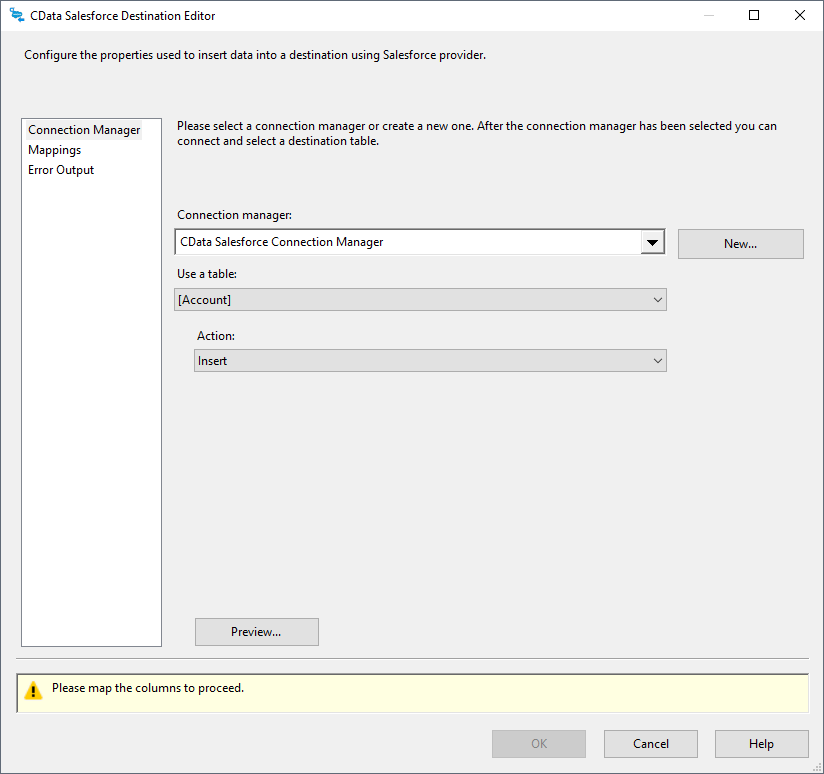 On the Column Mappings tab, configure the mappings from the input columns to the destination columns.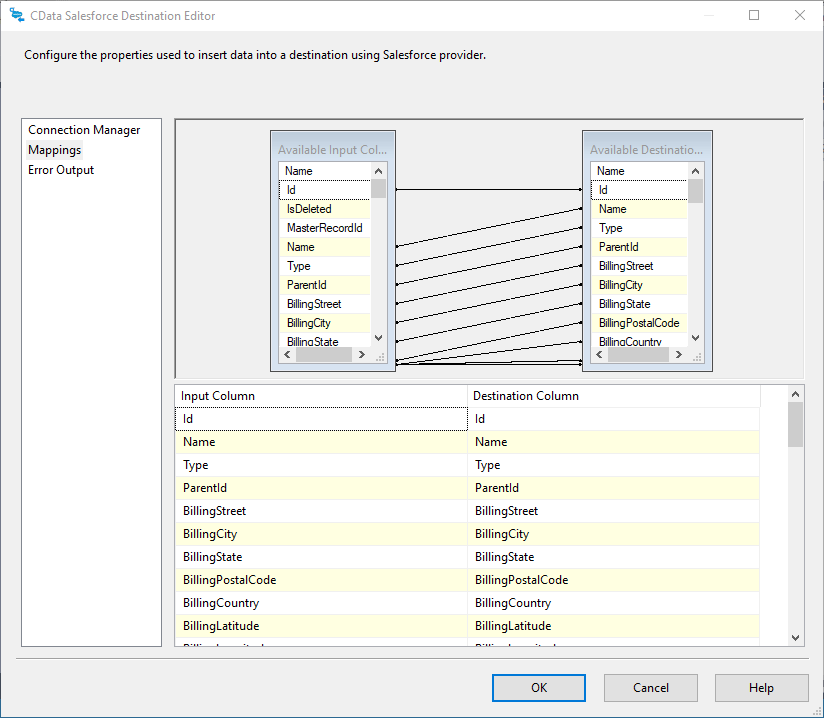 Run the Project
You can now run the project. After the SSIS Task has finished executing, data from your SQL table will be exported to the chosen table.