Access Live HubSpot Data in Google Sheets
---
Use CData Connect Cloud to gain access to live HubSpot data from your Google Sheets.
Google Sheets is a from, web-based spreadsheet program. When paired with CData Connect Cloud, you can instantly access HubSpot data from within Google Sheets for data analysis, collaborations, calculations, and more. This article shows how to connect to HubSpot in your Connect Cloud instance and access live HubSpot data in Google Sheets.
CData Connect Cloud provides a pure cloud-to-cloud interface for HubSpot, allowing you to easily access live HubSpot data in Google Sheets. Simply use the partner Connect Cloud Add-On to generate a query (or write your own). Using optimized data processing out of the box, CData Connect Cloud pushes all supported query operations (filters, JOINs, etc) directly to HubSpot, leveraging server-side processing to quickly return HubSpot data.
Connect to HubSpot in Connect Cloud
CData Connect Cloud uses a straightforward, point-and-click interface to connect to data sources.
Log into Connect Cloud, click Connections and click Add Connection
Select "HubSpot" from the Add Connection panel
HubSpot uses OAuth to authenticate. Click "Sign in" to authenticate with HubSpot.
Navigate to the Permissions tab in the Add HubSpot Connection page and update the User-based permissions.
With the connection configured, you are ready to connect to HubSpot data from Google Sheets.
Access Live HubSpot Data in Google Sheets
The steps below outline connecting to CData Connect Cloud from Google Sheets to access live HubSpot data.
Log into Google Sheets, create a new sheet (or open an existing one).
Click Add-ons and click Get Add-ons (if you have already installed the Add-on, jump to step 5).
Search for CData Connect Cloud Add-On and install the Add-on.
Authorize the Add-On.
Back in Google Sheets, click Add-ons and open the CData Connect Cloud Add-On.
In the Add-On panel, click Authorize to authenticate with your CData Connect Cloud instance
In the CData Connect Cloud panel in Google Sheets, click Import
Choose a Connection (e.g. HubSpot1), Table (e.g. Prospects, and Columns to import
Optionally add Filters, Sorting, and a Limit
Click Execute to import the data
Live Access to HubSpot Data from Cloud Applications
New, you have a direct, cloud-to-cloud connection to live HubSpot data from your Google Sheets workbook. You can add more data to your workbook for calculations, aggregations, collaboration, and more.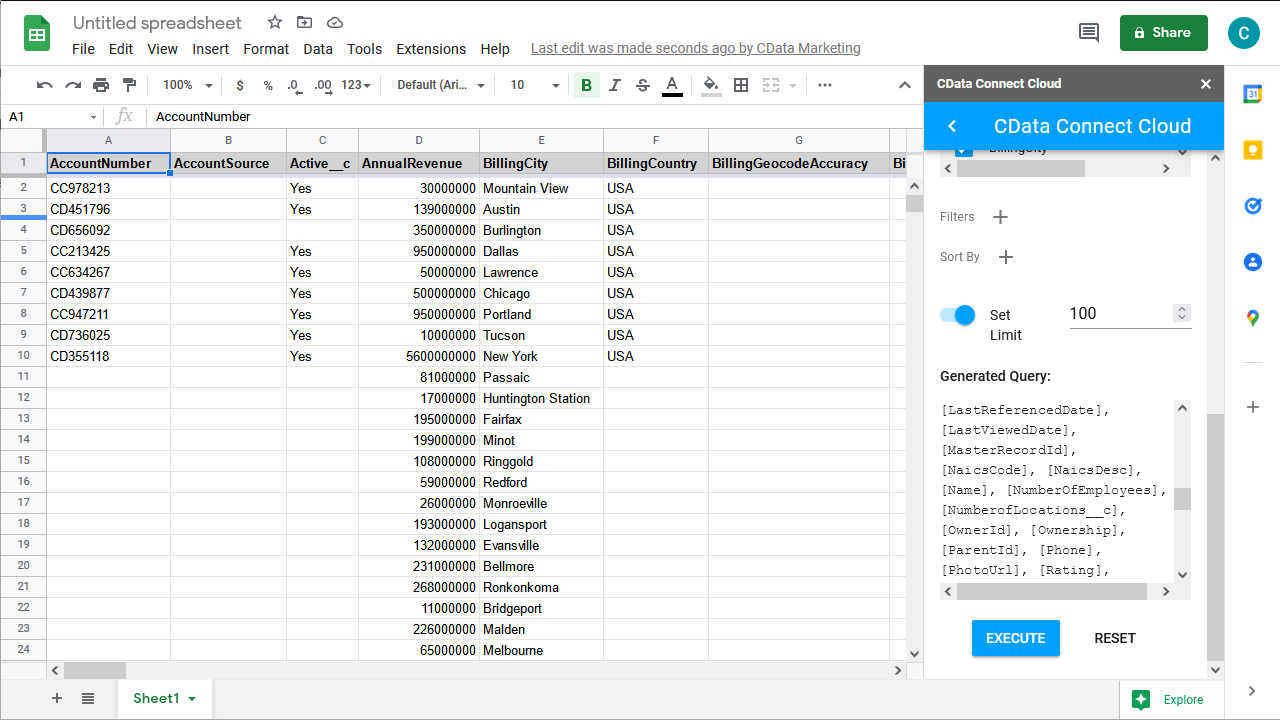 Try CData Connect Cloud and get real-time data access to 100+ SaaS, Big Data, and NoSQL sources directly from your cloud applications.