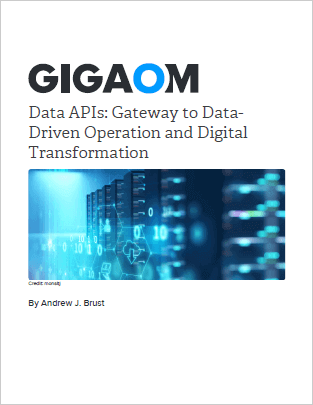 Data APIs: Gateway to Data Driven Operation & Digital Transformation
In a recent report from Gigaom Research, Lead Analyst Andrew Brust dives deep into the challenge of fragmented organizational data. Bringing more than 25 years of experience as a CTO, analyst, research director and market strategist, Brust peels back the layers on crucial topics for anyone facing integration challenges.
In this report, Andrew showcases how the metaphor of a database with tables, rows, and columns can be combined to create a new kind of Data API which overcomes many of the traditional limitations of RESTful APIs for data and application integration. Learn more:
About the Author
Andrew Brust has held developer, CTO, analyst, research director and market strategist positions at organizations ranging from the City of New York and Cap Gemini to Gigaom and Datameer. He has worked with small, medium and Fortune 1000 clients in numerous industries and with software companies ranging from small ISVs to large clients like Microsoft. Andrew's resulting understanding of technology, and the way customers use it, makes his market and product analyses relevant, credible and empathetic.
Andrew has tracked the Big Data and Analytics industry since its inception, as Gigaom's Research Director and ZDNet's lead blogger for Big Data and Analytics. Andrew co-chairs Visual Studio Live!, one of the nation's longest running developer conferences. As a longtime technical author and speaker in the database field, Andrew understands today's market in the context of its longtime Enterprise underpinnings.