<! -- REQUIRED PAGE WRAPPER --><! -- BEGIN [CONTENT] -->
CockroachDB データをDevExpress Data Grid にデータバインドする。
---
CockroachDB 用の CData ADO.NET プロバイダーをDevExpress Windows Forms とWeb コントロールとともに使用し、CockroachDB をチャートに入力します。
CockroachDB 用の CData ADO.NET プロバイダーはサードパーティーコントロールで使うことのできる通常のADO.NET データベースアクセスコンポーネントを実装しています。データバインドするための通常のADO.NET プロセスに従うことで、UI コントロールから実データへの双方向アクセスを可能にします。 この記事では、CData を使ってDevExpress Windows Forms とウェブコントロールにデータバインドする方法を説明します。ここでは、最新のデータを表示するチャートにデータバインドします。
Set the following to connect to CockroachDB.
Server: The host name or IP address of the server.
Port: The port number of the CockroachDB server. If not specified, the default port is 26257.
Database: The name of the Cockroach database. If not specified, you connect to the user's default database.
User: The Cockroach DB user account used to authenticate.
Password: The password used to authenticate the user.
Windows Forms コントロール
下のコードでは、CockroachDB でDevExpress のチャートに追加する方法を説明します。CockroachDBDataAdapter はチャートコントロールのSeries プロパティにバインドします。コントロールのDiagram プロパティはx 軸とy 軸をカラム名として定義します。
using (CockroachDBConnection connection = new CockroachDBConnection( "User=root;Password=root;Database=system;Server=localhost;Port=26257")) { CockroachDBDataAdapter dataAdapter = new CockroachDBDataAdapter( "SELECT ShipName, ShipCity FROM Orders WHERE ShipCountry = 'USA'", connection); DataTable table = new DataTable(); dataAdapter.Fill(table); DevExpress.XtraCharts.Series series = new DevExpress.XtraCharts.Series(); chartControl1.Series.Add(series); DataTable table = new DataTable(); series.ValueDataMembers.AddRange(new string[] { "ShipCity" }); series.ArgumentScaleType = DevExpress.XtraCharts.ScaleType.Qualitative; series.ArgumentDataMember = "ShipName"; series.ValueScaleType = DevExpress.XtraCharts.ScaleType.Numerical; chartControl1.Legend.Visibility = DevExpress.Utils.DefaultBoolean.False; ((DevExpress.XtraCharts.SideBySideBarSeriesView)series.View).ColorEach = true; }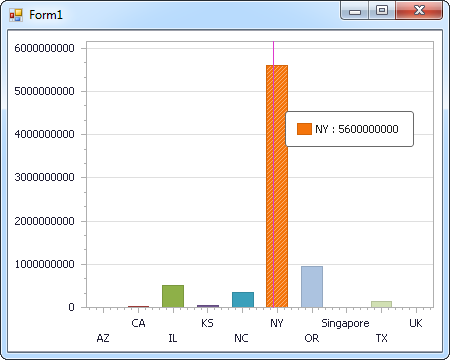 Web コントロール
下のコードではCockroachDB でDevExpress Web を操作するための設定方法を説明します。CockroachDBDataAdapter はチャートのSeries プロパティにバインドします。Diagram プロパティはx 軸とy 軸をカラム名として定義します。 using DevExpress.XtraCharts; using (CockroachDBConnection connection = new CockroachDBConnection( "User=root;Password=root;Database=system;Server=localhost;Port=26257")) { CockroachDBDataAdapter CockroachDBDataAdapter1 = new CockroachDBDataAdapter("SELECT ShipName, ShipCity FROM Orders WHERE ShipCountry = 'USA'", connection); DataTable table = new DataTable(); CockroachDBDataAdapter1.Fill(table); DevExpress.XtraCharts.Series series = new Series("Series1", ViewType.Bar); WebChartControl1.Series.Add(series); DataTable table = new DataTable(); series.ValueDataMembers.AddRange(new string[] { "ShipCity" }); series.ArgumentScaleType = ScaleType.Qualitative; series.ArgumentDataMember = "ShipName"; series.ValueScaleType = ScaleType.Numerical; ((DevExpress.XtraCharts.SideBySideBarSeriesView)series.View).ColorEach = true; }