---
Use the CData Tableau Connector for LDAP and Tableau Desktop to visualize live LDAP objects.
Tableau is a visual analytics platform transforming the way businesses use data to solve problems. When paired with the CData Tableau Connector for LDAP, you can easily get access to live LDAP objects within Tableau. This article shows how to connect to LDAP in Tableau and build a simple chart.
The CData Tableau Connectors enable high-speed access to live LDAP objects in Tableau. Once you install the connector, you simply authenticate with LDAP and you can immediately start building responsive, dynamic visualizations and dashboards. By surfacing LDAP objects using native Tableau data types and handling complex filters, aggregations, & other operations automatically, CData Tableau Connectors grant seamless access to LDAP objects.
NOTE: The CData Tableau Connectors require Tableau 2020.3 or higher. If you are using an older version of Tableau, you will need to use the CData JDBC Driver for LDAP. If you wish to connect to LDAP objects in Tableau Online, you will need to use CData CloudHub.
Connect to LDAP in Tableau
Open Tableau and click More under Connect -> To a Server. Select "LDAP by CData," then configure the connection and click "Sign In."
リクエストを認証するには、User およびPassword プロパティを有効なLDAP クレデンシャル(例えば、User を"Domain\BobF" または"cn=Bob F,ou=Employees,dc=Domain")に設定します。 本製品は、デフォルトでプレーンテキスト認証を使用します。これは、本製品がサーバーとTLS/SSL のネゴシエーションを試みるためです。 AuthMechanism を使って別の認証方法を指定できます。 TLS/SSL コンフィギュレーションについて詳しくは、ヘルプドキュメントの「高度な設定」を参照してください。
基本接続には、Server およびPort を設定します。さらに、次のように接続を微調整できます。
FollowReferrals:設定すると、本製品は参照サーバーのデータもビューとして表示します。参照サーバー上のデータを変更するには、このサーバーをServer およびPort で指定する必要があります。
LDAPVersion:サーバーが実装するプロトコルのバージョンに設定します。デフォルトでは、本製品はversion 2 を使用します。
BaseDN は、LDAP 検索の範囲を指定された識別名の高さに限定します。BaseDN の範囲を絞ることはパフォーマンスを劇的に向上させます。例えば、"cn=users,dc=domain" の値は、"cn=users" およびその子に含まれる結果のみを返します。
Scope:このプロパティを使用すると、サブツリーから返されるデータをより細かく制御できます。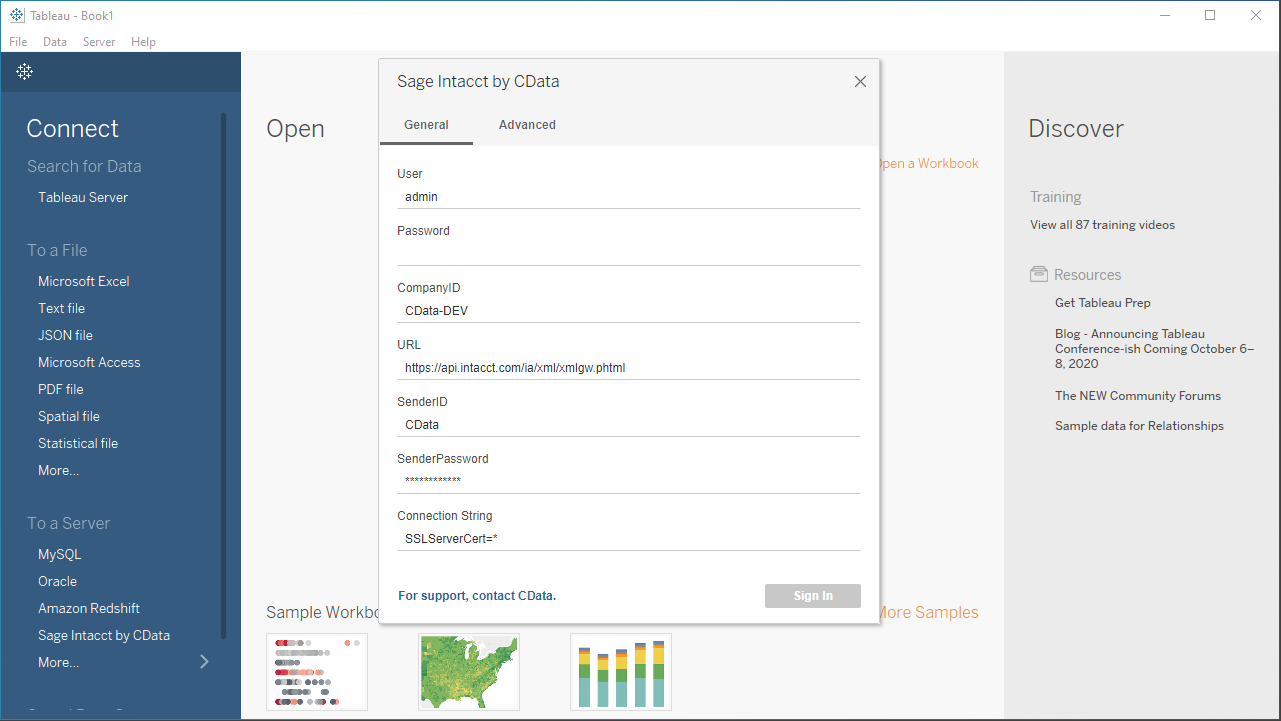 Discover Schemas and Query Data
Select CData from the Database pull-down menu.
Select LDAP from the Schema pull-down menu.
Drag the tables and views you wish to visualize onto the join area. You can include multiple tables.
Select Update Now or Automatically Update. Update Now lets you preview the first 10,000 rows of the data source (or enter the number of rows you want to see in the Rows text box). Automatically Update automatically reflects the changes in the preview area.
Click the tab for your worksheet. Columns are listed as Dimensions and Measures, depending on the data type. The CData Tableau Connector discovers data types automatically, allowing you to leverage the powerful data processing and visualization features of Tableau.
Drag a field from the Dimensions or Measures area to Rows or Columns. Tableau creates column or row headers.
Select one of the chart types from the Show Me tab. Tableau displays the chart type that you selected.
Using the CData Tableau Connector for LDAP with Tableau, you can easily create robust visualizations and reports on LDAP objects. Download a free, 30-day trial and get started today.