<! -- REQUIRED PAGE WRAPPER --><! -- BEGIN [CONTENT] -->
Connect to PCA Accounting Data in DBeaver
---
Manage PCA Accounting data with visual tools in DBeaver like the query browser.
The CData JDBC Driver for PCA Accounting implements JDBC standards that enable third-party tools to interoperate, from wizards in IDEs to business intelligence tools. This article shows how to connect to PCA Accounting data with wizards in DBeaver and browse data in the DBeaver GUI.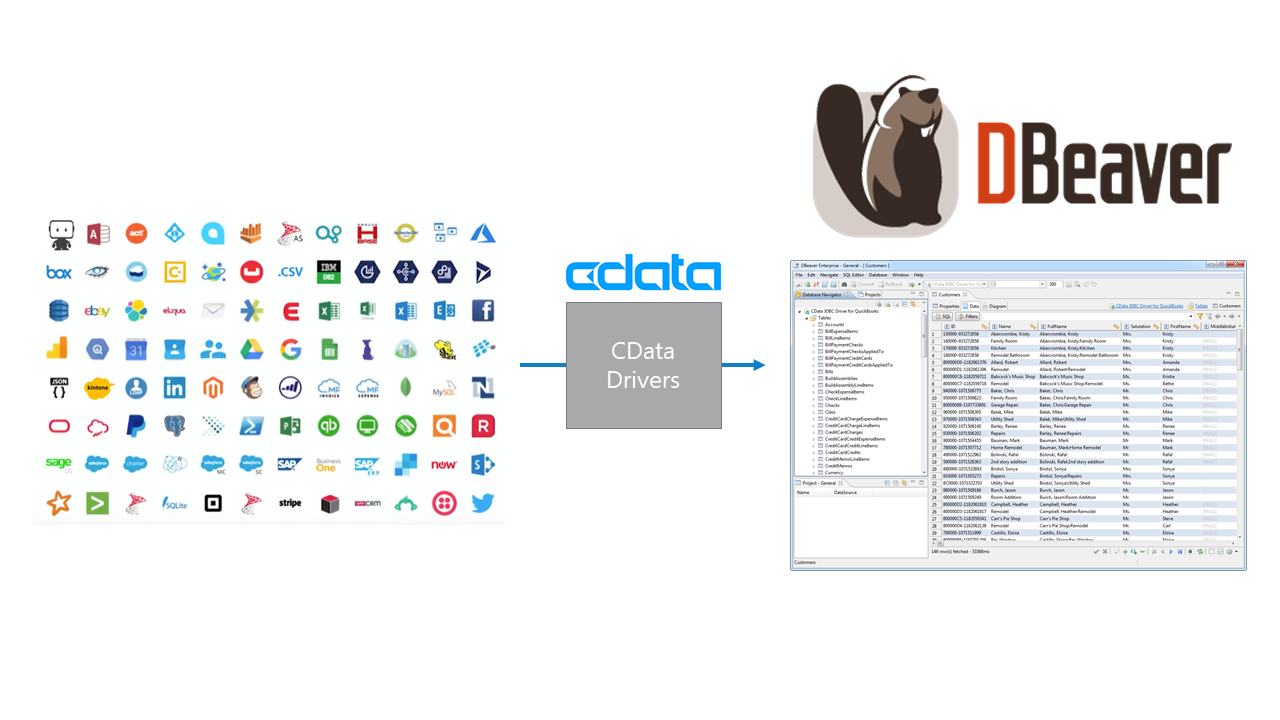 Create a JDBC Data Source for PCA Accounting Data
Follow the steps below to load the driver JAR in DBeaver.
Open the DBeaver application and, in the Databases menu, select the Driver Manager option. Click New to open the Create New Driver form.
In the Driver Name box, enter a user-friendly name for the driver.
To add the .jar, click Add File.
In the create new driver dialog that appears, select the cdata.jdbc.pcaaccounting.jar file, located in the lib subfolder of the installation directory.
Click the Find Class button and select the PCAAccountingDriver class from the results. This will automatically fill the Class Name field at the top of the form. The class name for the driver is cdata.jdbc.pcaaccounting.PCAAccountingDriver.
Add jdbc:pcaaccounting: in the URL Template field.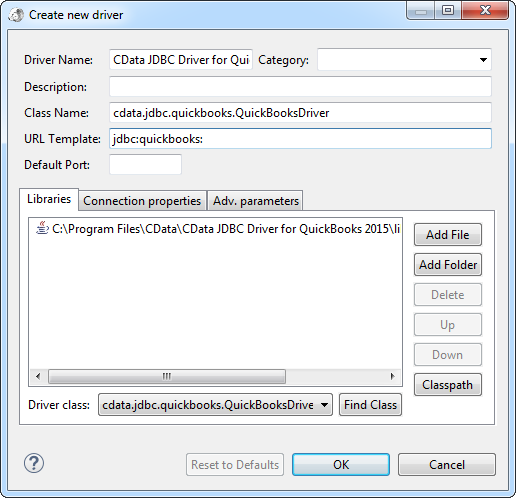 Create a Connection to PCA Accounting Data
Follow the steps below to add credentials and other required connection properties.
In the Databases menu, click New Connection.
In the Create new connection wizard that results, select the driver.
On the next page of the wizard, click the driver properties tab.

Enter values for authentication credentials and other properties required to connect to PCA Accounting.

PCA クラウド会計DX では、OAuth 2 認証標準を使います。

ユーザー資格情報の接続プロパティを設定せずに接続できます。接続に最小限必要な接続プロパティは、次のとおりです。

InitiateOAuth:GETANDREFRESH に設定。InitiateOAuth を使って、OAuth 交換や、手動での接続文字列のアクセストークン設定の繰り返しを避けられます。
OAuthClientId:アプリケーション設定のクライアントId に設定。
OAuthClientSecret:アプリケーション設定のクライアントシークレットに設定。
CallbackURL:アプリケーション設定のリダイレクトURL に設定。
ApiVersion:接続するPCA API Server バージョンを設定。
DefaultDataArea:接続するデータ領域を設定。
DataCenter:接続するサーバーのDataCenter 名を設定。
ProductCode:PCA 製品コード名を設定。
InputModuleName:PCA InputSlip のInputModuleName を設定。

接続すると、本製品はデフォルトブラウザでPCA Accounting OAuth エンドポイントを開きます。ログインして、本製品にアクセス許可を与えます。本製品がOAuth プロセスを完了します。

ヘッドレスマシンの認証など、他のOAuth 認証フローについては、ヘルプドキュメントの「OAuth 認証の使用」を参照してください。

Below is a typical connection string:

jdbc:pcaaccounting:OAuthClientId=MyOAuthClientId;OAuthClientSecret=MyOAuthClientSecret;CallbackURL=http://localhost:33333;ProductCode=MyProductCode;ApiVersion=V1;DataCenter=DataCenterName;DefaultDataArea=MyDefaultDataArea;InputModuleName=DefaultInputModuleName;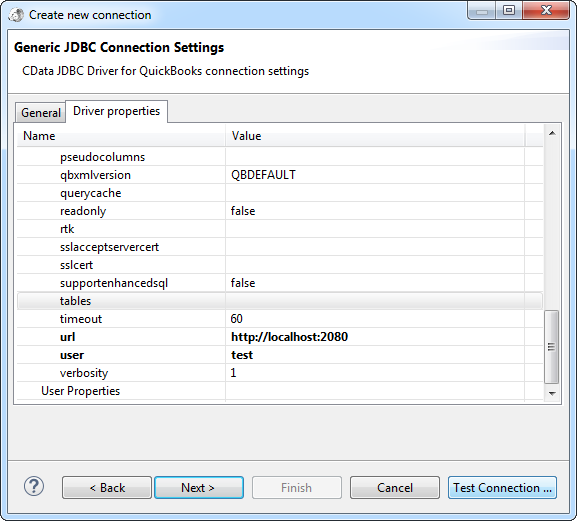 Query PCA Accounting Data
You can now query information from the tables exposed by the connection: Right-click a Table and then click Edit Table. The data is available on the Data tab.