<! -- REQUIRED PAGE WRAPPER --><! -- BEGIN [CONTENT] -->
Phoenix データをDevExpress Data Grid にデータバインドする。
---
Phoenix 用の CData ADO.NET プロバイダーをDevExpress Windows Forms とWeb コントロールとともに使用し、Phoenix をチャートに入力します。
Phoenix 用の CData ADO.NET プロバイダーはサードパーティーコントロールで使うことのできる通常のADO.NET データベースアクセスコンポーネントを実装しています。データバインドするための通常のADO.NET プロセスに従うことで、UI コントロールから実データへの双方向アクセスを可能にします。 この記事では、CData を使ってDevExpress Windows Forms とウェブコントロールにデータバインドする方法を説明します。ここでは、最新のデータを表示するチャートにデータバインドします。
Connect to Apache Phoenix via the Phoenix Query Server. Set the Server and Port (if different from the default port) properties to connect to Apache Phoenix. The Server property will typically be the host name or IP address of the server hosting Apache Phoenix.
Authenticating to Apache Phoenix
By default, no authentication will be used (plain). If authentication is configured for your server, set AuthScheme to NEGOTIATE and set the User and Password properties (if necessary) to authenticate through Kerberos.
Windows Forms コントロール
下のコードでは、Phoenix でDevExpress のチャートに追加する方法を説明します。ApachePhoenixDataAdapter はチャートコントロールのSeries プロパティにバインドします。コントロールのDiagram プロパティはx 軸とy 軸をカラム名として定義します。
using (ApachePhoenixConnection connection = new ApachePhoenixConnection( "Server=localhost;Port=8765;")) { ApachePhoenixDataAdapter dataAdapter = new ApachePhoenixDataAdapter( "SELECT Id, Column1 FROM MyTable WHERE Id = '123456'", connection); DataTable table = new DataTable(); dataAdapter.Fill(table); DevExpress.XtraCharts.Series series = new DevExpress.XtraCharts.Series(); chartControl1.Series.Add(series); DataTable table = new DataTable(); series.ValueDataMembers.AddRange(new string[] { "Column1" }); series.ArgumentScaleType = DevExpress.XtraCharts.ScaleType.Qualitative; series.ArgumentDataMember = "Id"; series.ValueScaleType = DevExpress.XtraCharts.ScaleType.Numerical; chartControl1.Legend.Visibility = DevExpress.Utils.DefaultBoolean.False; ((DevExpress.XtraCharts.SideBySideBarSeriesView)series.View).ColorEach = true; }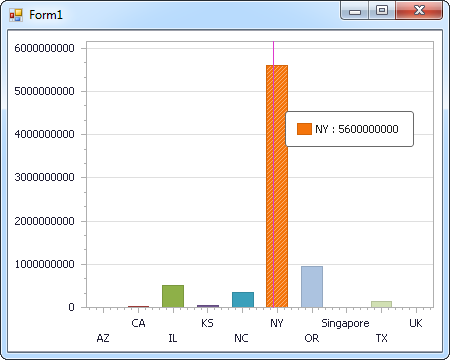 Web コントロール
下のコードではPhoenix でDevExpress Web を操作するための設定方法を説明します。ApachePhoenixDataAdapter はチャートのSeries プロパティにバインドします。Diagram プロパティはx 軸とy 軸をカラム名として定義します。 using DevExpress.XtraCharts; using (ApachePhoenixConnection connection = new ApachePhoenixConnection( "Server=localhost;Port=8765;")) { ApachePhoenixDataAdapter ApachePhoenixDataAdapter1 = new ApachePhoenixDataAdapter("SELECT Id, Column1 FROM MyTable WHERE Id = '123456'", connection); DataTable table = new DataTable(); ApachePhoenixDataAdapter1.Fill(table); DevExpress.XtraCharts.Series series = new Series("Series1", ViewType.Bar); WebChartControl1.Series.Add(series); DataTable table = new DataTable(); series.ValueDataMembers.AddRange(new string[] { "Column1" }); series.ArgumentScaleType = ScaleType.Qualitative; series.ArgumentDataMember = "Id"; series.ValueScaleType = ScaleType.Numerical; ((DevExpress.XtraCharts.SideBySideBarSeriesView)series.View).ColorEach = true; }