Connect to Excel Online Data in RazorSQL
---
Connect to Excel Online from wizards and query Excel Online data from the GUI in the RazorSQL database management tool.
The CData JDBC Driver for Excel Online enables standards-based access from third-party tools, from wizards in IDEs to data management and analysis tools. This article shows how to connect to Excel Online using wizards in RazorSQL.
Create a JDBC Data Source for Excel Online Data
Open the RazorSQL application and, in the Connections menu, select Add Connection Profile -> Other -> JDBC.
In the Connection Wizard that appears, set the following properties:

Driver Location: Set this property to the path to the lib subfolder in the installation directory.
Driver Class: Set the driver class to cdata.jdbc.excelonline.ExcelOnlineDriver.
Username: Enter the username. (This property can also be set in the JDBC URL.)
Password: Enter the password. (This property can also be set in the JDBC URL.)

JDBC URL: Enter connection parameters. The JDBC URL begins with jdbc:excelonline: and is followed by a semicolon-separated list of connection properties.

You can connect to a workbook by providing authentication to Excel Online and then setting the following properties:

Workbook: Set this to the name or Id of the workbook.

If you want to view a list of information about the available workbooks, execute a query to the Workbooks view after you authenticate.

UseSandbox: Set this to true if you are connecting to a workbook in a sandbox account. Otherwise, leave this blank to connect to a production account.

You use the OAuth authentication standard to authenticate to Excel Online. See the Getting Started section in the help documentation for a guide. Getting Started also guides you through executing SQL to worksheets and ranges.

Built-in Connection String Designer

For assistance in constructing the JDBC URL, use the connection string designer built into the Excel Online JDBC Driver. Either double-click the JAR file or execute the jar file from the command-line.

java -jar cdata.jdbc.excelonline.jar

Fill in the connection properties and copy the connection string to the clipboard.

A typical JDBC URL is the following:

jdbc:excelonline:InitiateOAuth=GETANDREFRESH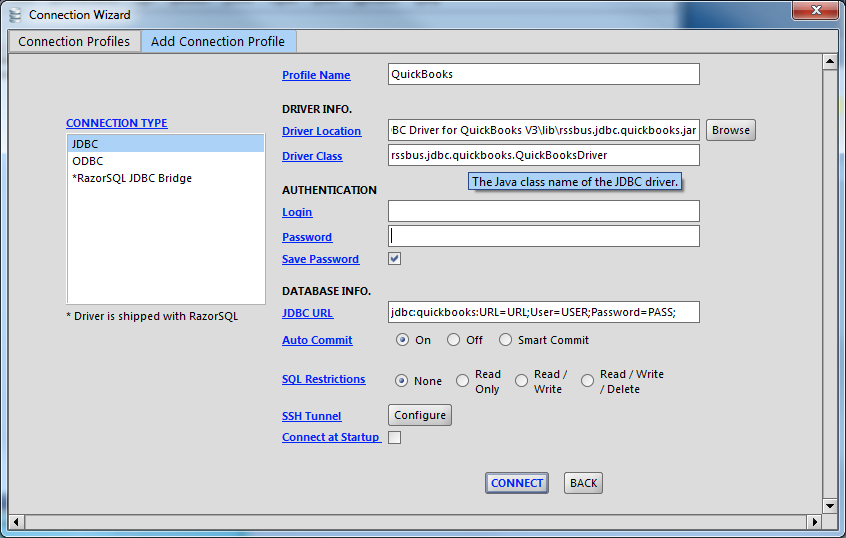 Query Excel Online Data and Select Tables
After establishing a connection, the wizard will close and the connection will be available in the connections panel. You can then query the tables.