---
レポートウィザードを使って、最新のXero WorkflowMax 連携データを使った帳票を作成。

Crystal Reports には、JDBC 標準向けのサポートが組み込まれています。この記事では、Xero WorkflowMax の機能を持つ帳票を作成するレポート作成ウィザードの使い方を説明します。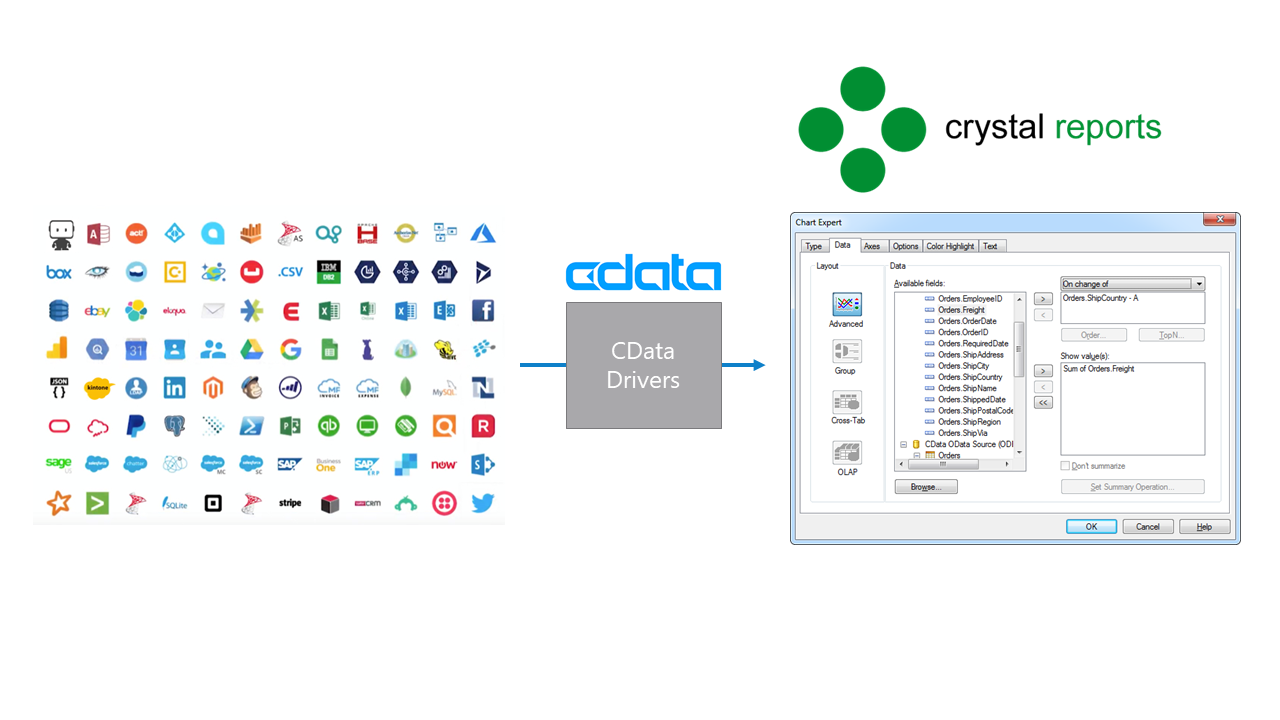 Xero WorkflowMax JDBC Driver のインストール
CData JDBC Driver for Xero WorkflowMax を、ドライバーのJAR をCrystal Reports のクラスパスに含めてインストール:DataDriverCommonElement の下のClassPath element のパスに、 .jar を含むファイルのフルパスを追加します。
CRConfig.xml は通常C:\Program Files (x86)\SAP BusinessObjects\SAP BusinessObjects Enterprise XI 4.0\java に配置されます。— パスはインストールによって若干異なる場合があります。ドライバーのJAR はインストールディレクトリの[lib]サブフォルダ内にあります。
ClassPath にJAR を追加したら、Crystal Reports を再起動します。
Xero WorkflowMax データに接続
下記の手順に従って、レポート作成ウィザードを使ってXero WorkflowMax 接続を作成します。
新しい空の帳票で、[Create New Connection]>[JDBC (JNDI)]をクリックします。

ウィザードでJDBC 接続URL を選択します。

jdbc:xeroworkflowmax:APIKey=myApiKey;AccountKey=myAccountKey;

ドライバーのクラス名を設定:

cdata.jdbc.xeroworkflowmax.XeroWorkflowMaxDriver

To connect to the WorkflowMax API, obtain an APIKey and AccountKey from Xero. This can only be done by contacting Xero support (https://www.workflowmax.com/contact-us).

After obtaining an API Key and Account Key, set the values in the APIKey and AccountKey connection properties. Once these are set, you are ready to connect.
帳票をデザイン
JDBC 接続をXero WorkflowMax に追加したら、レポート作成ウィザードを使ってXero WorkflowMax を帳票に追加できます。
帳票に必要なテーブルやフィールドを選択して、データソースを設定します。この例では、Clients テーブルのId およびName カラムを使います。

チャートの種類を設定 ウィザードを完了すると、Crystal Reports はXero WorkflowMax data に実行されるSQL クエリをビルドします。ドライバーは、ライブXero WorkflowMax data に対してクエリを実行します。

必要に応じて、ほかのフィルタや帳票テンプレートを設定します。

データのインポートが終わったら、データをサマライズもしくはソートするチャートやレポートオブジェクトを作成できます。[Insert]>[Chart]をクリックして、チャートエキスパートを開きます。Total Name by Id を表すグラフを作成するには、Id を[On Change Of]メニューセレクションの下のボックスに追加してからName を[Show Values]の下のボックスに追加します。
完成した帳票をプレビューして、チャートにデータが入っていることを確認します。Null 値を取り除きたい場合は、SelectionFormula を使います。