A New Approach to Data Virtualization for the Cloud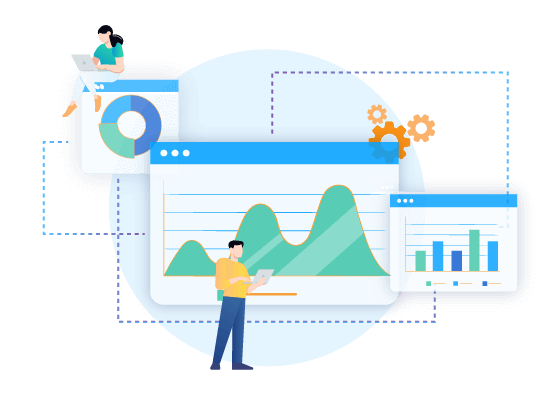 Data virtualization (DV) is an established technology that has historically been closely associated with databases. Its primary objective is to enable data connectivity and access in real-time, without the need for data replication or movement from structured databases, data warehouses, and database storage solutions with schemas. As data virtualization has evolved to encompass the abstraction of live cloud data across diverse applications and platforms, CData was committed to taking a new approach to DV for the cloud.
Learn how DV differs from extract-transform-load (ETL) pipelines and how to leverage each according to your unique needs in our latest whitepaper.
What is data virtualization?
Data virtualization creates a logical data layer for analytics, providing a unified view of data from multiple sources without physical warehousing or lengthy ETL processes. It's a modern way to quickly access, combine, and deliver datasets throughout the organization.
Traditional virtualization builds its logical data layer on top of enterprise data stores, such as databases, data lakes, or data warehouses.
But traditional data virtualization was architected for an on-prem world, not for today's cloud-forward data ecosystems. Hence, traditional approaches to data virtualization have shortcomings like limited connectivity to cloud data sources and slower implementation. Adding new data sources and users is also a common challenge, often requiring technical resources, impact on performance, and additional hardware or cloud investment.
Data Virtualization for the Cloud
CData Connect Cloud delivers a fresh approach to data virtualization for the cloud with a fully managed SaaS solution. Unlike traditional approaches to data virtualization, Connect Cloud builds a logical data layer from hundreds of popular SaaS applications and cloud data sources, all within an easy-to-use, centralized platform that allows data teams to empower a wide spectrum of users while maintaining governance and control.
Connect Cloud simplifies various data formats into a tabular model and uses dynamic metadata discovery to provide information about data structure, attributes, and characteristics, making it easy for users to understand the data. These capabilities enable users to make data-driven decisions, respond quickly to evolving needs, and unlock the full potential of their data assets.
Connect instantly to SaaS apps or cloud services
With CData Connect Cloud, you can easily connect right out of the box with over 150 cloud applications, databases, and data warehouses, from the most popular client tools. Query data sources directly from your business intelligence (BI) and reporting tools, or maintaining ETL pipelines. What's more, the Connect Cloud API Connector quickly enables access to any RESTful API for any cloud data source the tool does not currently support. 
Deploy and drive value in minutes, not weeks or months
Getting started with Connect Cloud is simple. With the fully-managed SaaS platform, there's no software installation, no updates to worry about, and you can scale automatically as you add new data sources and users into your tech stack.
With Connect Cloud, data teams can connect to Microsoft Power BI, Tableau, Microsoft Excel, Google Sheets, Google Looker Studio, AWS Glue, Python, and more natively, providing fast connectivity to the major data sources you care about.
Create customized views and federate queries across disparate sources
Teams can use Connect Cloud to customize what data to access across disparate sources with derived views and query federation. Creating federated queries merges data from multiple sources in real time as if from the same database. You can then save the queries as named views to simplify, share and reuse. Connect Cloud handles all the complexities of structuring, aggregating, and filtering data from disparate systems for a consistent output.
Empower users while centrally governing access
Connect Cloud provides a centralized cloud platform with an intuitive interface, allowing you to grant access to a diverse set of users while maintaining the ability to govern data access to all sources. Manage all data connections, set granular data access controls, and monitor data connectivity consumption across your enterprise. Enabling user credentials honors the data permissions at the data source level, ensuring users can only access authorized data.
Traditional data virtualization vs. data virtualization for the cloud
Traditional Data Virtualization

Data Virtualization for the Cloud from CData

Architecture

Originally built for on-premises data storage.

A cloud-native SaaS platform built with dynamic and scalable technologies for today's enterprise.

Data connectivity

Historically created to work with structured databases, with limited cloud application connectivity. Popular consumption tools often require advanced technical skills to connect to the destination sources.

Agnostic to the cloud data structure, file type, or technology. Out-of-the-box connectivity to hundreds of cloud applications and services from the most popular BI reporting, no code apps, and developer and ETL tools.

Deployment

Due to the legacy architecture, technical resources and additional hardware are often required to implement data virtualization, upgrade the software, or to add data sources or more users.

Requires no software installation, so there are no maintenance updates. Get started in three easy steps:

Sign up for a free trial for immediate access to the platform.
Create a connection with your user credentials.
Select the tool you wish to consume the data from. The elastic cloud infrastructure automatically scales when adding new data sources and users.

Security/ permissions

Connects to data already stored in databases/data warehouses, where the user permissions from the target source are not utilized.

User permissions are honored at the source system level, ensuring users only access authorized data.

Breadth of data sources

Connectivity to cloud data sources and cloud data consuming tools are not a core competency. This results in a limited number of sources and tools, requiring more investment, time, and technical resources.

Data connectivity is CData's bread and butter, providing universal connectivity from any client to hundreds of data sources, many of which support CRUD.
Get started with a free 30-day trial of CData Connect Cloud today or schedule a discovery call with one our data specialists.