Universal API Connectivity
Simple, Codeless, Automated API Connectivity
Easily Connect BI, Reporting, & ETL tools to real-time API data.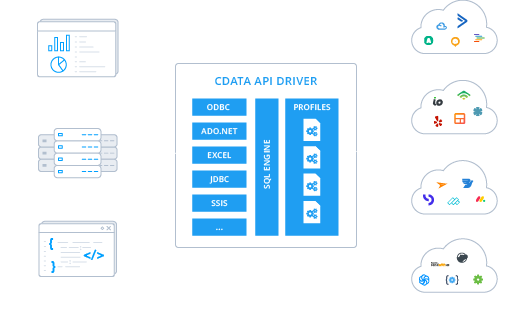 Simple Codeless Connectivity to Any API
Connect BI, Reporting, & ETL tools to live data from any application, database, or Web API. Built on the same robust SQL engine that powers other CData Drivers, the CData API Driver enables simple codeless query access to APIs through a single client interface.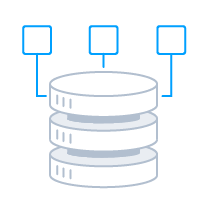 Universal API Connectivity
Connect applications through standard data interfaces like ODBC, JDBC, ADO.NET, SSIS, Excel, Power BI, and more.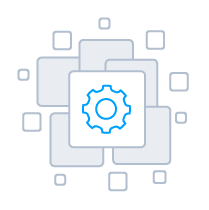 Codeless Integration
Easily integrate BI, ETL, & Reporting with cloud APIs through dozens of pre-defined API Profiles.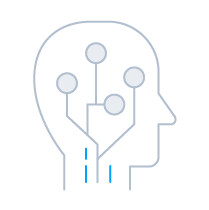 Robust SQL-Engine
The same reliability, scalability, performance & security powering leading data integration solutions.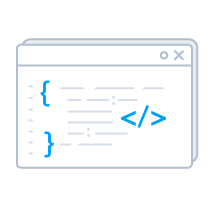 Fully-Extensible Design
Extend included API Profiles with custom capabilities, or create entirely new Profiles to enable new API Connectivity
Pre-configured API Profiles
API Profiles extend the CData API Driver with connectivity to all types of APIs and services. Users can download and install any of the pre-defined profiles below, extend these API Profiles with custom logic, or easily build new Profiles to target new application and services.
---
Aweber

Accelo

AdRoll

AfterShip

AgileCRM

Aha!

Aircall

Amplitude

Autopilot

Avaza

BambooHR

BenchmarkEmail

Billsby

Bugsnag

Calendly

CampaignMonitor

Campaigner

CapsuleCRM

ChargeOver

Chargebee

ClickTime

ClickUp

Clio

Close CRM

Codat

Coinbase

ConstantContact

ConvertKit

Copper CRM

Delighted

Dotmailer

Drift

Drip

Egnyte

Elorus

EmailOctopus

Eventbrite

Everhour

Figshare

Float

Flowlu

FreeAgent

Freshsales

Freshservice

Freshteam

Front

GetResponse

Gorgias

Grafana

Harvest

HelloSign

Helpscout

Hive

Hubstaff

Humanity

Infusionsoft

Insightly

Intercom

Invoiced

JotForm

Jumpseller

Klaviyo

Klipfolio

LaunchDarkly

LeadDesk

LightSpeedRetail

LionDesk

MailerLite

Mailjet

MessageBird

Mode

Moosend

Mouseflow

Nethunt

Omnisend

OnePageCrm

Ontraport

Opsgenie

Optimizely

PabblySubscriptions

PagerDuty

Paymo

Pingdom

Pipeline CRM

Pipeliner CRM

PivotalTracker

Planio

PolarTeamPro

Printful

Printify

Procore

Quaderno

Rebilly

Recurly

Retently

SageHR

Samanage

SendInBlue

SendPulse

Sendwithus

ShipEngine

Shippo

SpaceX

SparkPost

Stack Exchange

Tanda

Teamgate

Teamwork

Testmonitor

Tickspot

Timely

Todoist

Toggl

Typeform

Unbounce

VWO

Wistia

Wrike

Yelp

ZarMoney

ZendeskSell

Zenefits

ZohoDesk

ZohoExpense

ZohoInventory

ZohoInvoice

ZohoMarketingHub

ZohoPeople

ZohoProjects

ZohoSubscriptions

Zoom

iContact

Your Custom API
Download API Profiles
Direct Integration with Popular BI, ETL, & Reporting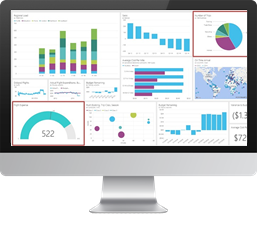 Through standard interfaces like ODBC, JDBC, & ADO.NET, the CData API Drivers simplify data connectivity for a wide range of popular data tools. The API Driver offers seamless and certified connectivity from BI, ETL, and Reporting solutions, including:
Aqua Data Studio
Clover ETL
ColdFusion
Crystal Reports
DBeaver
DbVisualizer
IBM WebSphere
Informatica
IntelliJ
JBoss
Jetty
NetBeans IDE
Oracle WebLogic
RazorSQL
Cognos BI
Crystal Reports
FileMaker Pro
FoxPro
Microsoft Access
Microsoft Excel
MicroStrategy
Oracle DB
Power Map
Power Pivot
QlikView
SAP Business Objects
SharePoint Services
Tableau
Looker
... and many more!
Key Features
Plug-n-Play API Integration

Access an unlimited number of data sources through the same driver interface. With API Driver it is possible to connect to just about any application, database, or Web service.

Easily Extensible Connectivity

Each API Profile defines the data source tables, views, and stored procedures that are available, along with code for reading, writing, and updating API data.

The data model for each Profile can easily be customized to add or remove tables/columns, change data types, etc. These customizations are supported at runtime using human-readable schema files that are easy to edit.


The open architecture allows developer to easily update profiles to support new functionality or rapidly build API profiles for entirely new data sources.

Robust Data-Centric API Access

Next-level Codeless Data Connectivity. Each API Driver includes a robust SQL-92 Engine that seamlessly supports bulk operations, push-down, dynamic schema & metadata discovery, and unmatched performance. Features include:

String, Date, Numeric SQL Functions
Collaborative Query Processing
Query Folding / Pushdown
Replication and Caching
Read/Write/Update API Data

API Drivers provide the interfaces to support bi-directional access to API data. Individual profiles selectively support CRUD capabilities through these interfaces.

Universal Client Integration

API Driver offers universal data connectivity through standards-based Driver and Adapter interfaces. Users can install any one of the popular API Driver form factors like ODBC, JDBC, ADO.NET, Excel, Power BI, etc. and easily connect their applications with data.

Enterprise-Class Security

Includes standard enterprise-class security features, such as TLS/ SSL data encryption for all client-server communications.
Universal API Connectivity
Watch the API Driver overview video for a first hand look at how you can simplify API data connectivity with API Driver:
WATCH THE API DRIVER VIDEO OVERVIEW
Download CData API Drivers
Easily connect with APIs and RESTful services. Interested in a data source that is not listed above? Users can easily extend API Driver with new connectivity, or contact us below and we can help.
Download Now
Contact Us