Easy Salesforce data connectivity
Integrate Salesforce with all the apps you use every day — on premises or in the cloud. Simplify access to Salesforce data in the BI & analytics tools, data storage platforms, and custom applications your organization uses every day.
Data Consolidation: Pipe Salesforce data to any RDBMS or data warehouse
BI & Analytics: Access, visualize, and analyze Salesforce data in your preferred BI tool
App Integration: Build logical data flows combining data & tables with all your data
Get a Demo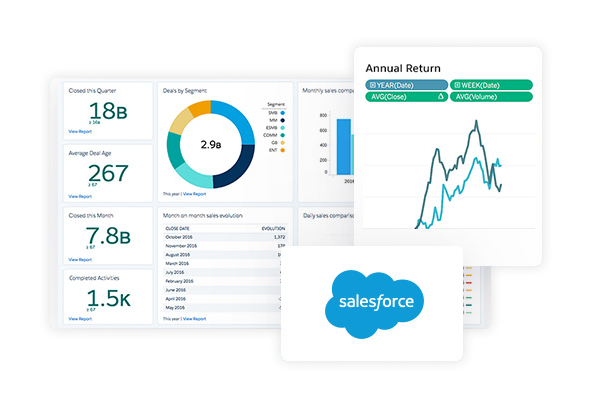 Automated Salesforce data replication
CData Sync automatically replicates data from hundreds of on-premises and cloud data sources — like Salesforce — to any modern database, data lake, or data warehouse.
Create automated Salesforce data flows in minutes with point-and-click data replication
Facilitate closed-loop Sales Ops reporting, business intelligence, and analytics for vital decision support
Reduce your Salesforce costs with efficient data warehousing
Archive data for disaster recovery
And more!
Replicate Salesforce data to 30+ data warehouses and databases
To get started, just connect CData Sync with Salesforce, select the data tables you want to replicate, pick a destination, and set a replication schedule.
Learn More
Connect to Salesforce from any application or platform
Easy-to-use drivers and connectors provide any enterprise application with instant, live data connectivity.
Access Salesforce data from inside your analytics tools of choice — Power BI, Tableau, Sisense, Qlik, Excel, Google Sheets, and more. Just install the connector and your data is available — no code required.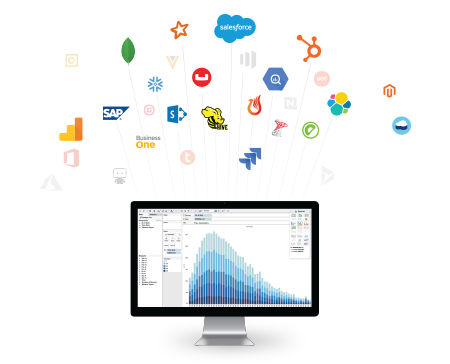 Connect Salesforce with SQL Server
Report on real-time or mirrored Salesforce data from SQL and easily integrate
local applications
CData SSIS Components
CData SSIS Components for Salesforce allow you to build powerful data integration workflows through SQL Server Integration Services (SSIS). Report on real-time or mirrored Salesforce data from Microsoft SQL Server on-premises, and Azure Data Factory.
Learn more
CData DBAmp
CData DBAmp provides powerful bi-directional integration between Salesforce and SQL Server — in real-time.
Explore DBAmp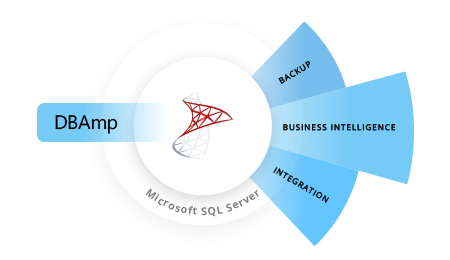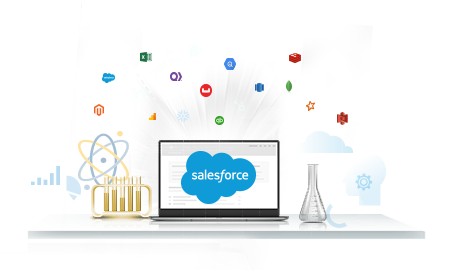 Build applications that connect to live
Salesforce data
No need to configure a complex API or code directly against Salesforce — just write simple SQL queries to pull data from any Salesforce table right into your custom applications. CData Connectors provide seamless real-time integration from popular development environments like Visual Studio, Pandas, SQLAlchemy, and more.
Cloud-to-cloud analytics and integration
Connect to Salesforce directly from Looker Studio, SAP Analytics Cloud, Microsoft Power Apps, Amazon QuickSight, and more.
Real-time data connectivity to Workday and hundreds of additional enterprise sources
Bi-directional connectivity through common data endpoints
Easy integration with apps like Amazon Glue, Amazon QuickSight, Domo, Google Apps Script, Google Cloud Data Flow, Google Cloud Data Studio, Looker, Microsoft Power Apps, Microsoft Power Query, MicroStrategy Cloud, Qlik Sense Cloud, SAP Analytics Cloud, SAS Cloud, SAS Viya, Tableau Cloud, and more!
The best part? CData Connect is easy to set up in minutes.
Learn more