Unified access to all your cloud data
Introducing Data Virtualization for the Cloud.
CData Connect Cloud provides governed access to hundreds of cloud applications, databases, and warehouses for live data consumption and analysis with your favorite tools.
Consumers
Consumers
BI & Analytics
No/Low-Code Dev Platforms
Data Management Tools
SaaS Applications
Cloud Data Virtualization Layer
Cloud Data Virtualization Layer
Real-time Connectivity SQL Normalization
Shared Data Sets Elastic Scaling
Query Federation Metadata Discovery
Data Governance & Security Fully Managed
Sources
Sources
SaaS Applications
Databases & Warehouses
NoSQL & Big Data
Files & Unstructured Data
APIs
Why data virtualization for the cloud
Ideal for quickly combining and delivering critical data for analytics, data virtualization (DV) provides live, federated data access to traditional databases, big data sources, and cloud applications within a single interface. But traditional DV tools often fall short with complex setups, lengthy deployment cycles, poor scalability, and limited SaaS connectivity.
It's time for data virtualization for the cloud.
Access and merge cloud data in real-time
Create a unified logical access layer for all cloud data without moving data to a warehouse.​
Get started in just a few clicks​
Get started quickly within a fully-managed cloud interface — no installation, updates, or hardware required.
Elastic scale & performance​
Elastic cloud computing infrastructure provides dependable performance with automatic scaling.
Govern cloud data access​​
Centrally govern, secure, and monitor access to cloud applications.
Accelerate your cloud data strategy with CData Connect Cloud
Get started in minutes
Get connected to all of your data in 3 easy steps: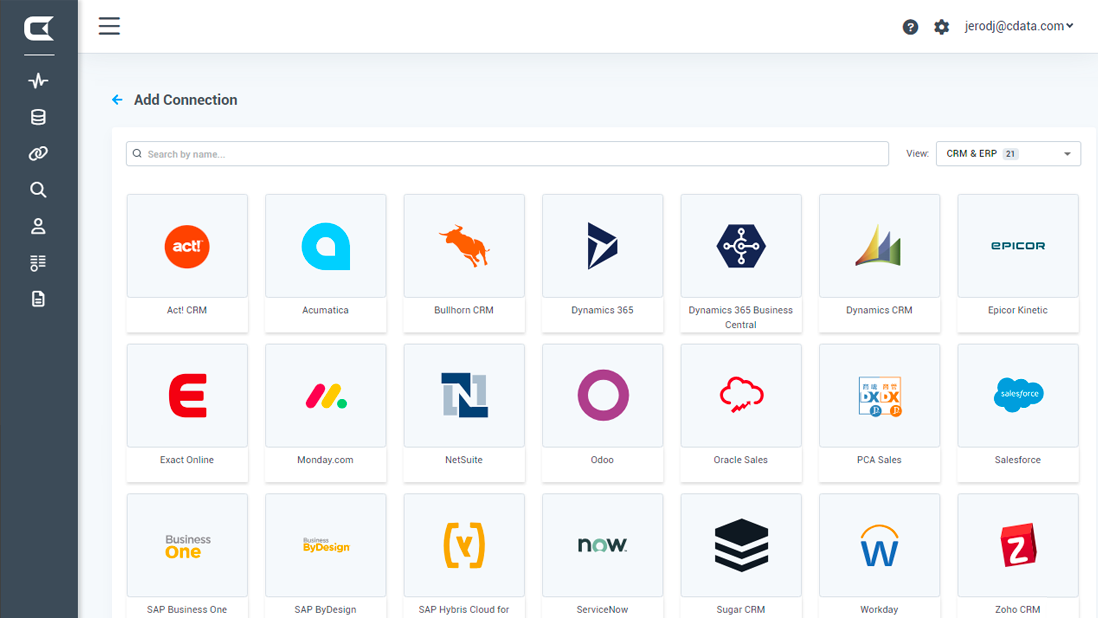 1. Create your connection
The CData Connect Cloud platform is designed for business. To get started, log into Connect Cloud and select one of the supported cloud applications, databases, data warehouses, or other integrations.
As a native cloud application, the platform follows standard patterns for secure cloud connectivity by supporting user-based oAuth authentication wherever possible. As a result, connecting to your desired source is typically as easy as logging into the data source's web interface.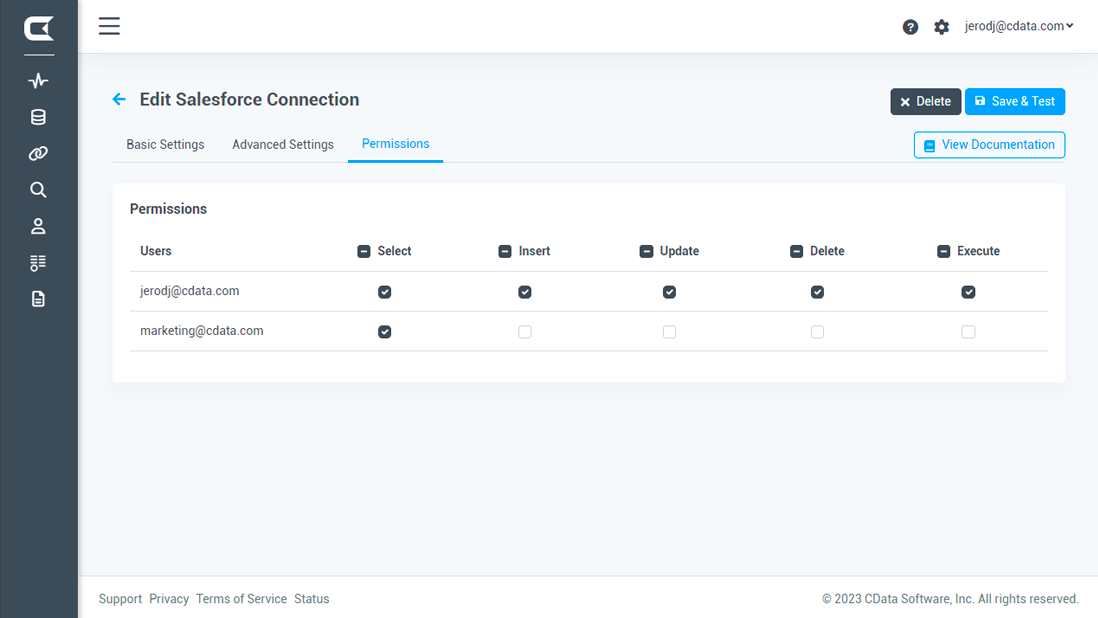 2. Define user access permissions
Once users have created a data connection, they have the ability to define granular security controls for the data that will be made available to external clients.
3. Connect from any application or tool
After configuring data connections, users can connect to these data sources from almost any application or tool in real-time.
CData Connect Cloud includes support for standard web connections like REST and OData and database connectivity - allowing connections to appear just like a relational SQL Server database to any client.
Support critical data management initiatives
CData Connect Cloud powers data strategy initiatives for top organizations
Belden Supports Growing Marketing Requests by Centralizing Data Access in the Cloud
"CData Connect Cloud connects our Tableau to Google Analytics, Google Ads, and Salesforce. Now we've also got connectors set up for Pardot, LinkedIn, Instagram, Facebook, and Twitter. And I have all these things all in one place with no upkeep on my end."
— Paul Summitt
Belden D&A IT Supervisor
Read case study