<! -- REQUIRED PAGE WRAPPER --><! -- BEGIN [CONTENT] -->
UNIVERSAL DATA PIPELINE
Cloud/SaaS Data Pipeline
Any data source, to any database or data warehouse
From: 200+ Enterprise Data Sources
To: SQL Server, Redshift, S3, Snowflake, etc.
On-Premise, or in the Cloud.
Data Sources
Destinations
The CData Sync 2021 release is packed with powerful new enterprise capabilities Learn more
Replicate Any Data Source To Any Database With A Few Clicks
Create and maintain a replica of your SaaS/Cloud data, making it easily accessible from common database tooling, software drivers, and analytics.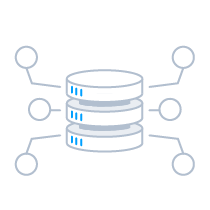 Sync to Any Database
Supports popular databases like SQL Server, MySQL, DB2, Mongo, Cassandra, etc.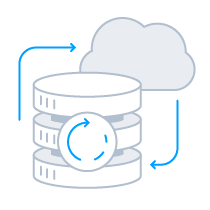 Incremental Replication
Intelligent updates minimize bandwidth and latency of synchronization.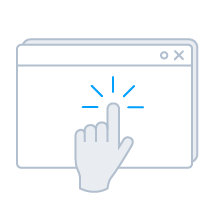 Point-and-Click Configuration
Simple administration with straightforward replication scheduling.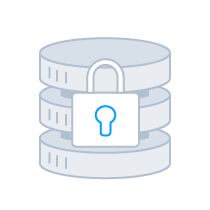 Secure Backup & Archiving
Automated backups to protect from the loss of valuable data.
SaaS/Cloud Data Replication in Action!
Watch the Sync video overview for a first hand look at the powerful replication capabilities included in this release:
WATCH THE CDATA SYNC VIDEO OVERVIEW
Supported SaaS/Cloud Destinations
Consolidate data to any supported database or data warehouse to support BI, Reporting, Analytics, and Machine Learning.
---

SQL Server

Snowflake

Amazon S3

Amazon Redshift

DB2

Databricks

Google BigQuery

Azure Synapse

SQLite

MySQL

MariaDB

PostgreSQL

Apache Derby

Azure SQL

MS Access

Azure Blob Storage

Oracle

Couchbase

Cassandra

MongoDB

Apache Hadoop

Apache Kafka

SAP HANA

Azure Data Lakes

Azure Event Hubs

CSV/TSV

Vertica
Supported SaaS/Cloud Sources
CData Sync includes connectivity with a wide range of popular on-premise and SaaS applications for CRM, ERP, Marketing Automation, Accounting, Collaboration, and more!
---
All 200+ Data Sources
Automated Continuous Data Replication
Keep SaaS/Cloud data in sync with any Database or Data Warehouse
CData Sync provides users with a straightforward way to synchronize data between on-premise and cloud data sources with a wide range of traditional and emerging databases. Replicate data to facilitate operational reporting, connect data to analytics for BI and decision support, archive data for disaster recovery, and much more.
Synchronize data with a wide range of traditional and emerging databases.
Replicate Cloud data to RDBMS systems to facilitate operational reporting, BI, and analytics.
Archive data for disaster recovery.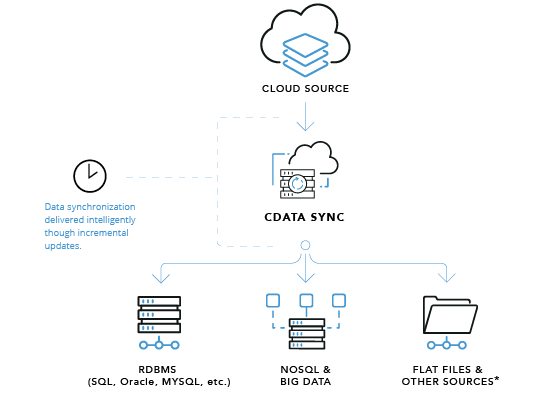 Order Online
Backup & Replicate Cloud / SaaS Data
Licensing Options:
Starter

Standard

Professional

Enterprise

Core Features
Number of Connections
2
5
10
10+
Number of Rows
Unlimited
Unlimited
Unlimited
Unlimited
Number of Cores
4
4
4
4+
User Count
One
Five
Unlimited
Unlimited
Change Data Capture
* Supported Databases
ELT Transformations
Change Tracking /
Audit Logging
REST API Access
Parallel Processing
Roles-Based Access Control
Active Directory Integration
Deployment
On-Premise
On-Premise
On-Premise
On-Premise & Cloud
Data Sources
Sources
Smartsheet, Xero Accounting, QuickBooks, Magento, Shopify, Google Sheets, and more...
Starter Sources+
Microsoft Dynamics (CRM, GP, AX, etc), Eloqua, HubSpot, Service Now, Concur, Splunk, and more...
Standard Sources+
Salesforce, SharePoint, Marketo, MongoDB, Apache Spark, Oracle, and more...
All Data Source Connections
Database Destinations
Databases
SQLite, Derby, MySQL, PostgreSQL and more...
All Destinations
All Destinations
All Destinations
Included Optional
Multiple Servers, Site Licensing, OEM, Unlimited Cores, etc.

Contact a product specialist to learn more about our various options for
Multi-Server, Site Licensing, OEM / White-labeling, etc.

Request Quote
CData Sync On-Demand
Combines powerful data pipeline capabilities with the agility, flexibility, and global footprint of popular cloud infrastructure. Fast & easy automated data replication to any database or Data Warehouse.
On-demand: Maximum flexibility, pay-as-you-go.
Easy deployment: Setup Continuous Data Replication in under 10 minutes.
Amazon AMI
Learn More
from $1.07/hr
Microsoft Azure
Learn More
from $1.53/hr
Download CData Sync
Download CData Sync to enable straightforward Cloud/SaaS data replication with any database. Interested in a replication source that is not listed above? Contact us below, and let's talk.
Download Now
Contact Us