Any data source, Any technology, Any platform
Leading BI & ETL tool vendors, Data Lakes, Data Warehouses, SaaS Applications, and hundreds of independent ISV's partner with CData Software to differentiate with data connectivity.
Application Vendors
Data Source Vendors
Every Data Source, Connected
Businesses of all size partner with us to standardize and streamline how their systems connect with data. Our driver and adapters technologies reduce development costs, slash architectural complexity, and eliminate ongoing maintenance burdens.
Application Vendors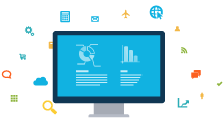 Uniform, standards-based access to more than 200+ Enterprise data sources enables our application partners to enhance their data connectivity, while reducing costs, complexity, maintenance.
Application Partners Include:
BI & Analytics Apps
ETL & Data Movement
Data Virtualization
iPaaS, ESB, & Integration Platforms
Custom Desktop, Cloud, or Mobile Apps
Embedded Connectivity
Data Source Vendors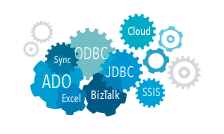 Unlock the world of BI, Analytics, ETL, and Reporting by offering your customers access to your platform or API through standard driver technologies like ODBC, JDBC, ADO.NET, OData, etc.
Data Source Partners Include:
RDBMS
NoSQL, In-memory, or Cloud DBs
Data Lakes & Data Warehousing
Internal APIs & Data Formats
SaaS Applications
Driver Development