Q&A with Director of Product Management Jaclyn Wands: The Voice of the Customer Defines the User Experience for CData Sync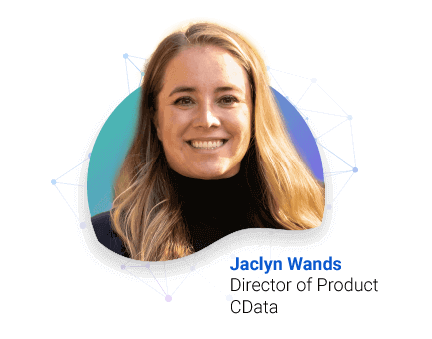 The CData team has been hard at work on the latest CData Sync release, part of our ongoing efforts to improve the Sync user experience and user interface (UX/UI). Jaclyn Wands, Director of Product for CData Sync, talked with us about the major improvements the team has made to create an intuitive, seamless experience for our enterprise users.
1. What are some of the new CData Sync features included in this quarter's release?
Wands: We're going beyond look and feel with these UX/UI improvements – we're working to create an entirely accessible, streamlined experience for every user. The product team is following accessibility guidelines to provide clear, compliant interface components to improve visibility into replication jobs, simplify the transformations menu, and refine the analytics dashboard, among other updates that will allow users to spend less time in the tool and more time driving value in their organization.
Not only that, but we've also ramped up the enterprise-level performance features within the tool. We focused on streamlining the product's performance to support enterprises moving massive volumes of data with Sync pipelines. For one, we've completely rebuilt our replicate engine to allow the user interface to load more rapidly, improving performance and significantly reducing page load times. We've also added enhanced schema support for Kafka, Oracle, and Google Analytics 4. We've been busy!
2. What has informed these updates?
Wands: Our customers! I'm really proud of the fact that we were able to do this level of user research at CData: Our users spoke and we listened. We involved them in the development process. We did not redesign the user interface and then just hope everyone likes it. We incorporated customer feedback into our UX testing in the development cycle and adjusted our ideas to fit the needs of our clients. We interviewed and collected feedback from about 95% of our customer base – something you don't normally see happen in product development cycles. It's been hugely helpful.
Now, when we go to market with new improvements every quarter, there are customers who have already seen it and touched it, and are pumped about not only the changes, but the fact that we actioned the feedback that we took back from them, as well.
3. Can you share some of the feedback from customers on the new interface?
Wands: Everyone was honest, and the resounding feedback was that they love the new look and feel of the tool – it felt more organized, easier to get around, and more like the other applications they use, so the learning curve is lower. One customer quote stuck out to me, saying that the new interface is so easy to use that he won't even have to train his team to use it.
Learn more about our user interface improvements here! 
4. What's coming up in the future for CData Sync?
Wands: Our goal is for our users to spend less time in Sync. Truly! Our mission is to make sure our tool is so intuitive, fast, and easy to navigate that customers are getting in, getting out, and spending their time doing other things. I am a data scientist by training, and I know how time-consuming it is to just munging data. So, trusting that you can run these data parallel pipelines and execute transformations on them for digestible analytics – that is super valuable. That's time back.
Next quarter we're releasing a lot of enterprise-level features to further support customers with huge volumes of data to load and pipe through Sync. You're going to be able to add custom labels to specific user-created objects to allow you to organize your items and pull up a view of all your material in a convenient view. We're also adding further governance controls by allowing admin users to grab items, assign them to specific workspaces, and assign those workspaces out to end users so they can only see and work on the items that matter to them without potentially accessing private or restricted data.
I'm really excited for this phase – it's like a one-two punch, releasing the new user interface and these big enterprise features this year. It's truly leveling up the tool.
The CData advantage
CData Sync delivers powerful, intuitive ETL/ELT data pipelines to businesses across every industry. Try it for yourself and experience the CData advantage, including the ability to:
Replicate your data throughout your on-prem and cloud ecosystems
Move all your data when and how you want with a library of 270+ connectors
Build your data pipeline once and deploy it anywhere—on-premises or in the cloud
Automate your data movement with near real-time incremental updates and CDC capabilities
Ready to try CData Sync for yourself? Get a free 30-day trial today.