What's New: Sync's New UI and Expanded Connectivity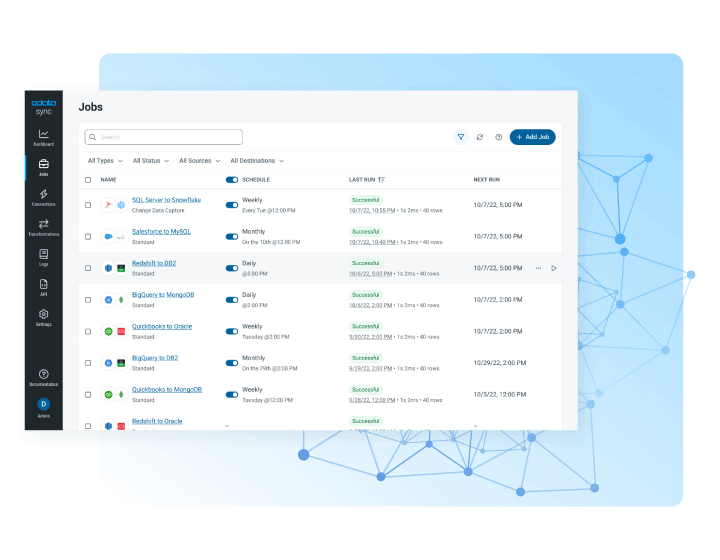 Our latest CData Sync release delivers on CData's vision to simplify and modernize the tool's navigation and usability. In this release, as part of our ongoing work to improve the Sync user experience, we employed a Voice of the Customer methodology, soliciting and listening to customer feedback about navigation flows, tasks that would benefit from a more streamlined approach, and the need for improved schema support for common use cases.
We're proud to share that the result delivers a data integration tool that increases efficiency and offers broader hybrid cloud connectivity capabilities.
Next-generation user interface design
In our last release, we invested in foundational GUI improvements by updating the login screen, dashboard, and menu orientation. This release builds upon that foundation to provide UI enhancements that deliver a modern, flat design aesthetic and that:
Focuses on simplicity by making all Sync connections accessible in the jobs menu
Improves efficiency by providing complete visibility into all replication, ETL, and ELT jobs
Presents a fresh look with updated dashboard analytics, a clear transformations menu, and the ability to access all additional screens in fewer clicks.
New CData Sync Connector view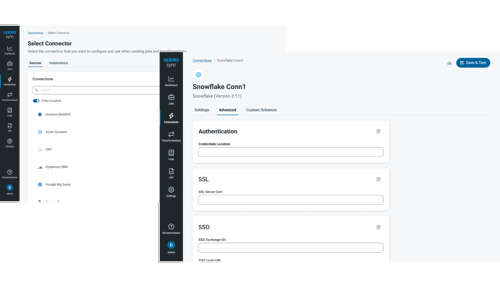 New Jobs Menu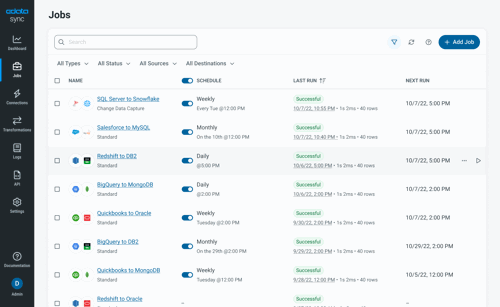 New Jobs Detail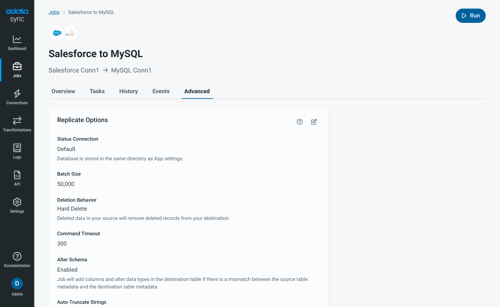 New destination and enhanced schema support
CData Sync now supports Google AlloyDB as a destination, and offers enhanced schema support for Kafka, Oracle, and Google Analytics 4.
Reflect change schema in a Kafka destination: The CData Sync Kafka destination now supports changed schema. Any changes in your source data can be easily digested into your Kafka destination for ease of reference and usage with event streaming services.
Support for Oracle Change Data Capture in Oracle Multitenant instances: This feature enables CData Sync to reference schemas and tables at the PDB level while interacting with LogMiner at the CDB level. This new capability ensures the high availability and scalability customers expect from Oracle Multitenant implementations.
Google Analytics 4 reports as pre-built schemas: To simplify the replication process and save time, CData Sync can now reference Google Analytics 4 reports and use them as pre-built schemas and tables for your desired destination.
Improved support for incremental replication
CData Sync now delivers our customers with a highly-requested capability – incremental replication from Amazon S3.
Load From Bucket in Amazon S3: We now support the ability to pull multiple files from a single S3 bucket and replicate them into a final destination table. After the initial replication, CData Sync checks the last modified date in the S3 bucket and pulls only newly added data, providing an incremental replication feature.
The CData advantage
To get the most from your hybrid cloud, you'll want to experience the CData Sync advantage:
Replicate your data throughout your on-prem and cloud ecosystems in ways that are repeatable, cost-effective, highly performant, and secure.
Move all your data when and how you want with one data integration tool and a library of 270+ connectors that can access your business data wherever it lives.
Build your data pipeline once and deploy it anywhere—on-premises or in the cloud—with just a few clicks.
Automate your data movement with near real-time incremental updates and Change Data Capture capabilities to ensure that data is always business-ready.
With this new release, customers can add to the list of CData Sync advantages. Be sure to leverage the newly streamlined, intuitive GUI to improve the clarity, visibility, and efficiency across your data integration tasks.
Experience more efficient data integration and replication from the tool that best supports hybrid cloud. Try a free trial of CData Sync today.