Maximize Your Power BI Investment & Simplify Data Workflows with CData Connect Cloud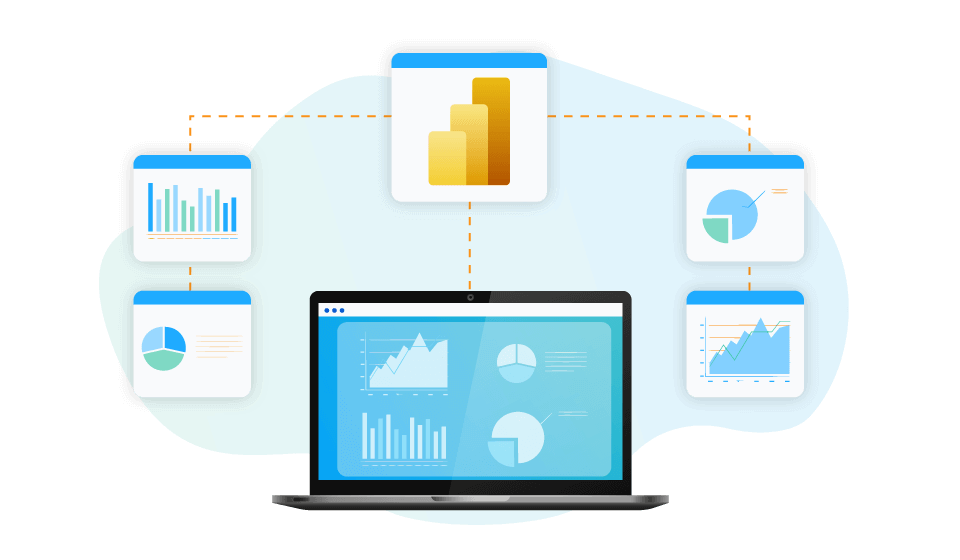 Microsoft Power BI is known as a staple for business analytics and visualizing data for telling a data story to help make critical business decisions. But like many organizations that use Power BI, this article highlights a financial services firm and a language translation company, which were both burdened with:
Manual data dumps
Manual data manipulation
File formats that are not easily translated and useable by Power BI
Data sources that require customized API development
In the two business use cases, you'll see where CData Connect Cloud's broad client support – including a Certified Power BI Connector – and data connectors for sources such as GraphQL, JSON file format, and QuickBooks Online took the data connectivity load off these organizations, enabling them to ultimately meet their goals.
Financial services company eliminates manual processes
A large financial services company in New York uses an Operational Excellence (OpEx) Enterprise Architecture platform hosted on Azure. The business architecture director wanted to use Power BI to create management dashboards to share portfolio costs for licenses, operations, support, and application integration information.
The OpEx platform uses GraphQL API calls, a data query language used with some APIs. Unfortunately, Power BI does not natively read GraphQL API objects.
The financial service company was forced to use a manual process for collecting data from the OpEx platform, which involved exporting data to Excel and uploading the Excel data to Power BI to use for dashboards. They were using Postman to provide values to all of the environments –the ID, the log in, the password, etc. Postman uses JSON files, where the mapping had to be manually configured in the OpEx platform database. On top of these pain points, by the time they created the dashboards, the data was stale.
To traverse this connectivity roadblock, they turned to CData Connect Cloud, enabling them to use Power BI with GraphQL. CData Connect Cloud exposes GraphQL endpoints via standard SQL92, and models the GraphQL API objects as tables as if they are a standard relational database, essentially acting as a translation layer.
As the organization builds visualizations and dashboards, Power BI generates SQL92 queries to retrieve the underlying data. The CData Power BI Connector then passes these queries to Connect Cloud, which translates them into GraphQL queries. The financial services company also leverages the CData JSON file driver, which eliminates the need to map the JSON file in the OpEx platform.
CData saved the financial services company time and resources by automating data integration to eliminate manual steps, with the added benefit of providing live data for their real-time reporting initiatives.
Language translation company writes-back information from project management system to QuickBooks
A language translation company in the Northeast United States had a goal to automate financial admin tasks and get more real-time reporting from QuickBooks Online in Power BI. The company uses Plunet hosted in Azure, where they entered purchase orders and created invoices that had to be exported to a CSV file and then manually manipulated to be imported into QuickBooks. Additionally, they had a manual process to update the status in the project management solution once the data was in QuickBooks Online.
Their business intelligence department considered building a custom integration to improve this process, but the time and resources required could not be justified, and developing integrations was not their core competency. They evaluated various data connectivity solutions and landed on CData.
CData Connect Cloud enables access to QuickBooks Online data from automation tools like Power Automate. In this use case, the automated tasks identified the purchase orders and invoice data from the project management tool, and they used CData Connect Cloud to write the data directly to QuickBooks Online, removing the need to export the data to CSV and manually upload it to QuickBooks Online. Another automated task triggered to change the status on the project in the project management tool.
CData Connect Cloud enabled the translation company to optimize their processes without spending the time, budget, or resources required in custom integration. Now, they have real-time reporting from QuickBooks and automated processes, easing their workload instead of adding to it.
Let CData take data connectivity off your plate
Click here for information about what CData Connect Cloud can do for you, or if you are ready to try it for yourself, sign up for a free 30-day trial today!