Announcing the CData DBAmp Summer 2023 Release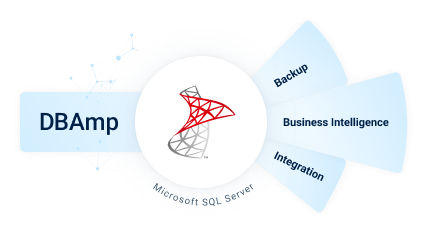 We are thrilled to introduce a powerful new feature in our latest update of CData DBAmp, which gives users the ability to run DBAmp on remotely managed SQL services. Understanding the evolving needs of our clientele and the challenges faced – especially with Azure Managed SQL Instances ­– we have expanded our offering to provide users with unmatched flexibility and control over where their Salesforce data is housed.
The primary highlight of this release is the ability to remotely run certain DBAmp commands, which eliminates the need to install the DBAmp linked server on specific SQL Server Instances or enable the xp_cmdshell.
We're excited to delve into the details. For an exhaustive list of updates and features, please refer to the full release notes.
CData DBAmp remote functionality
Our latest feature comes as a solution to a commonly faced challenge and offers:
Remote SQL Server compatibility: Whether you're using another SQL Server Instance or an Azure Managed SQL Instance, you can now integrate your Salesforce data without the need to install DBAmp or the linked server on that remote server.
Simplified setup: Only minimal setup, such as creating a remote database, is required on the remote SQL Server Instance. Many of the commands are executed on the SQL Server Instance where DBAmp is installed, and the data is seamlessly "pushed" to the remote database.
Selective stored procedure support: While running DBAmp remotely, only specific stored procedures are available for use. Details on these are elaborated in our Remote Stored Procedure Reference section in the documentation.
Why does this new feature matter?
This new feature is especially beneficial for users who:
Are hesitant to enable xp_cmdshell on their SQL Server Instance
Don't want to install the DBAmp linked server on certain SQL Server Instances
Use Azure Managed SQL Instances, which previously posed challenges due to limitations with third party linked servers
Explore remote functionality in DBAmp
For a deeper understanding of this feature and how to get it running, refer to our detailed documentation.
If you're poised to upgrade your Salesforce to SQL integration with enhanced flexibility, take advantage of CData DBAmp with a free trial today.
Remember, innovation is at the heart of what we do. Stay tuned for more game-changing updates from the DBAmp team!