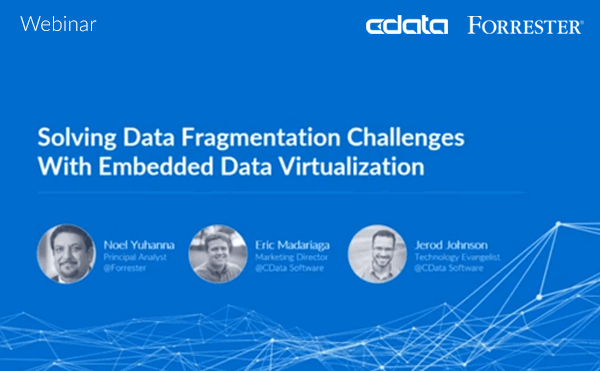 Analytics & Data Sources: Connectivity Is Just The Beginning
Embedded Data Virtualization
FREE WEBINAR (ON-DEMAND)
Data fragmentation has become a major stumbling block along the path to successful digital transformation. Unlocking value from data is critical to success; however, as organizations continue to shift more of their infrastructure to cloud technologies, data has become more decentralized and more difficult to utilize.
Embedded technologies that directly augment existing integration, processing, and analytics tooling are helping organizations deploy tactical solutions to solve data fragmentation problems.
Overcoming Common Data Fragmentation Challenges
In this webinar, our guest speaker, Forrester analyst Noel Yuhanna, author of The Enterprise Data Virtualization Wave, joins Eric Madariaga and Jerod Johnson of CData Software to discuss the latest trends in Data Virtualization and the role that embedded technologies play across Enterprise IT.
In this 1-hour webinar, you will discover:
The latest market trends in Data Virtualization
The role of Embedded Data Virtualization and how it compares with more traditional approaches to DV.
Examples of customers who are successfully using embedded Data Virtualization technologies to solve data fragmentation challenges.