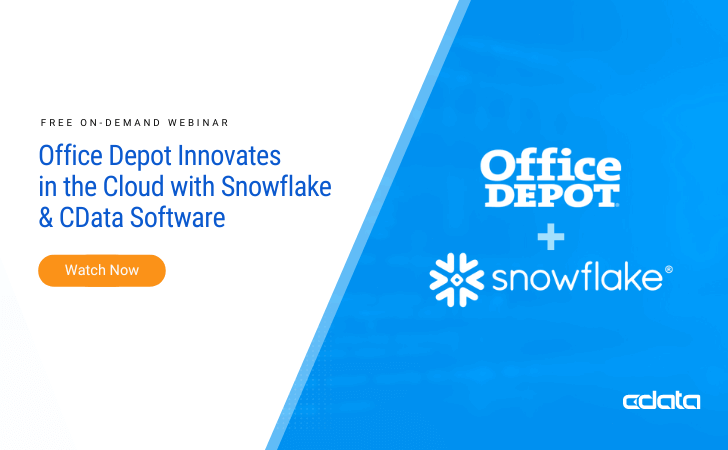 Office Depot Innovates in the Cloud with Snowflake and CData Software
ON-DEMAND WEBINAR
For decades, Office Depot has helped businesses innovate and achieve big goals. Now, they're modernizing their data-driven processes in the cloud to improve operations and better support their customers.
Join data experts from Office Depot, Snowflake, and CData for a free webinar on October 24 to learn how Office Depot leveraged Snowflake's modern data platform and connectivity solutions from CData to make migrating to the cloud pain-free.
Drop-In Cloud Connectivity Gives Office Depot a Leg Up
To support their growing data needs, Office Depot transitioned from a legacy on-premises data platform to Snowflake, a modern cloud data warehouse that provided the organization with a single source of truth for their data. The challenge? Their existing SSAS analytics cubes did not natively connect with Snowflake.
Office Depot leveraged CData connectivity solutions to "lift and shift" their existing analytics infrastructure to Snowflake, without the need for custom code.
Hear from Elliot Oshman, Office Depot Sr. Director of Product & Technology, Robert Ross, Office Depot Director of Enterprise Intelligence, Krishna Golla, Snowflake Principal Partner Engineer, and Jerod Johnson, CData Sr. Technology Evangelist, as they walk through Office Depot's journey to innovate in the cloud.
Fill out the form to watch the on-demand webinar.