CData Software Achieves Google Cloud Ready - BigQuery Designation
CData connectivity solutions provide powerful, real-time integrations with Google BigQuery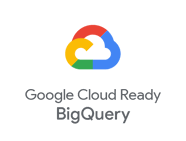 CHAPEL HILL, NC, March 23, 2022 - CData Software, a leading provider of data connectivity and integration solutions, today announced that it has successfully achieved the Google Cloud Ready - BigQuery designation. 
Google Cloud Ready - BigQuery is a partner integration validation program that intends to increase customer confidence in partner integrations into BigQuery. As part of this initiative, Google Cloud engineering teams validate partner integrations into BigQuery in a three phase process: Run a series of data integration tests and compare results against benchmarks, work closely with partners to fill any gaps, and refine documentation for our mutual customers.  
CData is powering the next generation of data-driven business by enabling organizations to simplify data connectivity in the cloud, eliminate data silos, and break down barriers to business insights. CData provides real-time connectivity solutions that ingest live data from more than 250 applications, systems, and data sources directly into BigQuery for analytics, reporting, and other business initiatives.
By earning this designation, CData has proven its connectivity solutions meet a core set of stringent functionality and interoperability requirements when integrating with BigQuery. With this validation from Google Cloud, current CData customers gain further confidence in their connectivity solution, and those evaluating BigQuery integration possibilities can move forward with CData knowing they are choosing the best offering for functional, powerful integration.
As part of the Google Cloud Ready program, CData enjoys more opportunities to collaborate closely with Google Cloud engineering partners and BigQuery teams to develop joint roadmaps for its integration solutions.
"Achieving the Google Cloud Ready - BigQuery designation indicates that CData's data integration and connectivity capabilities have been validated by Google Cloud to deliver strong customer experiences and value," said Manvinder Singh, Director, Partnerships at Google Cloud. "These capabilities are becoming increasingly important as businesses power their digital transformations with multiple partners, platforms, and applications."
"It is extremely rewarding to see the success our customers have had with our Google Cloud connectivity solutions," said Amit Sharma, CData co-founder and CEO. "As CData continues to innovate and democratize data in the cloud, this designation from Google Cloud is evidence of CData's reputation as the go-to connectivity leader among the major cloud providers today; where reliability, performance, and scalability are table stakes."
This designation follows the introduction of CData's newest offering, CData Connect Cloud, in March 2022. CData Connect Cloud is the industry's first consolidated cloud data connectivity platform, providing a centralized location for managing various integration points and connections to real-time data from a broad ecosystem of data sources. In December 2021, CData announced their $140 million Series B funding round led by Updata Partners, which has allowed the company to invest in continued growth and innovation in the cloud.
To learn more about CData Software's expertise with Google Cloud, visit https://www.cdata.com/drivers/bigquery/. To learn more about Google Cloud Ready - BigQuery and its benefits, visit https://cloud.google.com/bigquery/docs/bigquery-ready-overview. 
About CData
CData Software (www.cdata.com), is a leading provider of data access and connectivity solutions specializing in the development of standard drivers and data access technologies for real-time access to online or on-premise applications, databases, and web APIs. You can reach the company via email at info@cdata.com, online at www.cdata.com, or by calling US: (800) 235-7250 or International: (919) 928-5214.
####
CData and the CData Logo are trademarks of CData Software. All other product and service names mentioned herein are the trademarks of their respective owners.
Media Contacts
Media Relations
(919) 928-5214 between 9:00am and 5:30pm Eastern Time or email press@cdata.com
Reviews and Publications
Developer Relations
(919) 928-5214 between 9:00am and 5:30pm Eastern Time or email press@cdata.com