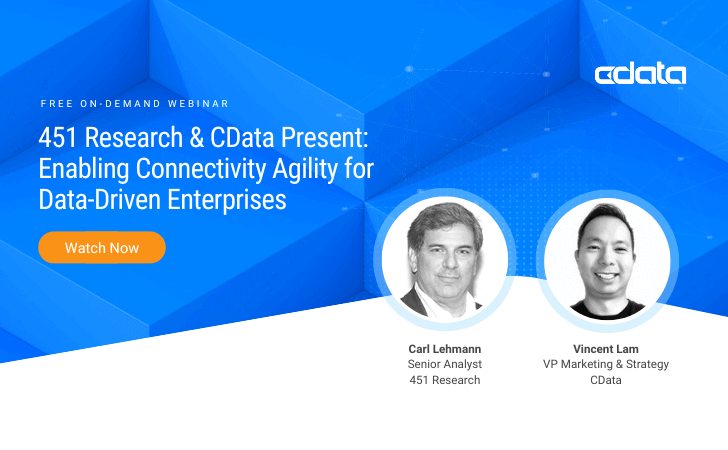 451 Research & CData Present: Enabling Connectivity Agility for Data-Driven Enterprises
ON-DEMAND WEBINAR
451 Research Senior Analyst Carl Lehmann joins CData's VP of Marketing & Strategy, Vincent Lam for a short webinar to discuss trends and obstacles for today's data-driven businesses.
Modern digital businesses increasingly rely upon data analysis to make better decisions and reveal new ways to create competitive advantage. Yet, several barriers stand in the way of enterprises becoming more data-driven. Data is so distributed and siloed that users cannot connect to the data they need when they need it, and IT resources are often too busy to help. Fortunately, a new automated approach to self-service data connectivity has emerged.
Gain an Advantage with Self-Service Data Connectivity
Join Carl and Vincent to learn the industry trends and technology needed to enable Data Connectivity as a Service. In the 45-minute session, they cover:
What's driving the need for enterprises to become more data-driven,
The barriers to simply and rapidly accessing and using data when needed,
And the technical apparatus needed to enable self-service data. 
Attendees will benefit from new knowledge gained to overcome the barriers to being more data-driven, and how automation can simplify and speed connectivity and access to data, on-demand and as a self-service.
Fill out the form to watch the on-demand webinar.