<! -- REQUIRED PAGE WRAPPER --><! -- BEGIN [CONTENT] -->
Free Webinar: Integrate Your Enterprise Data with Databricks & CData Sync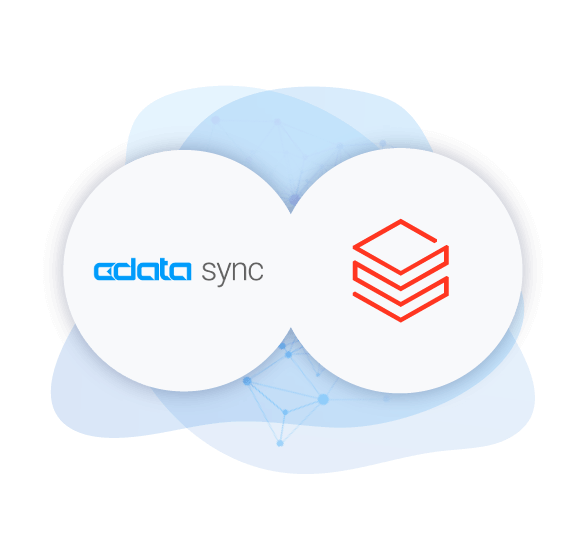 Databricks is a popular cloud data lakehouse platform that supports your enterprise's digital transformation, augments AI analytics, and easily scales your data-driven operations. However, when it's tough to get data out of your organization's applications and systems and into Databricks, it becomes even more difficult to streamline reporting and operations.
Actionable Insights Start with Modern Data Integration
Replicating, moving, and transforming data should be simple. With CData Sync, it is. The powerful, modern data integration tool allows Databricks users to easily connect your CRM, ERP, accounting, marketing, and other systems with Databricks to consolidate and leverage your data, your way.
CData Sync provides automated, continuous data replication to any popular database, data warehouse, or data store you prefer. This means that your business can streamline data access across more than 250 data sources and destinations — on-premises and in the cloud. — on-premises and in the cloud.
Take a CData Coffee Break
Grab a cup of coffee and join us for a short 15-minute demo on leveraging CData Sync to easily replicate and transform your enterprise data in Databricks as part of your ETL/ELT data pipeline.
In our Coffee Break series, CData connectivity experts host live demo sessions followed by interactive Q&A sessions every week to give you some inspiration to improve your data replication strategy. This month, we're focusing on Databricks pipelines.
CData Sr. Technology Evangelist Jerod Johnson and CData Sr. Product Marketing Manager Deb Cobb will guide you to:
Explore how Sync simplifies how you replicate, integrate, and transform your data for more actionable BI, analytics, and Customer 360 initiatives.
Learn how quickly CData Sync connects Databricks with your preferred on-prem and cloud sources — like Microsoft SQL Server and Sage Intacct.
Discover how CData Sync frees you to choose when and how to transform at-rest data in your data lakehouse.
Want to discover how your business can mobilize CData Sync for easy-to-use modern data pipelines? Register today for one of our weekly free webinars starting Thursday, March 16 at 11am. Make sure to browse our entire Coffee Break library for more 15-minute sessions addressing all of your data connectivity needs.