<! -- REQUIRED PAGE WRAPPER --><! -- BEGIN [CONTENT] -->
Free Webinar: Real-Time Salesforce Analytics with Excel 365 & CData Connect Cloud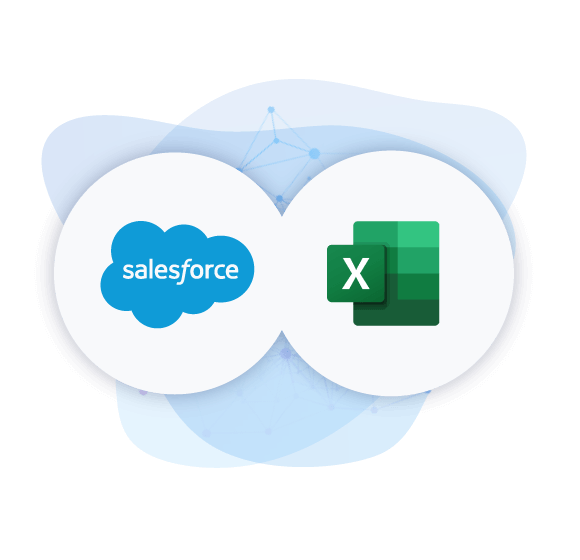 Salesforce is the most popular CRM system used today, offering a powerful single source of truth for organizations' accounts, sales pipelines, and more. But when your lines of business want to access live Salesforce data from across their other technologies for real-time reporting, it's often a challenge to get data out of Salesforce.
Your team needs a data connectivity upgrade. CData can help.
With CData Connect Cloud, you can connect Salesforce (and hundreds of other applications) with your favorite reporting tools like Excel, Google Sheets, Power BI, Tableau, and more. No code, no installation, no delays.
Live Insights into Your Data – Wherever You Need it
CData Connect Cloud is a consolidated real-time data connectivity platform that connects your cloud data from any data source, application, or system directly to your preferred analytics, BI, and ETL tools without the need for data storage, replication, or complex data pipelines. CData Connect Cloud enables your organization to gain real-time insights into all your data from within your preferred reporting and analytics tools — no code required!
With one centralized cloud location for managing hundreds of integration points, data analysts, IT, and business users alike are empowered to access and leverage all of their disparate data from within a no-code, easy-to-use interface.
Take a CData Coffee Break
Grab a cup of coffee and join us for a short 15-minute demo on leveraging CData Connect Cloud to access live Salesforce data in Microsoft Excel 365.
In our Coffee Break series, CData connectivity experts host live demo sessions followed by interactive Q&A sessions every week to give you some inspiration to improve your data connectivity strategy. This month, we're focusing on Salesforce reporting in Excel 365, but make sure to check out our library of upcoming and on-demand Coffee Breaks to discover more use cases.
In this series of free weekly sessions on Salesforce and Excel 365 connectivity, CData Senior Technology Evangelist Jerod Johnson and CData Senior Product Marketing Manager Lori Goetz will guide you to:
Learn how CData Connect Cloud enables your teams to read and write back data from Salesforce directly in your Excel 365 workbooks.
Discover how large sales teams use Excel for complex calculations to feed back into Salesforce.
Easily set up CData Connect Cloud for all your live reporting — no installation, no code, no headaches.
Want to discover how your business can mobilize CData Connect Cloud for robust reporting and more? Register today for one of our weekly free webinars starting Tuesday, March 14 at 11am. Make sure to browse our entire Coffee Break library for more 15-minute sessions addressing all of your data connectivity needs.