Digital Transformation in Accounting Simplified with Data Connectivity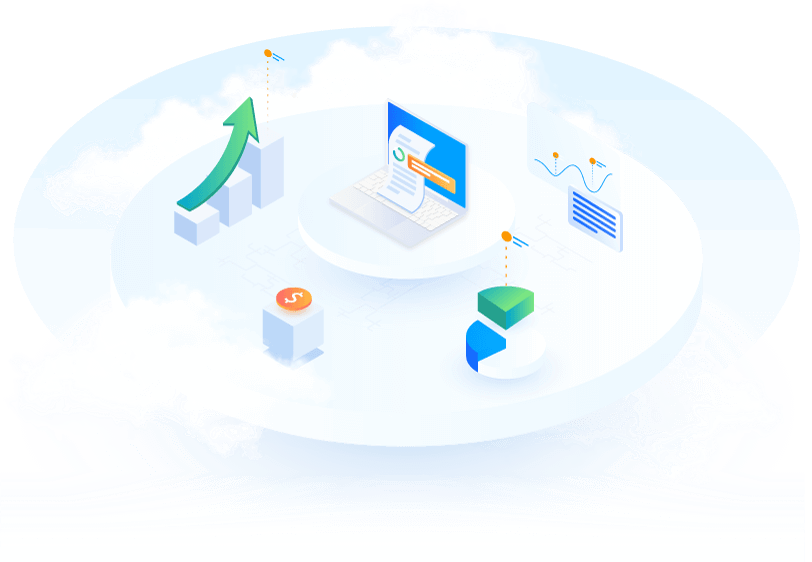 At CData, we talk a lot about digital transformation and cloud adoption. Amid the rise in cloud computing, more services across every industry are available in the cloud than ever before, including accounting software.
The top accounting software providers, including companies like Oracle, Microsoft, Intuit, SAP, and Sage, are expanding their cloud offerings and urging customers to adopt online applications instead of on-premises solutions. Finance teams are therefore facing new challenges when adopting modern accounting software. Every level of accounting, from personal to corporate, is now tasked with managing data sprawl, migrating data from legacy systems, maintaining accurate reporting, and automating tasks. Each of these challenges can be faced head-on through simplified access to the data housed in existing legacy systems and the cloud-based applications of the future.
CData connectivity solutions provide real-time access to every popular accounting, CRM, and ERP platform. By making live data easily accessible, every stakeholder in a business can easily automate repetitive, error-prone tasks and gain insights on critical processes like expense reporting, accounts payable, accounts receivable, payroll management, and tax and financial planning.
In this post, we describe some of the challenges facing accounting professionals in the age of digital transformation and highlight how CData solutions help ease the transition.
Register for our free webinar (Thursday, February 10th at 2pm ET) to learn more about digital transformation in accounting software!
Managing Data Sprawl
Data management is more important than ever in today's business landscape. In the age of cloud computing, businesses are generating more data across a variety of systems, from accounting solutions, ERPs, CRMs, inventory management software, and more. This data sprawl makes gaining a complete picture of accounts, payments, shipments, inventory, and more increasingly difficult.
Connecting data, particularly as an organization moves to the cloud, democratizes information, reduces waste, and lowers operation costs. By integrating systems and standardizing an organization's data ecosystem, financial teams can stop chasing down information, reduce manual data entry, and focus on more strategic initiatives.
One CData customer, an early childhood education organization, struggled to continuously reconcile the data in their accounting solution, Sage Intacct, and their CRM platform, Salesforce. Their data was inconsistent, hidden in silos, and at risk for human error and delays in the manual reporting process. Leveraging CData PowerShell Cmdlets, the customer was able to easily write scripts to automate and manage the reconciliation of data between Sage Intacct and Salesforce, providing their accounting department with continuously accurate, holistic, and up-to-date information across their platforms.
Maintaining Accurate Reporting
Historically, accounting professionals have designed and built reports by manually keying values into their preferred financial systems. Even with export options available, building reports from across different systems requires some level of manual work. But standards-based data integration software enables automated, real-time reporting without the challenges that come with manual keying.
Because CData's solutions make data behave the same no matter the source, accounting professionals can build the same reports across different systems with connections to live data – no need for manual entry. This increases visibility, improves performance, reduces error, and ensures compliance. CData also enables system-to-system integration, allowing finance teams to easily and quickly migrate their data from one tool to another as they navigate the process of digitally transforming their reporting processes.
For example, a global accounting consultancy firm was working with a client who needed to migrate their QuickBooks data to Sage Intacct as their organization grew and required a more sophisticated accounting platform to support their needs. The firm had previously used the CData Excel Add-On for Quickbooks Online to build out comprehensive reports for the client in Excel, and now needed a solution to work with those reports in Sage Intacct. To do so, they simply adopted the CData Excel Add-In for Sage Intacct to automatically re-map values into the existing report and providing the same level of insightful reporting to their client in their new system – without worrying about the accuracy of manually entered data.
Optimizing Tasks and Initiatives
From creating new accounts and managing inventory and expenses, to approving workflows and financial forecasting, each accounting task requires multiple touchpoints into organizational data. CData integration solutions make it easier than ever to access the data securely, no matter the entity or object.
When a CPM solution provider needed to incorporate accounting data from their Oracle NetSuite ERP into their existing SQL Server Integration Services (SSIS) workflows, they were faced with a choice: build a migration from NetSuite to SQL Server or build an SSIS integration to NetSuite. With CData, they found a third option: Instantly access live NetSuite data from their SSIS workflows with a pre-built integration. Simple as that – no custom code, no lengthy development roadblocks, and no costly maintenance. Using the CData SSIS Tasks & Components for NetSuite, the CData customer can seamlessly add bi-directional access to live NetSuite data to their existing workflows without worrying about building and maintaining the integration.
Universal Connectivity Supports Growth
Accounting professionals are increasingly embracing new forms of technology to maintain accuracy, automate tasks, and meet their reporting needs. Regardless of which accounting solution is adopted, CData's connectivity makes it easier for everyone to access accounting data and focus on tasks that help drive and grow a business. Easier access to data provides accountants and finance teams with a clear picture of their organization's financial health, increases operational efficiencies, and enables continuous digital expansion and cloud adoption.
To learn more about digital transformation in the accounting profession and how customers use CData to get the most out of accounting data, join us for our free webinar on Thursday, February 10th, at 2pm (EST).
Download a free trial of CData and gain easier access to your data today. Or get a free, personalized demo from CData integration specialists and learn how to better connect and integrate your accounting data.