Driver in Focus: Simplified Data Connectivity to HubSpot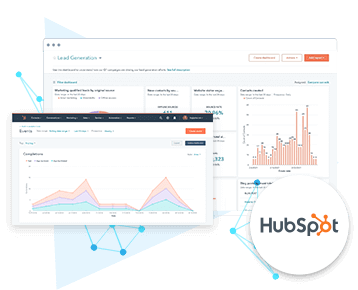 Organizations have more options for CRM services and platforms than ever before. Businesses can now adopt the CRM solution that best meets their needs to enable better collection, tracking, and sharing of customer and prospect engagements. But it remains challenging to access the data from many of those services for in-depth reporting or analytics.
CData provides straightforward, standard connectivity to every service, application, and platform available on the market. And because CData Drivers are designed to connect through standard universally-accessible data interfaces, IT teams are freed from the burden of building and maintaining integrations. As a result, sales and marketing teams can continue using their tools of choice for analytics and reporting without the interruption of long, drawn-out development projects or the need to switch platforms to avoid integration limitations.
In this Driver in Focus article, we dive into how CData customers are getting more value from their HubSpot data through integrated reporting, analysis, ETL, and more.
Improved Reporting on HubSpot Data
As a full-featured inbound marketing platform, HubSpot helps organizations transform visitors into leads and leads into customers. Marketing teams can use HubSpot for email campaigns, social media management, content marketing, and SEO. Sales teams can easily identify qualified leads, build and maintain strong relationships with customers, and even automate repetitive tasks. Yet none of this matters if HubSpot users can't analyze and report on their HubSpot data in their tools of choice.
With CData's connectivity solutions for HubSpot, every stakeholder in a business can connect to and derive value from their HubSpot data within the tools, platforms, and applications they're already using. For example, business users can build dynamics reports and charts in Power BI or Tableau, data administrators can include HubSpot data in real-time workflows, and developers can easily incorporate HubSpot data into custom applications and platforms.
360-Degree View of Customers
One CData customer, a plastics product manufacturer, builds all their analytics and reporting on top of Snowflake. However, as their business grew, they found more of their data scattered across separate cloud-based services, including HubSpot. Instead of creating integrations and reports from each service, the customer wanted a process for regularly replicating their business data into Snowflake.
This customer chose CData Sync, a powerful yet easy-to-manage data pipeline tool for data consolidation. With CData Sync, their data team quickly built out and scheduled jobs to replicate their customer data across multiple applications into Snowflake. Once there, they could produce a 360-degree view of their customers' journeys and continue leveraging and building on their existing reports.
Read our Knowledge Base article to see how easy it is to replicate HubSpot data to SQL Server with CData Sync.
Real-Time HubSpot Reporting in Power BI
Another CData customer, an automotive manufacturer and long-time HubSpot customer, recently adopted Power BI for reporting and analytics. They had processes in place to build reports on top of historical HubSpot data but were searching for ways to build dynamic dashboards that could display real-time updates.
Instead of tasking their IT team with building and maintaining a custom connector, they adopted the CData Power BI connector for Hubspot. With the CData connector, their benefits were two-fold. First, they were able to replace their replication processes and utilize CData's 'import' functionality to maintain their historical reports within their new tool. They were also able to leverage the DirectQuery functionality of the CData connector to build net-new dynamic dashboards that display updated HubSpot data whenever the dashboard is updated or refreshed.
Learn more about accessing live HubSpot data in Power BI from our Knowledge Base article.
Simplified App Development
Our last showcase customer is a cloud, mobile, and on-premises application development firm focused on investment and trading. They had a client who needed access to HubSpot from their custom application. Initially, the firm's developers explored the HubSpot API and attempted to create processes for maintaining a custom integration across API updates.
Ultimately, the firm decided to embed the CData JDBC Driver for HubSpot into their client's application. With the JDBC Driver, developers implemented integration in a small fraction of the time it would have taken them otherwise. They simply installed the JDBC driver and could query real-time HubSpot data just like a relational database. In addition, they no longer needed to build, test, or maintain complex API integrations - the driver handled the entire process.
Check out our Knowledge Base article for an example of connecting to HubSpot in a Java-based application using the CData JDBC Driver.
Extract The Most Value From Your CRM
Many stakeholders in an organization can use HubSpot to meet a variety of needs: marketing automation, lead nurturing, customer engagement, and more. Regardless of who's using HubSpot, CData's standards-based connectivity makes it easier for anyone to access HubSpot data and gain actionable insights that help drive and grow a business. With easier access to data, marketing and customer success teams get a better picture of their data and can refine their processes and campaigns in agile, effective ways.
Explore our HubSpot connectivity solutions to learn about the ways CData facilitates collaboration through data connectivity. Download a free trial and get easier access to your collaboration data today.
Or get a free, personalized demo from CData integration specialists and learn how to better connect and integrate your collaboration data today.