<! -- REQUIRED PAGE WRAPPER --><! -- BEGIN [CONTENT] -->
Driver in Focus: Access Live Workday Data from Anywhere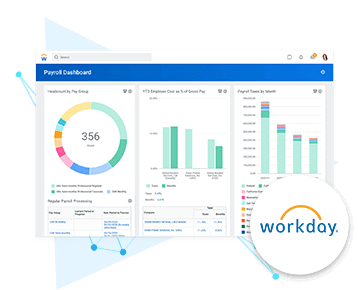 Workday provides unified finance, human resources, and student/faculty lifecycle management cloud applications designed for the way people work. It's built for the cloud, offers a single interface for finance and HR applications, and is accessible and functional no matter where its users are, whether on workstations, laptops, or mobile devices.
Even with embedded analytics and robust management capabilities built into Workday, IT teams and data administrators want to work with and manage their business data in their preferred tools and platforms. CData Software offers a variety of integrations that allow every stakeholder to interact with Workday data exactly where they want, without a heavy lift on IT resources to build out and maintain integrations and data pipelines.

In this Driver in Focus article, we'll highlight some key features of our Workday connectivity solutions and feature customer stories to showcase how CData is helping businesses make the most of their Workday data.
Watch a short demo video: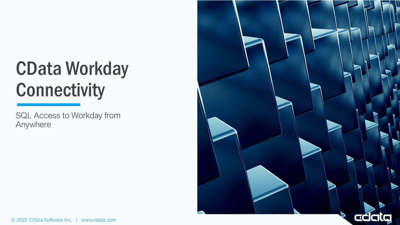 Connect, Integrate, and Automate your Workday Data
Key Workday Connectivity Features
Core to CData's connectivity solutions is a robust SQL Engine that is optimized to work with each data source, like Workday. CData technologies provide SQL access to Workday data, but, as anyone who is familiar with SQL knows, SQL queries (requests for data) can get quite complex, filtering and grouping results based on specific field values or aggregating results into sums and averages.
Using Workday WQL, CData passes these complexities along to the Workday servers, relying on their powerful processing capabilities to compile results instead of taxing client-side resources. This functionality is noticeably useful when building charts and visualizations on a lightweight client like a laptop in the field or mobile device. Additionally, relying on server-side processing means results are quickly returned and put into the hands of the users who can make the most value out of it.
CData's solutions also support the Workday Reports-as-a-Service interface to enable users to visualize and analyze their custom Workday reports. By configuring a single report in their system, Workday customers can now gain live access to all their available reports in the visualization and analytics tools of their choice.
If you'd like more information on CData's support for Workday WQL and Reports-as-a-Service and how to set up Workday and CData solutions to make use of those services, check out our Knowledge Base article.
Workday Integration Customer Stories
There are a variety of ways that CData solutions help solve problems for Workday customers, ranging from data management and custom application development to business intelligence and reporting. We highlight a couple of customer stories below, but you can see a snapshot of the variety of CData Workday use cases in our list of Workday integration guides.
Extended Connectivity for Data Governance
Our first customer story comes from a leading data governance platform provider. Our customer recognized the ubiquity of Workday and wanted to provide Workday connectivity for their own customers. Historically, this software company had tasked internal IT resources with building and maintaining custom integrations to extend connectivity to several applications within their platform. Given the growing number of SaaS and data applications available, the customer needed a better option for rapidly adding new data sources to their platform.
The customer incorporated CData JDBC Drivers in their technology stack, including for Workday. Because the drivers are built on top of established connectivity standards, their IT and development teams were able to seamlessly integrate them into their existing system.
By making any data source, including Workday, look and feel like a database, CData's drivers make it easier for the customer to extend the reach of their data governance platform. With extended connectivity, they can now provide a richer experience to both new and existing customers.
Check out our Knowledge Base article to for an example of connecting to Workday data from existing data tools via JDBC.
Unified View of All Enterprise Data through Data Warehousing
Our next customer story comes from an enterprise data company that is encountering the same data experience shared by many companies today: More data than ever is housed in separate, cloud-based services. The customer wanted to consolidate all this disparate enterprise data, including Workday, into their internal data warehouse to build a holistic view of their business for reporting, analytics, and more.
By adopting CData Sync, a stand-alone data replication tool, our customer rapidly connected to all their data sources and built out automated, incremental replication jobs to consolidate their data into a single source of truth. Once their data was warehoused, their line-of-business users were able to build comprehensive reports and dashboards that provided actionable insights into the entirety of the company's data ecosystem.
Read our Knowledge Base article to see how easy it is to replicate Workday data to a data warehouse (in this case, SQL Server) using CData Sync.
The CData Difference
Workday is used by a variety of stakeholders in a business, including HR, finance, and key decision makers. Through CData's standards-based connectivity, every user who touches the Workday platform gets simpler access to Workday data for improved reporting, analytics, and management, freeing every department to focus on their primary responsibilities to help the business thrive and grow.
CData's connectivity solutions fit any business need, whether they need to incorporate Workday connectivity into their own data platform, consolidate Workday data alongside the rest of their data ecosystem into a single data store, or build out dynamic reports and dashboards with live connectivity to Workday.
Explore our Workday connectivity solution to learn more about how CData enables any user to work with their Workday data exactly where and how they need to. Download a free trial and get simplified access to your Workday data today.
Or get a free, personalized demo from CData integration specialists and learn how to better connect, integrate, and automate your Workday data.