Workday Wednesday: BJ's Improves Employee Retention by Integrating Workday Data with Tableau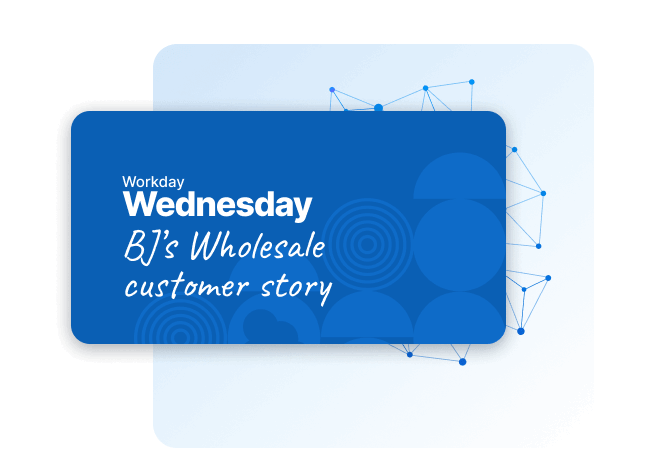 Welcome to this week's Workday Wednesday blog post! So far, we've been talking about a lot of the ways that CData Workday Drivers can help you work better with Workday.
Today, we're sharing a fantastic customer story where the CData Workday Tableau Driver measurably improved employee retention numbers.
BJ's Wholesale Club is one of the largest retail warehouse club chains in the U.S. Their human resources (HR) department uses Workday to manage employee data and help streamline processes. However, Workday's native capabilities didn't provide the ability to easily disseminate reports with club leadership. They turned to CData to provide a simplified way to pull Workday data directly into Tableau dashboards for easier analysis and sharing.
Watch this customer video testimonial to learn how BJ's Wholesale Club used CData Drivers to analyze live Workday data in Tableau.
Data dump frustrations
Traditionally, BJ's HR team needed to manually extract Workday data into Excel workbooks in order to disseminate relevant employee data to market vice presidents, directors, and club managers. The time-consuming process resulted in "data dumps" that didn't provide useful knowledge.
Chris Arnold, BJ's Wholesale Club Senior Director of Analytics, Clubs & Online, was asked to help find a way to integrate their Workday data with Tableau to better visualize and automate the reports.
Worry-free Workday integration with CData
After a quick Google search for Workday integration solutions, Arnold's team discovered CData. CData Workday Drivers provide quick and smooth connectivity from Workday to hundreds of enterprise applications – without custom data pipelines, manual data extraction, or convoluted workarounds.
Once Arnold's team installed the driver, they were able to see live Workday reports right from their Tableau dashboards.
With the CData Workday Tableau Connector in place, the HR team can now visualize and share BJ's employee data from the national level, all the way down to each club, and each position within a particular club. The Tableau dashboards are automatically distributed at regular intervals, which allows everyone in the organization to understand vital information about hiring trends, employee satisfaction, and more.
The reports from this improved process uncovered some intriguing insights.
Accurate reporting reveals compelling insights
After routinely analyzing the Tableau dashboards from Workday over time, BJ's HR department discovered interesting trends in employee turnover that could be addressed. Acting on these insights resulted in an over 10% increase in employee retention over 12 months.
"We've been understanding which recruitment avenues are the most effective and lead to the best retention, and we've been doubling down on those," said Arnold.
Have a great Workday with CData
Connecting Workday to your favorite analytics tools has never been easier. CData provides a hassle-free way to connect Workday to hundreds of applications and systems to solve all your Workday integration challenges. Download a free trial of the CData Workday Drivers today.
We're counting down to Workday Rising! You still have time to register, but don't wait too long. Come see us at the CData booth # 545 to discover how to connect Workday with the rest of your tech stack.