Santa Clara University Analyzes Student and Admission Data from Workday Directly in Tableau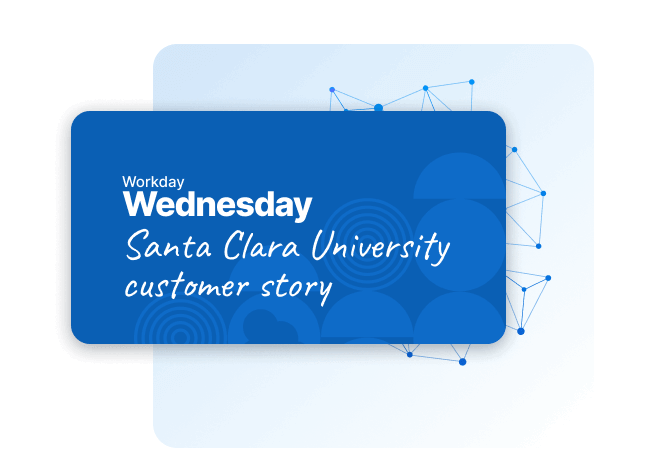 Workday Rising is here! Over the last few weeks, we've shared some interesting insights and compelling customer stories in honor of the event and our great relationship with Workday. For our final Workday Wednesday blog post, we're excited to highlight a customer who used the CData Workday ODBC Driver to connect to Tableau, along with other tools – which helped yield important historical insights.
Read the full Workday Wednesday series:
Santa Clara University recently adopted Workday to manage student and program data and help enhance the experiences of its more than 9,000 students. However, the Institutional Research department needed more flexible reporting capabilities than Workday provides natively.
The department, led by Conor Roycroft, turned to CData to relieve the pain they had integrating Workday data with their custom database. CData had what they were looking for: An out-of-the-box solution for connectivity between Workday, Tableau, and a variety of other reporting platforms.
Goal: Improve student experience and engagement
Roycroft and his colleague Stacy Connolly, Assistant Director for Data Visualization and Communications are responsible for analyzing how students engage with and perform in each course, when and why students might drop out of courses, and how these programs change over time. To do so, they need to track historical data to analyze trends.
While Workday comes with many features and advantages, the native reporting capabilities did not allow Roycroft and Connolly to analyze historical trends the way they needed. To build the sort of reports they required, they needed a way to integrate Workday data with their database, along with other tools used for analytics, including R/RStudio, Tableau, and WinSQL.
"Prism is relatively new, and there were too few data visualization tools that were natively available [as integrations]," said Roycroft. "So it was really a eureka moment of 'I found it!' when we came across CData."
A sustainable solution to Workday reporting
Without CData, the team would have had to manually combine data from these different data sources into an Excel sheet or Tableau dashboard and comb through the raw data to get the information they needed. "An unenviable process," according to Roycroft.
Instead, Roycroft installed the CData Workday ODBC Driver and easily connected to Workday. Now, Santa Clara University can automatically pull live and historical data from Workday directly into the tools where they needed it.
Understanding student and program trends across the university allows the staff to evaluate whether a program is achieving its goal, or if there are opportunities for improvement.
CData allows you to work better with Workday
Connecting Workday to your favorite analytics tools has never been easier. CData offers a straightforward solution to address your Workday integration challenges. Download a free trial of the CData Workday Drivers today.
Need to replicate and store your Workday data? CData Sync gives you powerful, simple ETL pipelines without requiring massive development projects or API integration maintenance. Get a free trial today.
We're at Workday Rising in San Francisco this week! Join us at Booth 545 to talk with our experts to explore the Workday integration solution that works best for you.