CData + Tableau bring Zero-ETL integration and analytics to Workday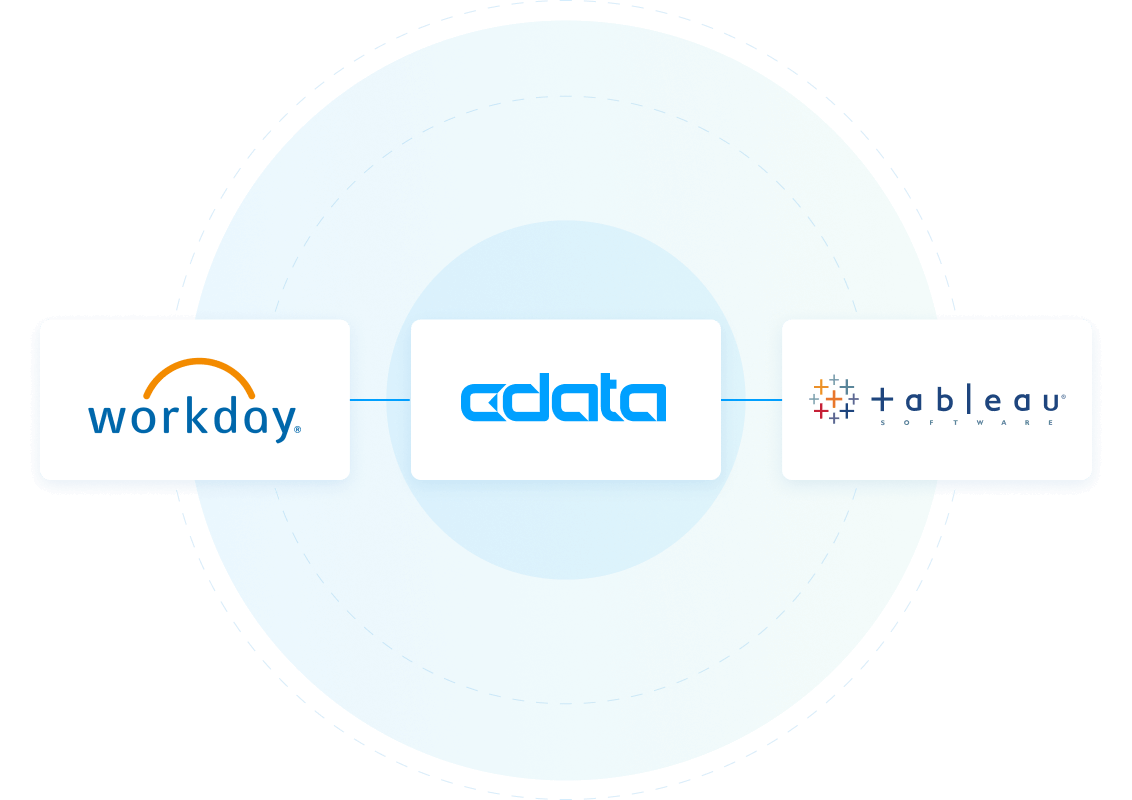 Workday has long been a "holy grail" of sorts for enterprise analytics teams. It's one of the most critical stores of information across human resources (HR), finance, and beyond. Yet accessing or analyzing this data in anything other than Workday has been extremely challenging.
Well, we're here to change that—along with our partners at Tableau.
"By enabling our customers to access and analyze Workday data in Tableau, CData is unlocking one of the most critical sources of analytic value previously untapped in the enterprise. CData Drivers and Connectors are unmatched in terms of ease-of-use, stability and the breadth of use cases they're able to support. I am excited to see what our customers will create using CData's Workday connector for Tableau."

— Nicolas Brisoux, Sr. Director of Product Management, Tableau
At CData, our focus is on helping organizations connect any data across their stack, and Workday has long been one of the most customer-requested data sources for connectivity solutions. The most common use case pattern we see is our users' desire to analyze Workday data within Tableau, which often serves as a central analytics environment. Without Workday data present in the 'central watering hole,' or single source of truth for analytics, organizations have struggled because they're only able to provide severely limited visibility into critical parts of their business.
BJ's leverages CData to better analyze HR data and reduce employee churn
This challenge of accessing Workday data also leads to an inability to blend and analyze Workday data across other data sources to uncover previously unseen connections in data that impact business success.
The inability to connect Workday data with other sources was a painful reality for BJ's Wholesale Club. Their HR team repeatedly struggled to share data with thousands of stakeholders across their 240 clubs. Given their connectivity challenges, the only way the BJ's HR team was able to share data from Workday was to manually download data out of Workday in spreadsheets and email it to their colleagues. As you can imagine, this process was time-consuming, painful, and didn't lead to any data analysis that could help BJ's run their business.
To solve this challenge of more effectively sharing and analyzing Workday data across BJ's, the HR team started working with Chris Arnold who helps run the company's central analytics team. They came across the CData Workday Tableau Connector during their research and decided it was a perfect solution to their problem. The ability to simply access Workday data in their central reporting platform without having to spin up and manage a frustrating data integration process would allow them to solve their problem quickly and with minimal overhead moving forward.
"CData had definitely made our lives easier, because now we have 1,500 leaders in the field that we need to disseminate data to. And we do that through Tableau today. Getting data from Workday for those users easily wouldn't be possible without CData."

— Chris Arnold, Sr. Director of Analytics, BJ's Wholesale Club
The best part of their solution was that the BJ's team was able to identify a pattern in the recruiting and onboarding process that they could act on, resulting in a 10% reduction in employee turnover (a huge benefit given the size of BJ's workforce).
What can you accomplish with Workday and Tableau?
CData's collaboration with Tableau enables customers to integrate and analyze Workday data without an ETL process. CData's connectivity solutions provide a Zero-ETL integration between Workday and Tableau so customers don't have to move data out of Workday. They can simply set up the connection and analyze live data from Workday in Tableau. No data replication, no ETL, no movement of data out of Workday. Just secure, direct, live connectivity.
We're excited to see what our customers will be able to accomplish by bringing Workday data directly into Tableau. Check out all of our Workday solutions.