<! -- REQUIRED PAGE WRAPPER --><! -- BEGIN [CONTENT] -->
Sales Forecasting Made Accurate with Data Connectivity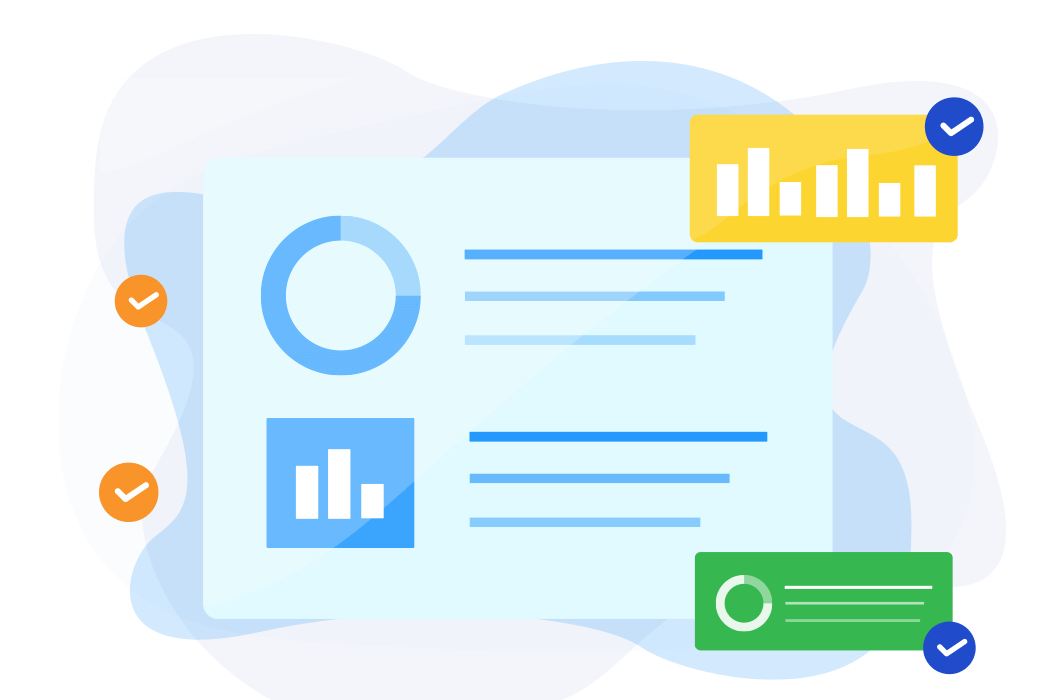 Sales forecasting is a critical part of a business's sales operations. Enterprises use sales forecasting to make decisions about the future of the company and where to invest their resources. These decisions include how to measure sales KPIs based on projected performance, when to grow the sales team to take advantage of more opportunities, when to invest in customer success to capitalize on renewals, and how the marketing team can grow the top of the lead funnel.
As important as sales forecasting is, the predictions made are frequently less than 75% accurate. According to Gartner, less than 50% of sales leaders and sellers are confident in their organization's forecasting. With that level of accuracy and reliability, it's hard to see the real value in spending the time and resources to regularly compile these reports. Businesses can therefore start taking actions that are intuition-based instead of data driven, leading to reduced growth across the board.
Incomplete Data = Inaccurate Sales Forecast
Sales forecasts are only as good as the data they're generated from. If your Sales Ops team isn't effectively managing and integrating organizational data to create forecasting reports, it's impossible to see the full picture. With the variety of technology solutions and applications available to them, teams are often using different marketing, sales, accounting, and finance platforms to house and drive their operations. These data silos can lead to incomplete views of data and continue to fuel inaccurate predictions.
CData connectivity solutions help your teams break down data silos and produce more accurate (and more timely) forecasts. CData makes all the data sources across an organization easily accessible for business users to leverage in the reporting and analytics tools they already use. When all organizational data is accessible in the same way from the same platform, Sales Ops can easily gain a more comprehensive view of the data and create more accurate, trustworthy forecasts based on data, not on intuition.
Data-Driven Sales Forecasts
In this article, we walk through using CData to visualize Sales Operations data in Power BI to build out data-driven sales forecasts.
While this article focuses on Salesforce data in Power BI, CData offers connections to over 250 data sources and supports virtually every popular BI, reporting, and analytics tool to meet your forecasting needs.
Check out our free, on-demand webinar to learn more about digital transformation in the world of Sales Ops!
Example: Sales Forecasting with Power BI
CData Power BI Connectors are tailor-made for Power BI, providing real-time connectivity to virtually any data source from within Power BI. The connectors empower your Sales Ops teams to create data-driven, dynamic forecasts based on comprehensive, live data.
 1. Configuring the Power BI Connector
To begin working with Salesforce in Power BI, install the Power BI Connector and configure your connection to Salesforce. Click 'Test Connection' to authenticate directly with Salesforce in your browser, and you are ready to go.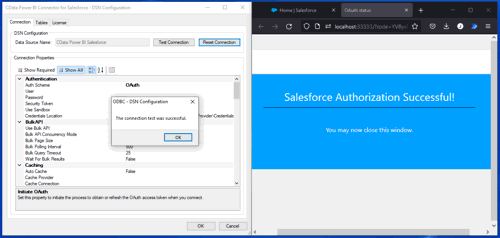 2. Connecting from Power BI
To connect to your data source in Power BI, click 'Get Data' and search for the CData Connector.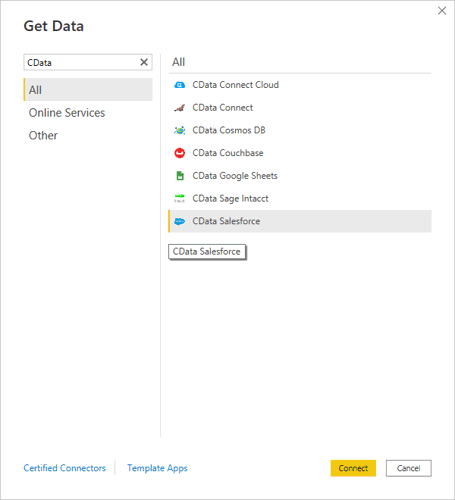 Enter the name of the connection you previously configured. For real-time reporting, select the DirectQuery option.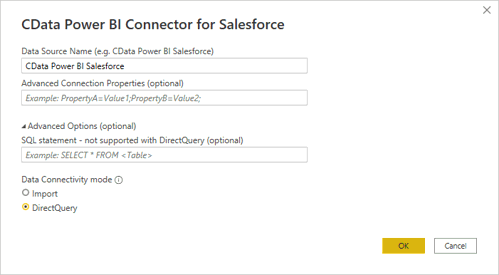 3. Forecasting Based on Opportunities
Once you connect to Salesforce, select the entities you wish to visualize and report on for your forecasting. In this case, we will look at opportunities. We can use filtering within the dashboard to report on opportunities in various stages to start building a forecast of future sales.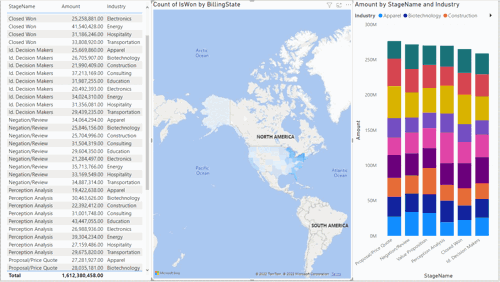 The next steps would be to analyze the data presented – simple as that. You can include other entities (like the accounts tied to each opportunity) to drill down into more focused forecasting, like geography-based predictions.
Agile Sales Forecasting for an Agile Business
The CData Power BI Connector simply puts the data directly into the hands of business users, like the Sales Ops team, freeing them to focus on the tasks that further the success of the business. With simplified connectivity across the Sales Ops stack, Sales Ops teams can quickly and easily explore enterprise data to build out accurate, reliable, dynamic reports.
To learn more about how digital transformation is impacting Sales Operations and how customers are using CData to get the most out of their Sales Ops data, check out our on-demand webinar.
Download a free trial of any of our Power BI Connectors and start building dynamic reports on top of your Sales Ops data today. Or get a free, personalized demo from CData Integration specialists and learn how to better connect and integrate your Sales Ops data.