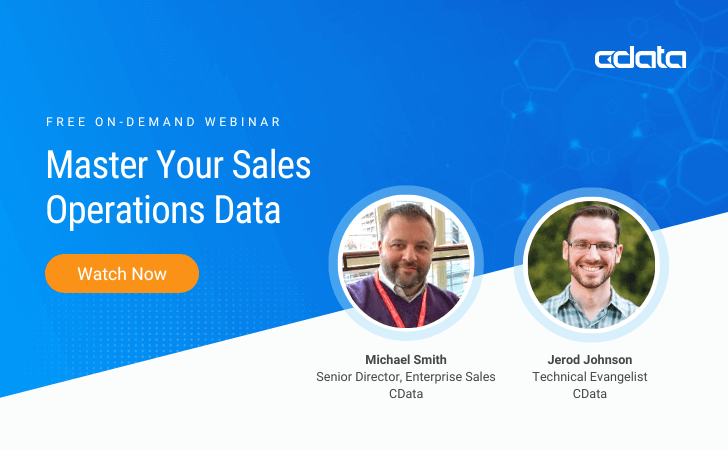 Master Your Sales Operations Data
ON-DEMAND WEBINAR
Chances are, your sales team isn't meeting its potential, and it's because their data isn't serving them.
Modern B2B sales processes are intricate, high-touch, and customer-centric – meaning they generate incredible amounts of valuable data. To capitalize on that data, reduce friction, and optimize the effectiveness of your sales processes, your organization needs an integrated sales operations program.
Data connectivity solutions make it easy to integrate and combine data from across your CRM, ERP, MarTech stack, and accounting software to provide Sales Ops with the arsenal of information they need to evaluate lead flow, forecast future sales, identify bottlenecks in your sales processes, and more.
Increase Sales with Accessible, Actionable Data
Instead of hunting down customer data from a multitude of different sources and manually extracting information for reporting, Sales Ops can leverage connectivity software to make faster, more informed decisions based on accurate data from across the organization. By improving data access, Sales Ops can give Sales a better chance to close deals, satisfy customers, and increase revenue.
Register for our webinar to learn how Sales Ops can leverage CData connectivity solutions to:
Develop a 360° view of your customers to personalize interactions
Create up-to-date reports to improve sales forecasting
Integrate departmental systems for seamless information sharing
And more

Fill out the form to watch the on-demand webinar.