<! -- REQUIRED PAGE WRAPPER --><! -- BEGIN [CONTENT] -->
Optimize Your Sales Pipeline with Integrated Sales Ops Data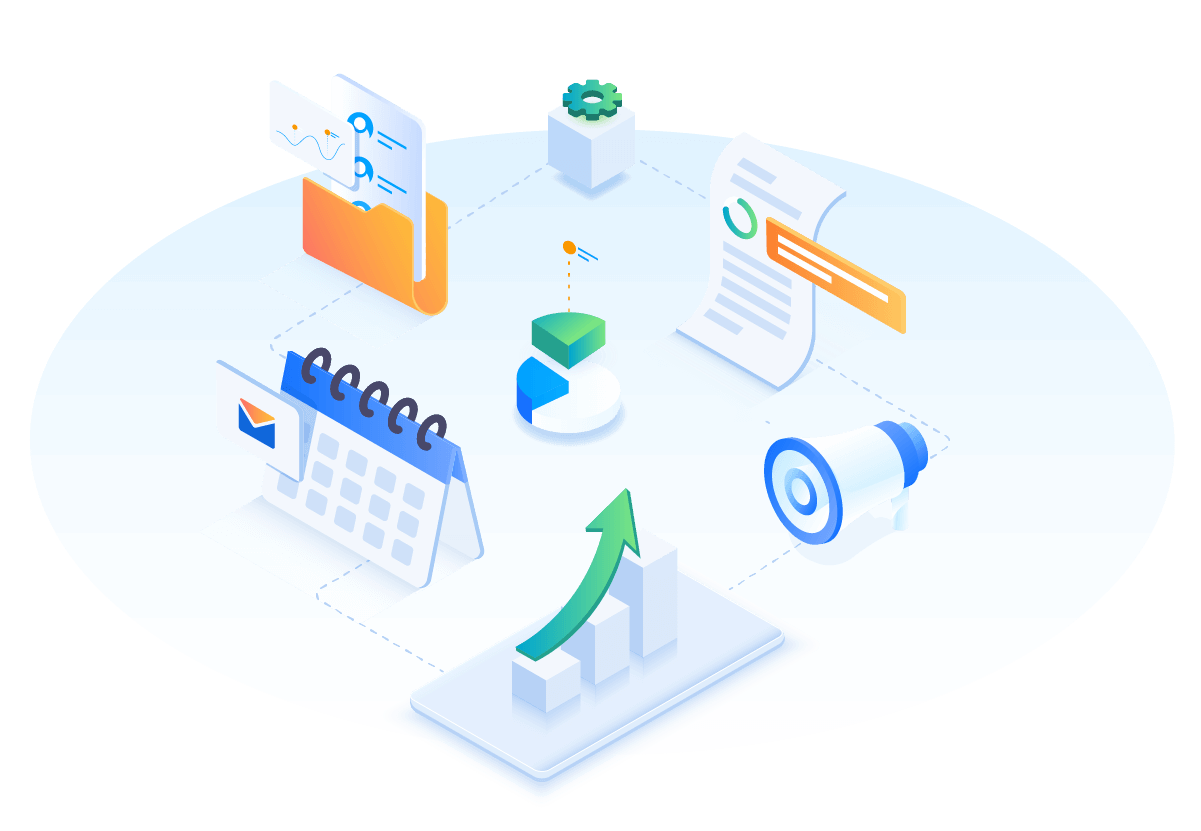 B2B sales are going digital – and for good reason. Digital touchpoints support a smarter, faster, customer-centric sales process. In fact, Gartner forecasts that 80% of B2B sales interactions will happen digitally by 2025.
A smooth digital customer experience is now your most critical sales tool – providing the right information to the right leads at the right time is paramount to your bottom line. But data sprawl and siloed information are revenue roadblocks.
Every modern customer interaction produces mass volumes of data across your ERP, CRM, marketing and accounting systems. To provide customers the buying experience they expect, your Sales Operations team needs to tap into that data.
Without well-integrated systems and a clear 360-degree view of your customers, many organizations will be left exposed to:
Poor customer experiences
Missed opportunities to reach out to the warmest leads
Miscommunication between departments
Incomplete reporting across marketing and sales
Inaccurate sales forecasts
As the intersection between data and sales, Sales Ops is charged with wading through a sea of information to refine the sales process and close more deals. Sales Ops data integration makes that possible.
Let's explore how integrated data empowers Sales Ops to analyze current processes, optimize end-to-end interactions, and increase sales in a digital-first, customer-centric world. 
Customer 360: Realized
In the modern world of B2B sales, digital experiences are king. Today's customers want relevant experiences at the right time. From social media engagements to email nurtures and free trial experiences, customers are increasingly interacting with your company before they even speak with a sales rep.
By developing a Customer 360 view, your salespeople gain an accurate picture of your customers at each step of their journey. With access to the right data, Sales Ops can arm your sales team with the personalized information they need to pursue quality leads and close deals.
Which product features are your prospects most interested in? What challenges are they trying to solve? Where are they in their buying journey? All that information is captured across departmental systems – it's simply a matter of consolidating the data into actionable insights.
Leverage data connectivity solutions to connect your social media hubs, marketing automation tools, CRM, and more to gain a 360-degree view of your customers.
Data-Driven Sales Forecasting
Sales forecasts are as good as gold for every data-driven organization, but unfortunately for most companies, these reports are often less than 75% accurate. This is likely due to the misalignment of departmental data. Silos of information between your marketing, sales, accounting, and finance departments can lead to differing or missing information, leading to confusion over data accuracy.
With so much riding on these reports, shouldn't it be easier to produce accurate sales forecasts?
Sales Ops data integration solutions can help your team produce accurate, comprehensive sales forecasts by providing a single source of truth for all your organizational data. Data connectivity software allows you to analyze data across hundreds of applications, systems, and databases – all from within your preferred analytics tool. This gives your Sales Ops team the opportunity to analyze data from across the entire organization, producing sales forecasts without the usual disconnects or inaccuracies.
Sales and Marketing Alignment
It's a tale as old as time – departments (looking at you, Sales and Marketing) operate in silos, causing misalignment and miscommunication. These silos of information leave poor impressions with prospects, stunt the sales pipeline, and ultimately lead to low-quality or unanswered leads.
Sales Ops data integration can be part of a larger push to align workflows and improve the sales cycle.
When cross-departmental data is integrated, customer information can be collected once and shared with all departments. Leads are quickly captured, scored, followed up on, and converted. Bottlenecks are eliminated, and no potential revenue is left on the table.
Consider some examples of how different departments can benefit from access to interdepartmental data:
Sales can work with marketing automation data to assess and engage with highly qualified leads to ensure they're following up with the prospects with intent to buy.
Marketing can use customer metrics from your CRM to inform product messaging, develop resonant case studies, and focus on effective advertising channels.
Accounting can enable a smooth transition process from selling, billing, and processing a new sale.
Data connectivity allows for interdepartmental transparency, allowing teams to improve their own processes for downstream benefits company-wide.
CData Supports Sales Ops Data Integration
To keep pace with future-focused enterprises, you'll need a more transparent and customer-first approach to sales. CData can help your entire organization put actionable customer data in the right hands to close more deals.
CData gives your Sales Ops team the tools to connect, integrate, and automate organizational data to improve sales processes. When sales decisions are fueled by accurate, comprehensive data, the entire sales funnel can be more effectively personalized, forecasted, and refined. 
By improving data access, Sales Ops ultimately gives Sales a better chance to close deals, satisfy customers, and increase revenue.
Seeking to stay competitive in a customer-first future? Sign up for our Sales Ops webinar today to learn more about what CData's solutions can do for your sales.