<! -- REQUIRED PAGE WRAPPER --><! -- BEGIN [CONTENT] -->
4 Major Data Trends That Will Shape the Future of Business in 2023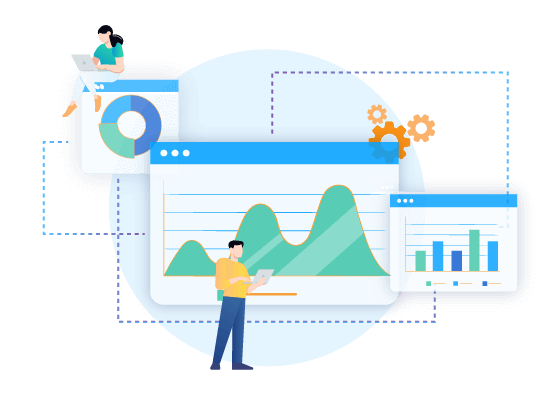 In recent years, stressors that forced digital transformation have evolved into catalysts for innovation and opportunity. Organizations are taking this opportunity to dive into their data and make informed decisions to dictate the future of their business.
Data and analytics continue to be at the epicenter of the business landscape moving into the new year. Let's explore four major key 2023 predictions in the data space that will help guide your digital roadmap and stay competitive into the future.
1. AI is the Next 'Digital Transformation' Initiative
Artificial intelligence (AI) adoption has accelerated in recent years, with 63% of companies reporting that they've nearly achieved their planned AI goals, and 30% of businesses are already heavily relying on AI to perform tasks and assist in decision-making.
This trend will continue into 2023 as AI technologies grow more sophisticated and more businesses deploy AI initiatives to aid decision-making. In fact, 80% of business leaders believe automation can be applied to any business decision.
In particular, companies need to apply AI to analyze massive datasets, organize unstructured data, and provide meaningful business intelligence that will inform a variety of business operations. As the volume of enterprise data grows at a faster rate than organizations can keep up with, AI will prove a valuable tool in closing that gap, helping organizations sift through, understand, and visualize the massive amounts of information they are generating about audience sentiment, customer success, sales leads, support tickets, product usage growth, and much more.
2. Predictive and Prescriptive Analytics Take the Spotlight
Economic uncertainty is driving many organizations to focus on resilience and efficiency. To understand which initiatives will prove fruitful in their competitive landscape, businesses are increasingly relying on AI to drive predictive analytics and prescriptive analytics.
Predictive analytics is the use of data to identify the likelihood of future outcomes based on historical data, whereas prescriptive analytics examines data to answer targeted questions around how or why certain actions or trends will affect business outcomes.
Predictive and prescriptive analytics can present enormous advantages for organizations across every industry. For instance, the 2020 pandemic supply shortages spurred hospitals to prioritize real-time visibility and forecasting to proactively coordinate resources. As the presence of AI-fueled insights expand, more organizations will be able to confidently predict and execute the right decisions with less friction.
3. The Rise of Data Connectivity as a Service
Connecting data from across dozens to hundreds of SaaS and on-prem applications, systems, and databases is proving to be a major hurdle to data-driven decisions. Lines of business are increasingly demanding faster, easier access to their data in order to make meaningful decisions and improve operations.
Real-time data connectivity solutions in the cloud, known as Data Connectivity as a Service, will become a must-have for organizations looking to become more data-driven in 2023. Data Connectivity as a Service gives data teams and business users alike instant, always-on access to the data they need from across all their applications and systems – all from one centralized cloud location.
With no costly data storage fees or need for development resources, Data Connectivity as a Service allows everyone across an organization to access and analyze the data they care about from wherever they are – all in real-time.
This trend could mean big opportunities for non-technical business users to mobilize their data and make informed decisions, fast.
4. An Emphasis on Data Governance and Security
Information security is garnering more attention in 2023.
Unfortunately, data breaches, hacks, and other cyberattacks have come to the forefront of conversation in the past year, and those conversations will turn into actions in the new year. Organizations will need to get proactive to identify vulnerabilities and guard against cyber-attacks.
Fortunately, data platforms are bolstering governance controls and other cyber defenses including single sign-on, multi-factor authentiation, and other zero-trust principles to ensure enterprise data stays safe and secure. Forrester also anticipates an expansion of governance teams in 2023 in order to maintain firm control over data privacy and security policies throughout organizations.
These pressures will help companies pioneer new ways to conduct business, focusing more resources on optimizing the security of customers' and employees' data.
Embracing the Data-Driven Future with CData
Economic and market pressures will be catalysts in driving organizations to evolve their data-driven business practices in 2023. Advancements in AI and predictive analytics will boost the speed and efficiency in which business is conducted, while self-service data connectivity and a focus on governance will empower lines of business to drive the business into the future.
CData gives you the data connectivity solutions you need to ensure your organization is ready for the future – whatever it may look like. To learn how CData enables your data-driven business, chat with one of our data experts today.