Q&A with CData CPO Manish Patel: Real-Time Data Connectivity in 2023
While businesses have worked hard to expand and improve capabilities related to data intake and analytics, few have perfected the art of connecting disparate data sources, surfacing and sharing valuable insights, and aligning data with their organization's unique short- and long-term needs.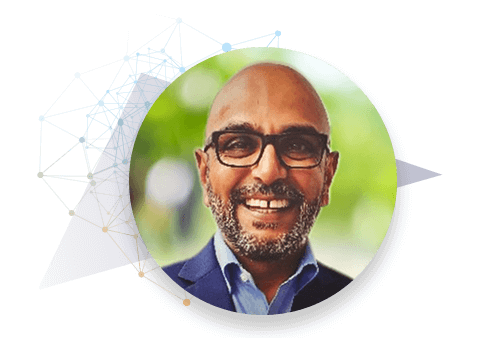 2023 is the time for organizations to take control of their data, letting it work for them – not the other way around.
That's why CData is simplifying real-time data connectivity to help users accomplish more with their data. To kick off the new year, CData Chief Product Officer (CPO) Manish Patel offered up a behind-the-scenes peek at his 2023 vision for our real-time data connectivity.
1. Would you share some background on your role here at CData?
Patel: As Chief Product Officer, I focus on delivering CData products to the market and building out a product strategy that aligns with where the market is going. I work closely with our product managers, engineers, and user experience (UX) teams to align our product delivery with the needs of customers and markets at large. Our ultimate goal is to make real-time access to data readily available to anyone, at any time, and in any tool they need.
2. Why focus on real-time data connectivity?
Patel: With the sheer volume of data plus the time and cost associated with integrating this data into a single warehouse or lake, we have seen the demand for real-time data access skyrocket. Line-of-business users want access to up-to-date data — not copies that are stale by hours or even days! Here at CData, we provide best-in-class real-time connectivity to technical data professionals for years. So, extending that to lines of business is something we are uniquely qualified to deliver.
"Our focus in 2023 is on shifting the paradigm away from moving data to applications and databases, to taking the applications to the data."

– Manish Patel, CData CPO
We introduced CData Connect Cloud to meet this exact need. Operational line-of-business users like those in Sales Ops don't always have the required technical skills or time to wait for IT's custom solutions — but they often have knowledge of the data structures they want to work with. If able to access the data, they would be off and running!
When these users need to connect their BI or analytics tool to various data sources, CData gives them the most streamlined way to do that. CData Connect Cloud's SaaS offering bridges the user's technical gaps to:
Create connections to a multitude of data sources in a simple and easy-use interface,
Help them understand the data they're looking at, and
Connect the data to a tool of their choice without needing to rely on IT teams.
3. What are customers saying about CData's product direction?
Patel: Our customers are excited about the direction our products are going and how we are breaking down the barriers they face every day. Whether it be the introduction of CData Connect Cloud, the modernization of CData Sync, or the CData Drivers we are adding every quarter — our vision has and always will be to simplify data connectivity and integration.
Specifically, our line-of-business users have given very positive feedback on the usability and accessibility enhancements delivered through CData Connect Cloud. With no software to install, users can connect and interact directly with their SaaS systems — like CRM, ERP, accounting, and marketing tools — directly from the applications they use every day. They can now focus on analyzing the data and making business decisions, which will drive results.
4. What is CData's product team focusing on in 2023?
Patel: As I look ahead to 2023's real-time data connectivity roadmap, we are focused on the below themes:
Continuing to elevate customer experience by adding more supported applications/sources.
New features such as data caching, pre-built reports, visual query builder, and lots more!
Creating an internal data marketplace for users to share data and views, which will allow domain experts to control how and when data is accessed and interpreted.
By using things like user research interviews to find points of empathy with our customer community, we can connect our solutions to the heart of what they want to accomplish.
We're also looking very closely at how users work with leading market tools. We want to make sure they can hit the ground running and not have to rebuild their reports. Whether it's Google Ads or Facebook Ads, users want to use our connectivity to expose the built-in reports they've already set up in their source systems. This workflow portability is a key example of our vision for putting real-time connectivity in the hands of any user.
5. What has you most excited about for CData's future?
Patel: The hybrid data environment offers immense security benefits that we at CData want to streamline into a seamless, unilateral experience.
Certain organizations are in highly regulated industries where data cannot be on a certain cloud and they must control where their data access lies. So, we're looking at structuring our products around supporting hybrid scenarios where you might expose some data to the cloud while positioning your strictly controlled data on-premises.
Starting with CData Connect, we're upgrading the product experience both in the cloud and on-premises to offer the same experience anywhere you deploy.
"We want users to freely work with all their data, using our connectivity tools in their choice of environments — fully hosted, fully on-prem, in your own private cloud, or in a hybrid model."

– Manish Patel, CData CPO
The exciting part is being able to disrupt a market area that hasn't really changed for 10 to 15 years. Line-of-business users in Sales Ops, Marketing Ops, and beyond are going to have the ability to work with all their data for the first time without heavy IT involvement. I can't wait for them to feel the impact CData can make on their business outcomes.
Modernize Your Real-Time Connectivity with CData
CData offers real-time connectivity solutions that can help you achieve more with your data.
Book a demo with our data experts today to learn how CData Connect Cloud and our other data connectivity solutions can help you.