<! -- REQUIRED PAGE WRAPPER --><! -- BEGIN [CONTENT] -->
CData Leverages CData Connect Cloud to Improve Our Own Product Management Processes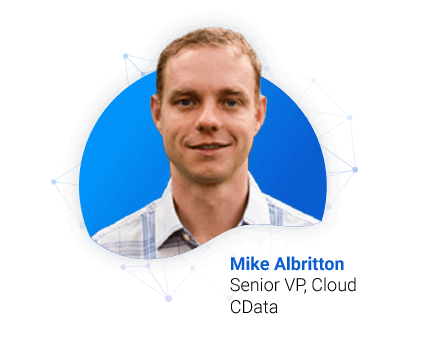 CData is using CData Connect Cloud to improve CData Connect Cloud. It's a mouthful, but we're truly "eating our own dogfood," and in this article, we're sharing how the CData Product team has used our own Data Connectivity-as-a-Service tool to improve product development sprints and get visibility into account health.
To ensure their products are successfully brought to market, product management teams need easy access and visibility into vital metrics like lead pipelines, user feedback, development cycles, renewal information, and much more. The CData Product team is no different – we needed easily-digestible, repeatable reporting processes to help us make the best decisions possible when it comes to CData Connect Cloud.
But our team faced the same challenges most organizations come across in the digital age – native reporting in business applications is not always simple, flexible, or robust enough to meet our needs. Our team was spending too many resources and hours manually pulling data from multiple applications into our analytics tools for regular reporting. CData Senior VP of Cloud, Mike Albritton, knew there was a better approach.
Mike has helped enough businesses solve their data challenges to know that CData Connect Cloud could improve our own reporting across Jira and Stripe. Connect Cloud gave our team easier ways to explore our data, allowing us to:
Reveal and address customer needs
Optimize our internal workflows for faster, more effective sprints
Expose key opportunities to elevate the user experience
Mike leveraged CData Connect Cloud in-house and, with just a few clicks (we literally watched him do it – it was a 10-minute call), streamlined his reporting processes to improve the user experience and internal development of Connect Cloud.
Jira Workload Visualizations Directly within Power BI
The CData Engineering team tracks their work – product sprints, bug fixes, technical debt, etc. – in Jira. Every quarter, Mike went into Jira and wrote a series of SQL commands to pull the data and create a report to send our Accounting team a breakdown of how much time our product developers spend on these activities. Fed up with the process, he realized there was a better way – using the very product his team was developing.
Since Mike was already familiar with Power BI, he opted to import the Engineering team's Jira data into a Power BI dashboard using CData Connect Cloud. A simple one-time credentials setup is all he needed to get live Jira data flowing into Power BI with just a few clicks.
Now, Mike saves crucial hours in his day by automatically generating these reports, and CData's Accounting team gets an easily digestible report in their inbox every quarter, allowing them to learn exactly where development time and resources are spent.
Learn more about our Microsoft-certified Power BI connector.
Robust Excel Dashboards from Live Stripe Data
As the Product Manager for CData Connect Cloud, Mike's core responsibilities include understanding the market value and representing customers' needs for the Data Connectivity-as-a-Service platform. He regularly looks at customer payment information, subscription trends, and trial conversion rates in our Stripe instance to visualize trends and analyze the product's overall health.
But while Stripe is a robust financial services tool, its native reporting capabilities are somewhat lacking when it comes to advanced analytics. To report on our Stripe data in the way we needed, Mike turned to Elliot York, CData FP&A Manager, to manually pull the data into a custom Excel Online dashboard. This took Elliot hours to compile, and his Excel sheet (while beautiful!) does not scale or repeat well.
To remove tedious, error-prone manual steps from Elliot's solution, Mike turned once again to Connect Cloud. With the CData Connect Cloud Excel Add-In, Mike was able to recreate Elliot's spreadsheet with Connect Cloud automatically pulling live Stripe data into Excel Online.
Mike and Elliot now leverage the live data flow directly from Stripe to slice, visualize, and aggregate customer data exactly as needed. They now gain live insights and views into every payment status, conversion details, customer churn, and more — as well as high-level monthly summaries.
Robust Reporting Workflows Begin with Data Connectivity
It's not uncommon to struggle to get useful insights from native reporting tools in your business applications. That's why we created CData Connect Cloud – there's a world of data out there, and real-time connectivity in the cloud can help you (and us!) unlock those vital insights from across your tech stack. When in-app reporting falls short, data connectivity solutions bridge the gap.
CData Connect Cloud provides real-time connectivity to allow data from any system or application to flow directly into the data analytics tools you already use. We have confidence that CData can provide the best connectivity solution for your reporting needs – and our own.
Eager to learn more about what CData Connect Cloud can do for you? Book a call with us today!