Drivers in Focus Part 1: Collaboration Tools for Empowered Marketing & Customer Success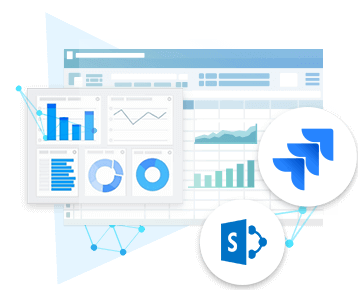 Collaboration technology has become increasingly vital to successful businesses operations – especially in today's world of remote work. Collaboration software helps organizations improve data and project management, simplify business functions like document routing or approval, manage creative processes, deliver quality customer success experiences, and more.
But while an organization can save time by exchanging pen-and-paper collaboration efforts for digital ones, modern platforms often fall short when it comes to extensibility and reporting. CData's connectivity solutions enable organizations to make the most of their data, wherever it is. With CData, teams can connect work across multiple apps and services, individuals can easily act on tasks assigned to them using all information available, and analysts can create comprehensive reports on complete data.
CData's out-of-the-box, standardized connectivity software does the complicated integration work for you, meaning your team is no longer tied to stale analytics, costly development work, and repetitive data migration tasks. You are now free to focus on tasks and procedures that drive business.
In this quarter's Drivers in Focus series, we explore how customers use CData to get more value from the data locked behind their collaboration platforms like Jira and SharePoint. We start by exploring scenarios involving Marketing and Customer Success teams.
Digital Transformation of Marketing Campaigns
Platforms like Jira and SharePoint allow organizations to collaborate and work more efficiently across teams. Marketing, for example, uses these tools to track campaigns, manage creative processes, create efficient workflows, execute campaigns faster, improve communications, and increase engagement. All these process improvements aren't worth anything if business users can't analyze and integrate data from these collaboration platforms.
Connecting Jira and Excel to Support Reporting
One CData customer, a global software development company, had historically analyzed marketing project data by exporting it to Microsoft Excel. After adopting the latest Jira Work Management solution, their marketing team wanted to connect Jira data with Excel to reuse the previously built reports and charts on their planning and tasks. Their team leveraged our Excel Add-In for Jira to connect to live data from Jira campaigns directly from Excel. With our Excel Add-In, they were able to reuse their investments in Excel and shift to a new, modern project management system - without the heavy lift of building out all-new analytics and reporting.
Consolidating SharePoint Data in SQL Server
Another customer, a national police agency, standardized on SQL Server as their data warehouse but used SharePoint to manage & track their case studies and technical enablement articles. To gain an effective 360-view of the internal data across their disparate systems, they turned to CData. The agency embedded our SharePoint ODBC Driver into SQL Server, which allowed their existing applications to interact with SharePoint data and objects as if they were native RDBMS constructs like tables and views. This out-of-the-box connectivity solution did not require custom integration builds or continued maintenance of the data replication processes, saving the agency time and resources better spent on keeping their community safe.
Optimal Customer Experience
Though many companies use collaboration platforms to streamline marketing campaigns and content generation, the bread-and-butter of these platforms is around customer success.
Jira is regularly used to track customer support journeys from beginning to end, using a robust ticketing and assignment system to ensure no customer is lost in the shuffle. In a similar fashion, SharePoint is used to easily facilitate knowledge transfer for customer experience teams. Organizations use SharePoint to host and manage their knowledge base, which stores and extends Customer Success documents and procedures.
But all these benefits are lost when teams are unable to reliably review and report on their data in a meaningful way.
Reporting on SharePoint Data in SAP Business Objects
When a US-based chemical business migrated their customer success data (in the form of documents, Excel spreadsheets, and lists) to SharePoint, they wanted to continue using SAP Business Objects for business intelligence and reporting. They reached out to CData to help solve their problem of data proliferation. The CData ODBC Driver for SharePoint let their teams perform crucial analytics on their SharePoint data within SAP Business Objects – with no need to duplicate or replicate the data.
Jira-SQL Server Data Pipeline with CData Sync
Another customer, a privately owned mortgage lender, had previously built a variety of BI reports and dashboards on top of their SQL Server instance. In the process of migrating their customer journey processes to Jira, they needed a way to report on new Jira data within SQL Server. Leveraging CData Sync, the customer was able to easily build pipelines to migrate critical data from Jira to SQL Server using Sync's simple point-and-click interface. These pipelines freed the customer to continue building reports and dashboards on top of SQL Server, saving them the cost and effort of rebuilding their analytics processes.
The CData Difference
Through standards-based connectivity, CData enables access to the data stored in collaboration tools like Jira, Asana, Trello, Twilio, SharePoint and OneDrive, Excel Online, the Google Cloud Platform, and more. With easier access to data, marketing and customer success teams get a better picture of their data and are able to refine their processes and campaigns in agile, effective ways.
Explore our Jira and SharePoint connectivity solutions to learn about the ways we facilitate collaboration through data connectivity. Download a free trial and get easier access to your collaboration data today.
Or get a free, personalized demo from CData integration specialists and learn how to better connect and integrate your collaboration data today.