<! -- REQUIRED PAGE WRAPPER --><! -- BEGIN [CONTENT] -->
API Driver Simplifies Long Tail Data Connectivity

Connect Any Application to Any API
API integration has become a critical factor in driving overall business strategy as more and more data now lives outside of the firewall, stuck behind an explosion of APIs and web services. With the growth of SaaS & cloud computing and the widespread adoption of APIs & microservices across internal IT & operations, the long-tail of data connectivity is boundless.
That is why we are excited to announce the latest addition to our extensive data connectivity portfolio, the CData API Driver. The API Driver is similar to other CData Drivers - however, instead of being tightly bound to a single data source, the API Driver can be used to connect your applications to an almost unlimited number of different APIs and services.
With this release, we have included real-time data connectivity to more than 75 new cloud data sources, including popular applications like ActiveCampaign, FreshDesk, Monday, Optimizely, Pipedrive, Samanage, Streak, Zoom, and many more. On top of that, API Driver can be easily extended by any developer to support new APIs and services, including internal systems and applications behind the firewall - giving users a simple way to connect with data from any data source.
Universal API Connectivity
The CData API Driver closes the last mile between APIs and the greater ecosystem of analytics and integration tools. You can think of the API Driver like an API 'USB port' for your BI, ETL, reporting, and custom applications. Through a single interface, applications can easily connect to real-time data from a vast array of APIs.
Currently, the API Driver is available across all supported CData Driver and Adapter technologies, including ODBC, JDBC, ADO.NET, SSIS, Excel, Power BI, etc.
To get started, download the CData API Driver in any of the available technologies, and then download one or more of our free API Profiles (data source connectors).
For more information, check out some of the additional resources below:
---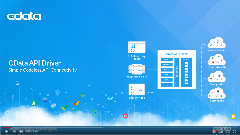 Introducing CData API Driver
---