Modernize Your Data Stack with CData Connect Cloud
With so many organizations standardizing on the cloud, data volume and sprawl is becoming a pervasive roadblock to success. Public cloud, private cloud multi-cloud, hybrid cloud – it's all part of the journey to digital transformation. The modern data stack looks different for every business, but it sometimes feels impossible to manage your data when it's spread across dozens to hundreds of applications and systems.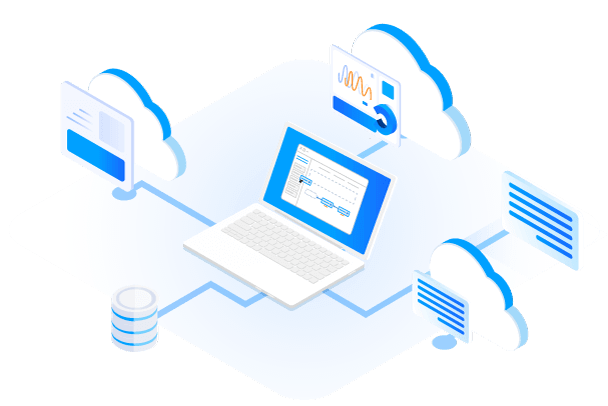 Simplify the modern data stack by connecting your disparate systems within one easily accessible cloud platform. With Data Connectivity as a Service, everyone in the business has access to their data, no matter where it lives or how it's formatted.
Data Connectivity as a Service provides frictionless, real-time data access to all your enterprise data from within one easy-to-use interface, without the need for specialized programming skills or reliance on IT.
At CData, our mission is to empower data teams and business users alike to work with their data their way. That's why we build CData Connect Cloud to power the next generation of data connectivity with Data Connectivity as a Service. CData Connect Cloud is the industry's first consolidated cloud data connectivity platform, providing a centralized location to manage various integration points and data connections in real-time.
With over 100 connectors available to popular data sources and applications, business users and data teams alike can leverage their data to gain complete views of the customer journey, build comprehensive financial reports, improve supply chain operations, and so much more.
Why CData Connect Cloud
CData Connect Cloud provides a multitude of innovative Data Connectivity as a Service capabilities to help you bring your data stack into the future, including:
Real-time connectivity

In today's fast-paced world of business, there's no time to waste on building out complex custom data pipelines to replicate data, move it into a database, and parse it out later for reporting. Data in storage is stale data.

Data Connectivity as a Service works differently. Real-time connectivity in the cloud allows you to pull live data from anywhere – no ETL required. Now, leadership can analyze up-to-date reports on your company's financial health, marketing can look at customer feedback as it comes in, operations managers can track the status of deliveries in real-time, and more.

Governable self-service

We designed CData Connect Cloud to be simple to use for lines of business, with the controls and governability required by IT. Users simply sign in to Connect Cloud using single-sign-on (SSO), choose their application and source connections, and begin working with their data from within their tools of choice. No installation, coding, or complex configuration required.

Connect Cloud's granular user-level controls and exporting features allow IT to sleep well knowing that only those with permissions have access to secure data. Those with lower levels of permission can see only their own data, making it even easier for them to work within the tool without distractions.

Accessibility

Connect Cloud removes the system dependencies surrounding data and enables users to integrate, mix, and adjust data using the most widely used language in business today: SQL. Using a standardized language, users can leverage structured, unstructured, and semi-structured data alike to glean new insights and move their business forward. If you know SQL, you can create connections in just minutes.
How Customers are Using CData Connect Cloud
Let's dive into a real-life example.
MyCoach Sport, a sports technology company based in Nice, France, provides GPS trackers for professional sports organizations to gather data on performance and training statistics. But they had a relatable problem – they had mountains of data from multiple sources and no way to collect it into consumable reports to send to customers and internal stakeholders.
Their main data source, MongoDB, didn't offer native integration capabilities with Looker Studio (formerly Google Data Studio), their preferred reporting solution. Before adopting CData Connect Cloud, MyCoach Data Analyst Ali Moran and his data team would spend a full day manually compiling data from MongoDB, MySQL, and multiple other sources into Data Studio for reporting every week. The process was slow and arduous, and something had to give.
Now, reporting is instantaneous. With Connect Cloud, data from across the organization is populated within Data Studio in real-time, giving stakeholders access to up-to-date reports and freeing Ali from spending his days manually manipulating data.
"Our objective in searching for data connectivity was to gain time back while keeping the same weekly reports we had worked hard to develop," said Ali. "Connect Cloud provided seamless connection between platforms - saving us time, money and people-power in our day-to-day operations. It's really a perfect solution."
Interested in learning more about Data Connectivity as a Service and our brand-new cloud connectivity platform, CData Connect Cloud? Join CData product leaders on March 17 at 2pm for a live fireside chat, or sign up for a free trial today.