How to Evaluate the Best ETL Tools for Your Business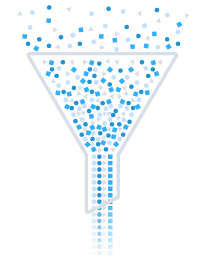 Data-driven organizations typically base their analytics stack on a data warehouse that hosts data replicated from various sources. To support data warehousing, organizations need efficient tools to consolidate data.
Data pipelines optimize data movement from various applications and data sources into the data warehouse, where data teams work with an aggregated view of their business operations. While there are many data movement technologies, the most common approach to consolidation is ETL (Extract Transfer Load).
Think of ETL software as the plumbing within the walls of your business. We admit the image isn't all that appealing, but data pipelines play an essential role in keeping your business running smoothly.
What to look for in an ETL tool
What should you look for in an ETL tool and how do you evaluate the options?
Below are some key factors to look for when researching the right ETL service for your organization:
Data sources supported - breadth of data connectivity
Extensibility and future-proofing
Usability
Documentation and support
Security and compliance
Batch and stream processing
Reliability and stability
Pricing
Compatibility with third-party tools
Data transformations
Data Sources Supported
Look for an ETL service that supports as many of your most important tools as possible. This can be tricky when teams are spinning up many different SaaS tools and databases across the organization.
Depending on the limitations of the ETL tool you choose, you may need to build a custom solution for some subset of the remaining integrations. Of course, this is not ideal from many standpoints, but it may be unavoidable.
Connectivity is crucial, so choosing a universal data platform with an extensive library of supported data sources should be your first consideration.
Extensibility and Future-Proofing
As your data volumes grow, you will want a tool that can meet your growing needs without service degradation. Find out how the data pipeline tool you're evaluating is designed to support large data volumes.
Your ETL provider should also be able to add support for additional data sources, but it would be even better if you had the ability to add data sources yourself.
Usability
The interface should be easy to understand, making it simple and painless to set up integrations, schedule and monitor replication tasks.
If issues come up, are the error messages clear? Are those problems easy to fix, or must you turn to the vendor's support team for help?
Documentation and Support
When it comes to the support team, conduct your research thoroughly. Contact each vendor's support team and asking multiple questions to evaluate their expertise. Are they prepared to deal with issues? Do they provide answers quickly? What support channels are available to you, such as email, phone, or online chat?
Finally, make sure the vendor's documentation is clear and complete, written with a level of technical proficiency for those who'll use the tool.
Security and Compliance
Since security is critical for any IT system, there are several key points to consider for a cloud-based data pipeline.
The vendor encrypts data in motion and at rest natively within the application.
Are there user-configurable security controls?
What are the options for connecting to data sources and destinations? Can it enable secure DMZ access to protect your firewall?
Does it provide strong, secure authentication capabilities?
Does the vendor create copies of your data? You'll want a secure solution that can simply pipe data into and out of your databases without copying it into their systems.
Do they support GDPR compliance and file transfer governance?
Pricing
Many ETL software providers structure their pricing models differently. They may charge based on the amount of replicated data, number of data sources, or number of authorized users.
Platforms that offer a free version and a full-featured free trial that allow you to get a no-risk feel for platform, with support, are exceptional options. It is also important to consider scalability and understand how your costs will change by increasing data volumes.
High-Performance ELT Availability
Data warehouses used to be expensive in-house appliances, requiring preload transformation actions within the data pipeline. Today, things are different.
As organizations are embedding new data warehouses on cloud platforms, data teams can now conduct transformations after the data has been loaded into the system. In some cases, you'll want to leverage the processing capabilities of the data warehouse or database where you are piping your data. Modern data replication solutions will enable you to follow a faster exchange, load, transform process and dramatically speed up the flow of your data movement pipelines.
Hands-On Evaluation
Make sure to test ETL solutions in your own environment with your own data for:
Usability: Test all kinds of functions, even the ones you might not need right away but might be part of your ongoing workflow.
Synchronization and Integration: Find out how easily you can set up a data source and if the ETL tool is reliable enough to send data at the desired frequency.
Timeliness: Make sure you get all data to your destination on a schedule that meets your data analysts' needs.
Accuracy: Set up a few data sets from various data sources and make sure the data sent is accurate.
CData Sync: Simplify your ETL
CData Sync provides users with a straightforward way to synchronize data between on-premises and cloud data sources with a wide range of traditional and emerging databases. CData provides a secure solution that can simply pipe data into and out of your databases without copying it into our system. CData Sync enables you to replicate data to facilitate operational reporting, supports GDPR compliance and file transfer governance, and offers secure DMZ access to protect your firewall.
Evaluate CData Sync by downloading a free trial and get started with your new ETL solution today.